To celebrate the start of Look/13/Liverpool International Photography Festival, Special Collections & Archives has an exhibition of historic photographs of Liverpool women, under the title Who Does She Think She Is?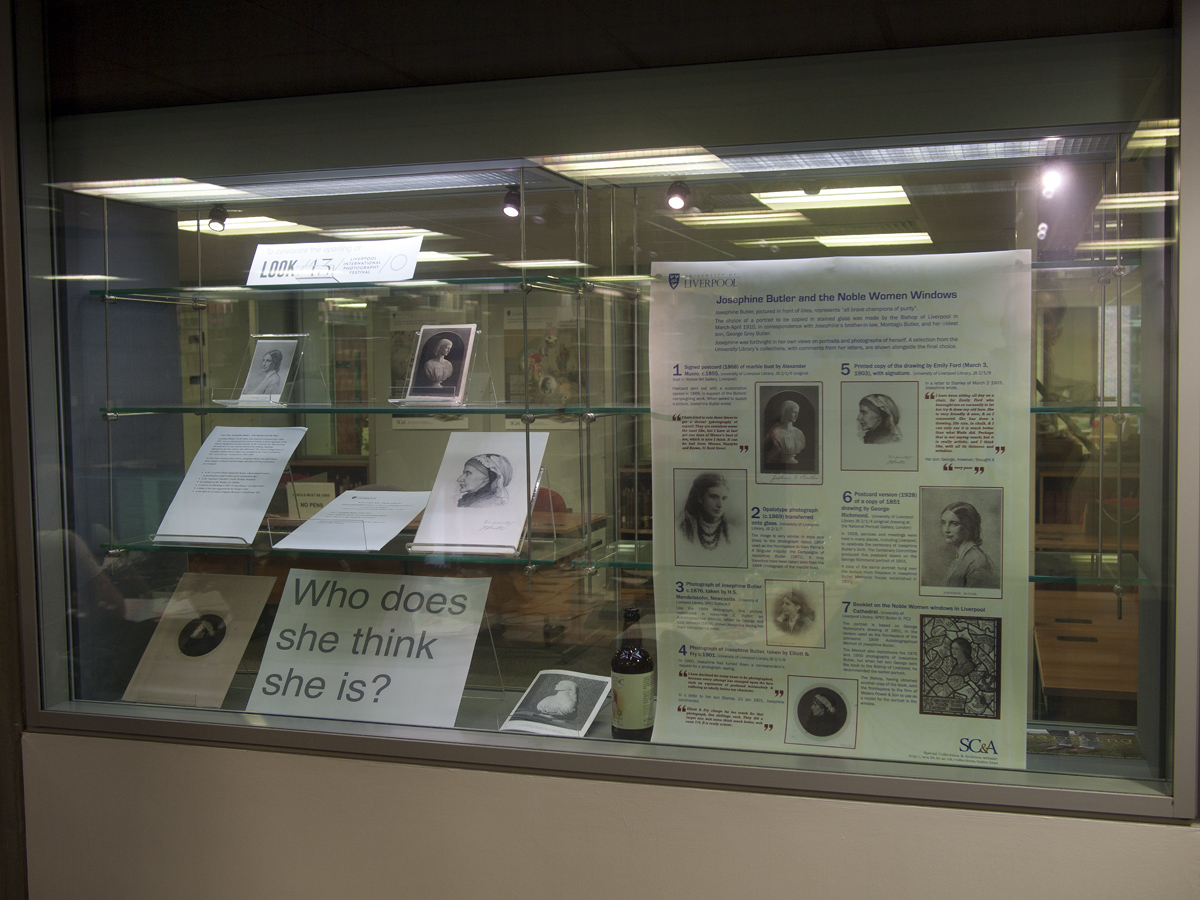 Case One: Josephine Butler – The Beauty and the Beer
Images of Josephine Butler (1828-1906), who lived in Liverpool from 1866-1882. Josephine was an educational and social reformer, and a fierce opponent of the double standards of sexual morality in the Victorian era. She shocked her audiences by the contrast between her striking feminine appearance and the subjects she addressed.
Josephine Butler was ambivalent about images of herself, but her image and name still have resonance in Liverpool:
in the Anglican Cathedral's Noble Women Windows
in sculptures at the Walker Art Gallery
in a suitcase in John King's 1998 'A Case History' on Hope Street
on the label for Liverpool Organic Brewery's Elderflower Ale!
Case Two: Rathbone family albums – Curtain calls
Victorian photograph albums belonging to the prosperous Rathbone family of Liverpool, renowned philanthropists, politicians and social reformers. The albums are designed to hold carte-de-visite (visiting card) prints of celebrities, and portraits of family and friends, and showcase the Rathbones' connections in Liverpool society.
The National Media Museum has identified the changing studio props used in these commercial portraits decade-by-decade, following the latest fashions:
1860s – balustrade, column and curtain
1870s – rustic bridge and stile
1880s – hammock, swing and railway carriage
1890s – palm trees, cockatoos (usually stuffed specimens) and bicycles
1900s – the motor car
Case Three: Women at the University – Room at the Top
Photographs of women's sporting and fundraising events at the University of Liverpool from the 1900s to the 1930s, alongside the 1933 resolution passed by Liverpool University Council requiring female members of staff to resign if they got married.
Early University portrait albums contain pictures of only three women, but 2013 has already seen a notable step forward with the appointment of the University's first female Professor of Physics, Tara Shears.