As Liverpool continues to celebrate Edward Rushton (1756-1814) "Liverpool's most radical son" with the bicentennial conference, Edward Rushton and Romantic Liverpool, some notable contemporary works are on display in Special Collections and Archives, alongside the two newest works on Rushton, published by Liverpool University Press: a new edition of the Collected Writings of Edward Rushton, prepared by Paul Baines of the Department of English, University of Liverpool, and a critical study of Rushton, Talking Revolution, by Franca Dellarosa of the Università degli Studi di Bari 'Aldo Moro', Italy.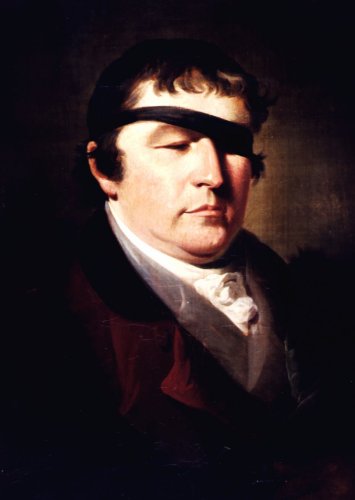 22 November 2014 marks the 200th anniversary of the death of Edward Rushton (1756-1814). Born in Liverpool and apprenticed as a sea-boy at the age of 11, Rushton contracted a devastating eye infection on a slave ship and returned, blind, to Liverpool to live on a small allowance from his father, a vintner and dealer in spirits. At various times he ran a pub (in Crooked Lane), a newspaper, and finally and most successfully a bookshop (in Paradise Street).
With the help of various assistants he read as extensively as he could and began writing poems in about 1780, publishing them in newspapers. He thus came to the attention of the small group of intellectuals and radicals in Liverpool centred on the figure of William Roscoe. In 1787 the West-Indian Eclogues appeared as a separate publication, and many of his marine ballads (notably The Neglected Tar) were sung in taverns, at theatres, and in the streets.
Rushton was a staunch support of radical causes including the French revolution and American Independence (though he continued to berate both countries for their involvement in imperialism and slavery). He protested against the use of press-gangs, British violence in Ireland, the Russian domination of Poland, and any neglect of the poor by the rich. He also wrote charity songs for the Blind School and other humanitarian institutions. Many of his poems appeared in chapbooks or as single-sheet items; some were finely printed by the Liverpool-based printer and poet John M'Creery, who also printed his Poems of 1806.
At around the same time Rushton was operated on, five times, by the Manchester eye-surgeon Benjamin Gibson, who managed to restore some sight in one of Rushton's eyes, allowing him to see his wife and children for the first time. Rushton was well-known in the radical and intellectual societies of Liverpool. He had a wide range of political connections in Belfast and Manchester, and was much reprinted in America. He suffered from gout – the subject of some of his more comic poems – and his death in November 1814 appears to have been brought on by a proprietary gout medicine. He was buried in St Johns' Cemetery, Liverpool, and in 1824 his son (also Edward, later a Liverpool magistrate) and the Unitarian minister William Shepherd, edited a further volume of his Poems, and Other Writings.
Copies of Rushton's work and other material from Special Collections and Archives can be seen at the Victoria Gallery & Museum as part of the city-wide Unsung exhibition.