Quite a number of books and other items from the Science Fiction Foundation Collection are on migration this year.
Some have only just nipped across the campus – comic books and novels illustrated by Liverpool artist John Higgins are now part of Beyond Dredd, the exhibition at our own Victoria Gallery and Museum until October 2017.
Others have gone further afield. A collection of books and magazines are being prepared for Guernsey Library's "Engage Warp Drive: Science Fiction from the 1950s to the Present Day" which is planned for on 22nd September 2017 – 31st December 2017. Currently Compton Verney Art Gallery in Warwickshire is celebrating the sleepy village of Midwich – disrupted by alien infiltration in John Wyndham's The Midwich Cuckoos – as part of their Creating the Countryside exhibition (until 18th June). Material on display includes a typescript of the novel and the typewriter on which Wyndham wrote it:
More books, by Isaac Asimov, Margaret Atwood, Ray Bradbury, Robert A. Heinlein, Marge Piercy (and more) back up Durham University Library's Time Machines exhibition (until 3rd September).
The jewel in the crown however, is probably the 100+ books that make up part of the massive Into the Unknown exhibition at London's Barbican Centre (3rd June – 1st September). Each section of the exhibition – which also features films and installations by acclaimed artists – is introduced by a display of books from the Science Fiction Foundation Collection, as well as manuscript material from the Brian Aldiss, John Brunner, and Olaf Stapledon archives. Following its stint at the Barbican, the exhibition will embark upon an international tour, including Denmark and Greece.
The exhibition's catalogue contains a chapter from Science Fiction Collections Librarian Andy Sawyer, who was one of the exhibition's advisory team. Andy's introduction to science fiction on the exhibition's blog can be found at http://www.barbican.org.uk/bravenewwords/ .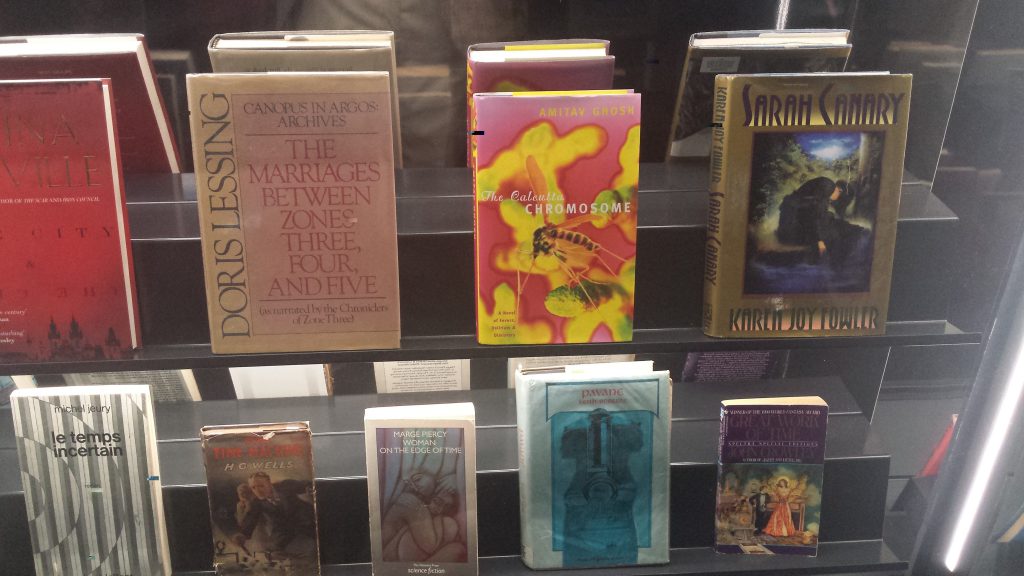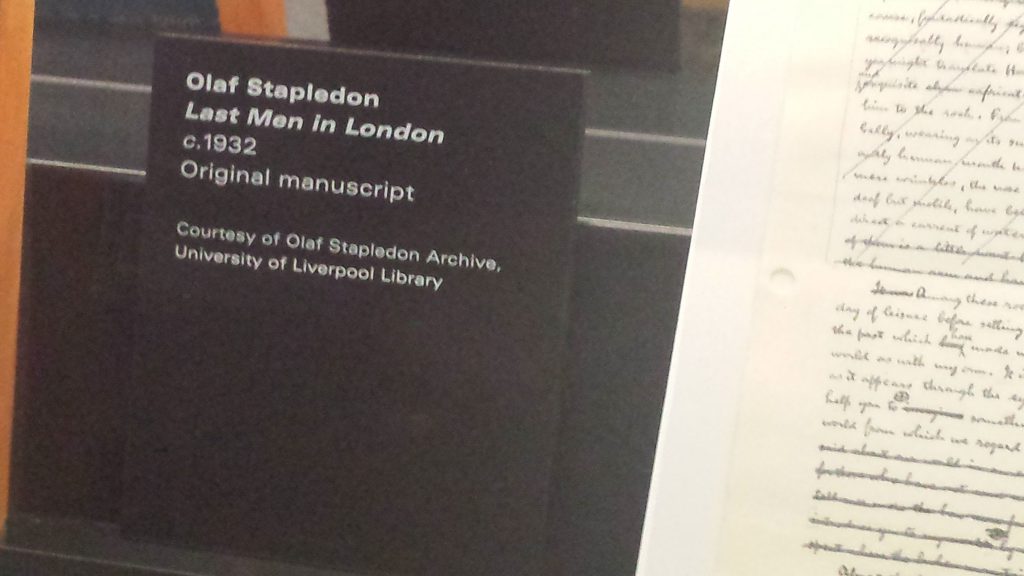 Find out more about our science fiction collections
Find out more about the Science Fiction Foundation