Our University Archives were recently enhanced by the welcome addition of a collection of papers previously belonging to Professor Walter Dilling (1886-1950), pharmacology professor at the University of Liverpool.
Dilling was born in Aberdeen and went on to attend the city's university, graduating in 1907. As Carnegie research scholar he studied and worked in Germany at the University of Rostock, before returning to Scotland to take up a lectureship at the University of Aberdeen; here he delivered a course on experimental pharmacology for medical students, the first of its kind in Britain. He moved to the University of Glasgow in 1914 and in 1920 became a lecturer in pharmacology at Liverpool, rising to Associate Professor before his appointment to the newly created Chair of Pharmacology in 1930.
Dilling's archive reflects his varied professional and personal interests. There are research papers and lecture notes on everything from the origin and development of girdles, to modern drugs in dental surgery, to the treatment of various diseases throughout history.
A keen music lover, Dilling served as Chairman of the Liverpool Philharmonic Society and was an ardent admirer of opera, particularly Wagner. The text of many of the lectures he delivered to the Young People's Opera Circle (of which he was chairman) can be found in the archive.
The collection also contains a large amount of correspondence, mostly comprising letters between Dilling, his parents, his beloved wife Vida, and their two children, Nancy and Eva. There is also a small section of items belonging to Vida, including a diary covering her time in the Auxiliary Territorial Service during the Second World War.
Both Walter and Vida undertook vital work during the wars. During the First World War Vida served for a time as registrar at the Scottish National Red Cross Hospital in Bellahouston, Glasgow, while Walter utilised his medical knowledge in the Royal Army Medical Corps. During the Second World War he commanded the medical company of the University Senior Training Corps, working alongside student stretcher bearers to receive casualties at the railway terminus.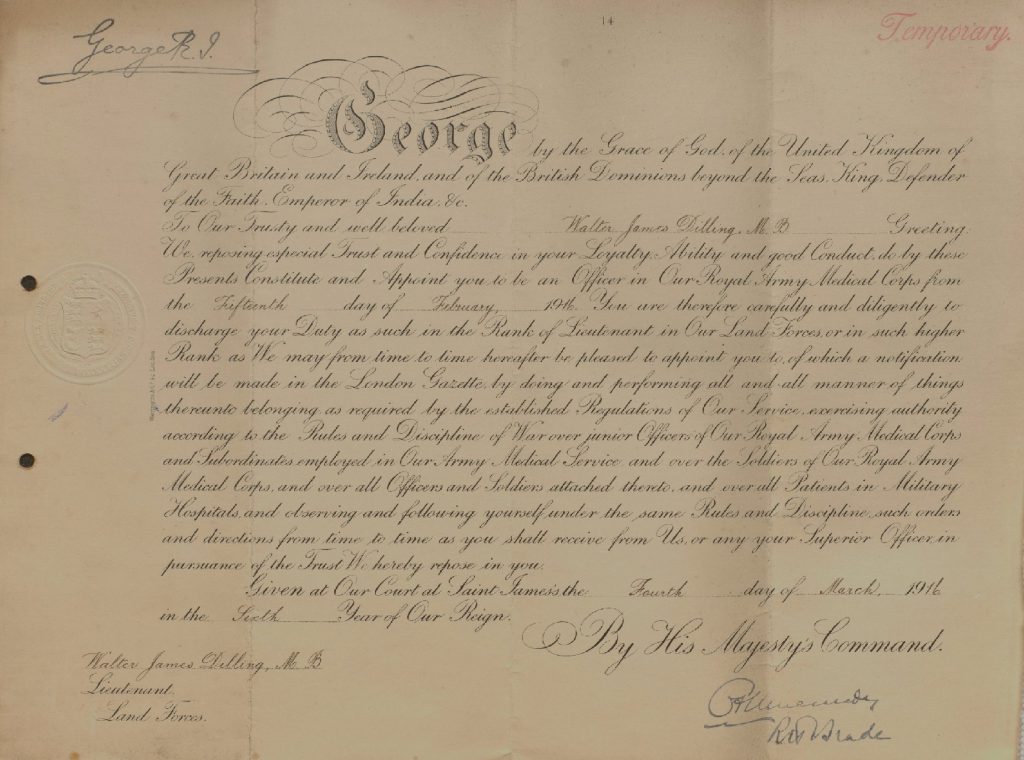 We also hold around 70 books formerly belonging to Dilling, most of which were transferred to SC&A from the old Pharmacology Library in 2010. A previous blog post highlighted these items, which can be located on the library catalogue.
Cataloguing of the archive is currently underway; it will be accessible later this year.