During the University's Wellbeing Week Abercromby Square has hosted bird life great and small, from the eagles, owls and falcons of Cheshire Falconry, to postcard-sized 'Nightingales.' A flock of six were released to celebrate the bicentenary of the composition of John Keats's 'Ode to a Nightingale, in the form of six poems newly-commissioned for Pavilion Poetry.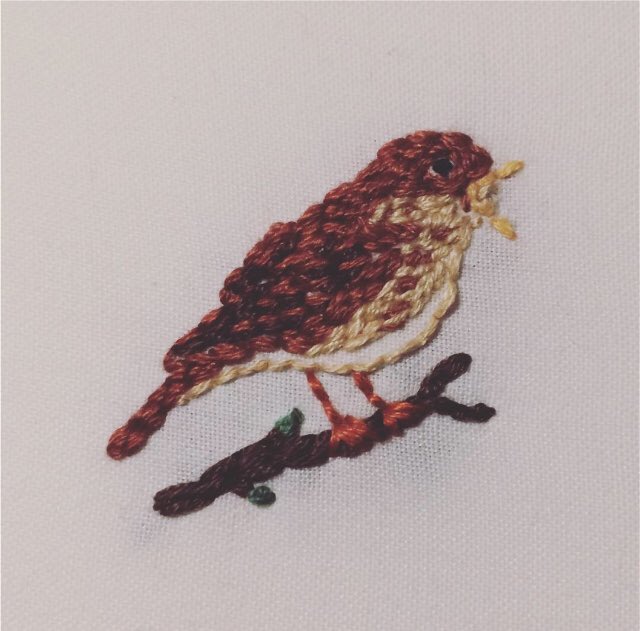 The poems were also available in support of the RSPB at a talk by the English Department's Bethan Roberts on Nightingales in poetry and science in the age of Keats. Bethan's talk, accompanied by recordings of the Nightingale's song and a display of books from Special Collections & Archives, brought an audience of nearly 50 birdlovers to the School of the Arts Library comprising University staff and students and members of the public from across the Liverpool City Region.
The nine books on display covered Ornithology, Poetry, and the unlikely topic of Nightingales in Liverpool…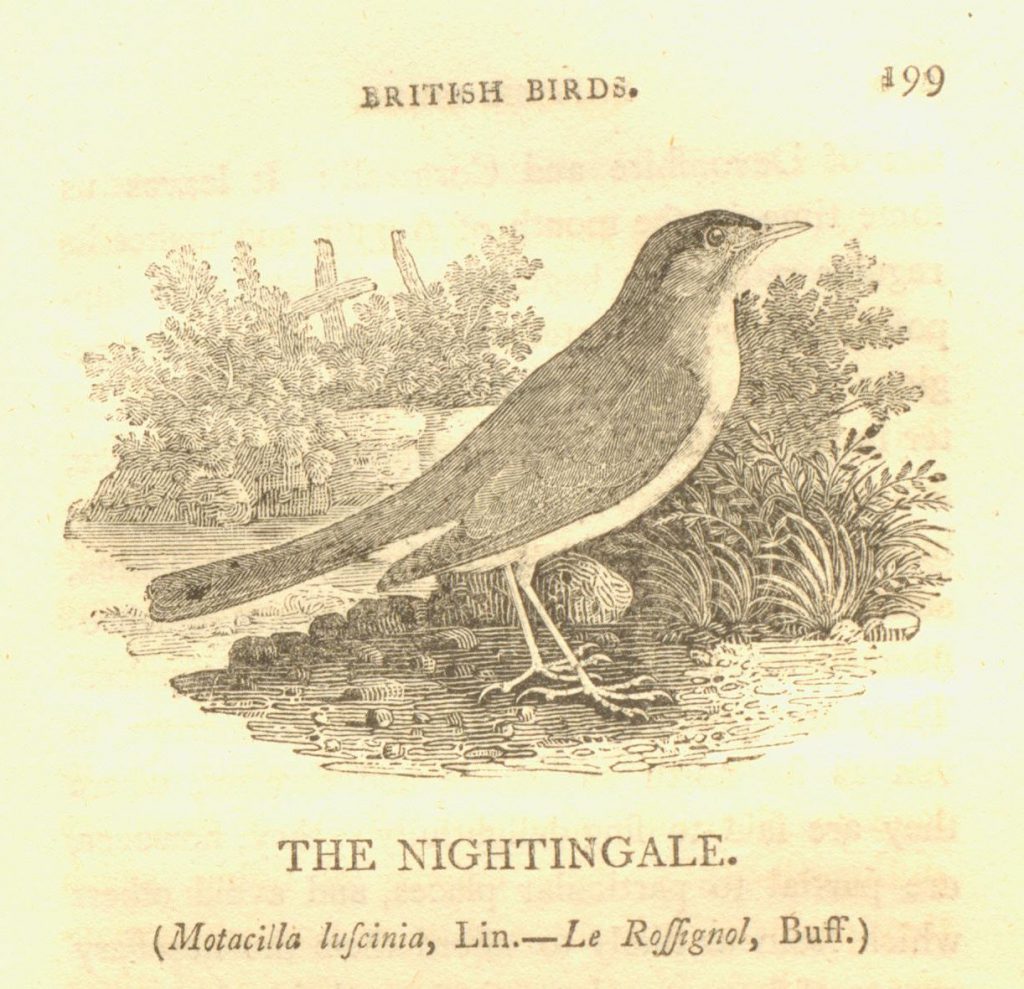 Thomas Bewick, 1753-1828 History of British birds. The figures engraved on wood by T. Bewick (Newcastle, 1797-1804). Two volumes. SPEC L45.19-20 (vol. 1 Land Birds, 1797 has woodcut of Nightingale).
Thomas Bewick, wood engraver, revitalised the art of woodcuts with his detailed natural history illustrations: he was driven to improve on the crude illustrations in the books he knew as a child. His work impressed Matthew Gregson of the Liverpool Print Society, who gave it "the highest Encomiums of Praise", and commissioned his tradecard from Bewick. The hugely successful History of British Birds (mentioned in Jane Eyre) illustrates each major British bird species, and has lively 'tail-pieces' providing pictorial ironic comment.
Charlotte Smith, 1749-1806 A Natural History of Birds, intended for young persons (London, 1807). JUV.A429.
Charlotte Smith, poet and novelist, was praised by her contemporaries, including Wordsworth and Walter Scott, for her descriptions of nature. Her works for children were a successful new venture towards the end of her career, including the posthumously published Natural History of Birds, a mixture of description, mythology and fables about birds of Britain and Europe.
Francis Orpen Morris, 1810-1893 A history of British birds (London, 1870). Six volumes. SPEC Ryl.P.3.11-16 (vol. 10 has hand-coloured lithograph of Nightingale).
Francis Orpen Morris, clergyman and naturalist, collected birds and insects as a child and his writings on natural history were the best-known of his wide-ranging publications. Morris campaigned for the protection of wild birds and co-founded the Plumage League to oppose the extravagant use of bird's feathers in fashion. The engravings in A History of British Birds are by the renowned woodblock colour printer Benjamin Fawcett.
Some other early ornithological books in Special Collections include:
William Yarrell, 1784-1856 A history of British birds illustrated by wood engravings (London, 1837-1845). Three volumes with supplement. SPEC Noble D.20.12 -14
Thomas Pennant, 1726-1798 British zoology (London, 1776-1777). Four volumes. SPEC L16.37-40 (vol. 2 has illustration of Nightingale).
Georges Louis Leclerc, comte de Buffon, 1707-1788, The natural history of birds, illustrated with engravings. Nine volumes. SPEC L24.51 (vol. 5 has engraving of Nightingale).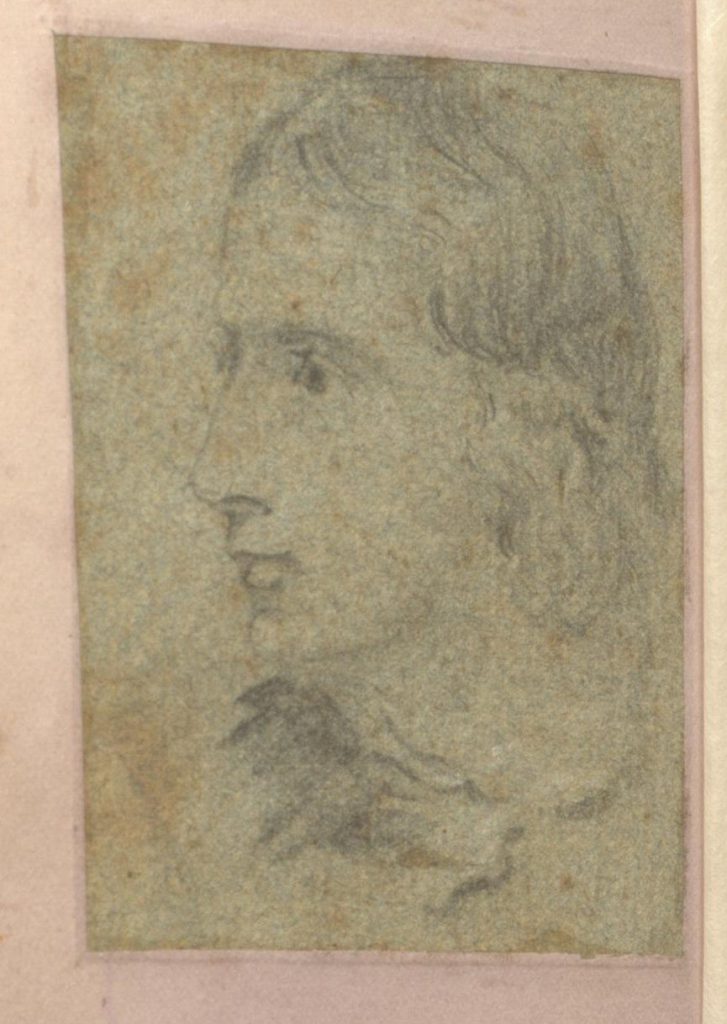 John Keats, 1795-1821 Lamia, Isabella, The eve of St Agnes, and other poems (London, 1820). SPEC J22.28.
One of the other poems in this book is Keats's 'Ode to a Nightingale.' This Liverpool volume (presented to the University by Mr S. Samuels in 1947) has a pencil drawing inserted as frontispiece, inscribed on the back 'John Keats from a Sketch by [Joseph] Severn presented to his kind friend Thos. Pickering by Charles Cowden Clarke'. Correspondence from 1943, when the book was sent to the National Portrait Gallery in London, suggests that Samuels bought the book from the bookseller Elkin Matthews.
John Keats, 1795-1821 Odes, Sonnets and Lyrics (Oxford, 1895). SPEC Noble A.15.29.
Twenty-five poems by Keats selected by the poet Robert Bridges (1844-1930) and printed at the 'Arts and Craft' Daniel Press in Oxford. C.H.O. Daniel (1836-1919), Fellow and later Provost of Worcester College, produced limited editions of high quality on a printing press set up in a cottage in his garden at the college. This volume (no. 27 of the 250 copies printed) was bought by William Noble (1838-1912) who bequeathed his fine collection of private press books to the University and endowed the William Noble Fellowship.
A watch of nightingales: [an anthology of poems on the song of the nightingale] edited by Geoffrey Keynes, Kt., and Peter Davidson. (London, 1981). SPEC S/Z239.2.S885.K41.
This modern private press book was printed in an edition of 400 copies at the Stourton Press, and uses as its title the collective noun for nightingales. The collection of nearly 50 poems and fragments on nightingales stems from Keynes's attempts to identify his 1784 etching of a poem 'To A Nightingale' as the work of William Blake.

Some other Nightingale poetry in Special Collections:
Samuel Taylor Coleridge, 'The Nightingale: A Conversation Poem' in Lyrical Ballads (London, 1798). SPEC Fraser 390 (1890 reprint).
John Clare Poems descriptive of rural life and scenery (London, 1821).
SPEC Fraser 1601 (4th edition)
William Blake, 'Spring' in Songs of Innocence; Milton ( Many editions in the William Blake collection).
Special Collections also holds editions of John Milton's 'Il Penseroso', Paradise Lost, and nightingale sonnet and works by Ovid including the myth of Philomela.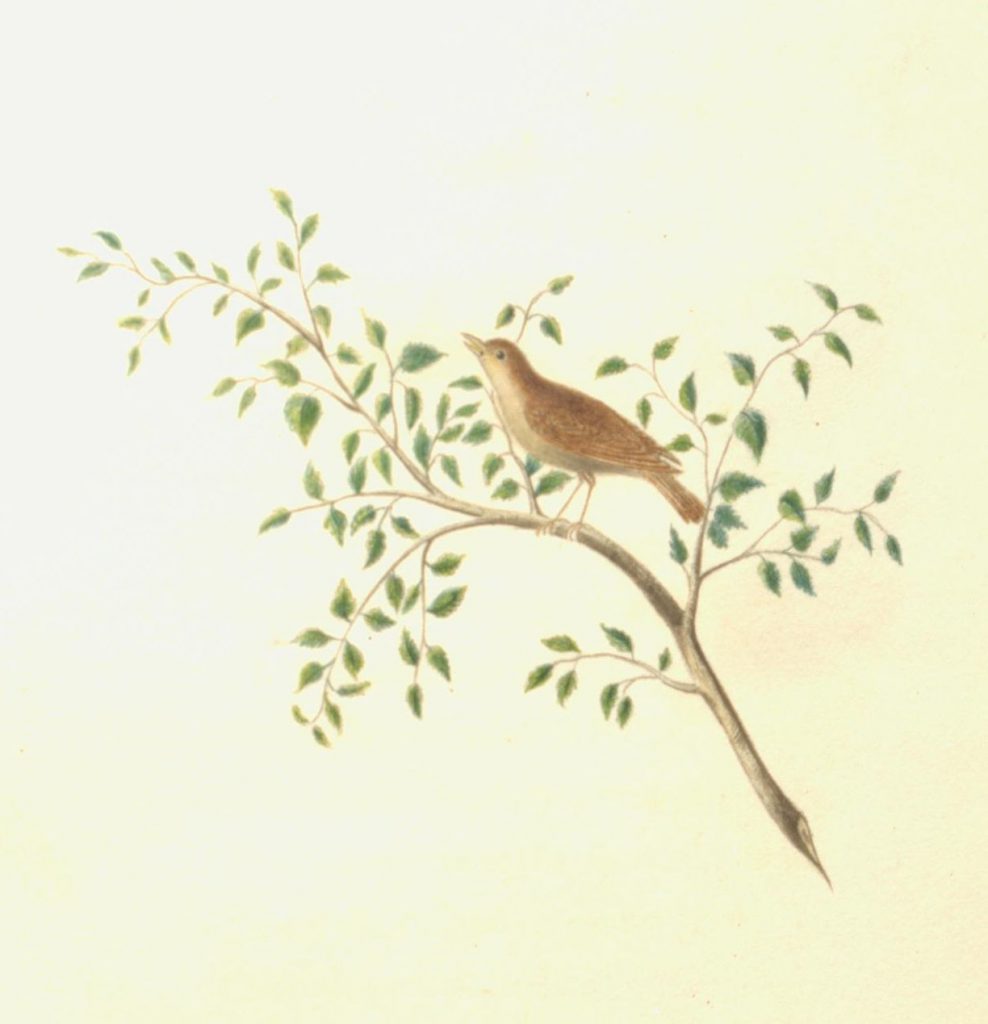 The poetry of birds: selected from various authors; / with coloured illustrations by a lady. (Liverpool, 1833). SPEC J24.59.
This anonymous work is a compilation of poems about birds, with corresponding hand-coloured illustrations, and additional coloured illustrations of birds pasted in. The text and drawings are the work of poet, editor, artist and writer Hannah Mary Rathbone, née Reynolds (1798-1878), a member of Liverpool's renowned Rathbone family. The book was printed and published in Liverpool by George Smith at Tithebarn Street, and survives in very few copies.
Liverpool Royal Institution Museum: entries for Nightingale and Blackcap in Catalogue of birds (1836). Liverpool Royal Institution Archive LRI 2/2/1/4.
The Liverpool Royal Institution was founded in 1814 by a group of Liverpool merchants and professional men, associates of the Liverpool philanthropist William Roscoe (1753–1831). The grade II Liverpool Royal Institution building, which still stands on Colquitt Street, was built in 1799 as a house and warehouse for the merchant and slave-trader Thomas Parr, and adapted to house the LRI's collections and activities, including the natural history museum. Most of the collections were acquired by gift or deposit, including the nightingale and blackcap ('the Northern Nightingale') specimens listed in this catalogue (51 and 52 on the page displayed). The surviving Library and Archive of the LRI are housed in Special Collections. The American naturalist and artist John James Audubon (1785-1851) exhibited seven paintings at the LRI's 1827 exhibition: two of these, 'An Otter Caught in a Trap' and 'A Pounce on Partridges', are on display in the VGM's Audubon Gallery.
John Gould, 1804-1881 A monograph of the Trochilidae or family of humming birds (London: published by the Author, 1849-61). Issued in 25 separate parts; with a 5-part supplement completed by Richard Bowdler Sharpe, 1880-87. SPEC 300.1.
John Gould was described by Sacheverell Sitwell as 'model and prototype for the Victorian bearded man,' and his home in Bloomsbury as 'a taxidermist's paradise'. Sitwell also commented that Gould's illustrations were chiefly drawn by his wife, by Edward Lear, and William Hart. These illustrations (418 in this work alone) were then lithographed and hand-coloured. The shimmering effect of the birds' plumage is replicated in the illustrations by the inclusion of gold leaf under a transparent layer of oil paints and varnish (note from catalogue of the Royal Collections Trust). Many of Gould's works were acquired for the Library of the Liverpool Royal Institution, which is now part of Special Collections.