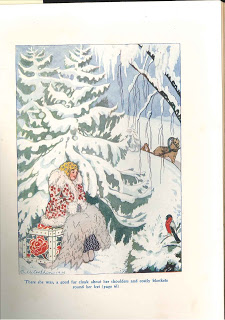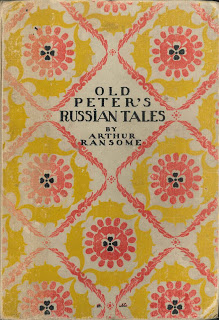 Old Peter's Russian Tales (1916)
This book is part of the Gnosspelius Books Collection donated by Janet Gnosspelius, a former Architecture student, who left a generous bequest to the University.  The new Researcher Reading Room, which opened in the Sydney Jones Library on December 12 2012, was created with the Gnosspelius bequest.
Old Peter's Russian Tales is dedicated by the author, Arthur  Ransome, to 'Miss Barbara Collingwood' – Janet Gnosspelius's mother – and this  copy of the first edition originally belonged to her. Her name appears on the front flyleaf with the date Nov. 9 1916. The copy is likely to have been given  to her by the author – who had previously proposed to her. Despite her refusal,  the families remained close: Janet Gnosspelius appears as Nancy in his novel  Pigeon Post (1936), part of the Ransome's Swallows and Amazons series.
Old Peter's Russian Tales consists of traditional style Russian legends and short stories and is beautifully illustrated by Dmitri Mitrokhin.