The 16th November saw the launch of the Explore Your Archive campaign. Our participation in this campaign began with a look at our University Archive and now continues, showcasing additional archival collections of a diverse and interesting nature. These collections encompass a range of personal, political and literary papers of notable individuals, an extensive Science Fiction collection, and material relating to the shipping trade.
The Rathbones of Liverpool are renowned for having occupied many important roles within society. A merchant family, the Rathbones were also philanthropists, social reformers, and patrons of the arts. The family and business papers of this accomplished family are widespread in their content and span many generations. Particular treasures include the puzzle letter from the papers of May Rathbone, and a photographic postcard featuring Eleanor Rathbone and her involvement with the suffragette movement.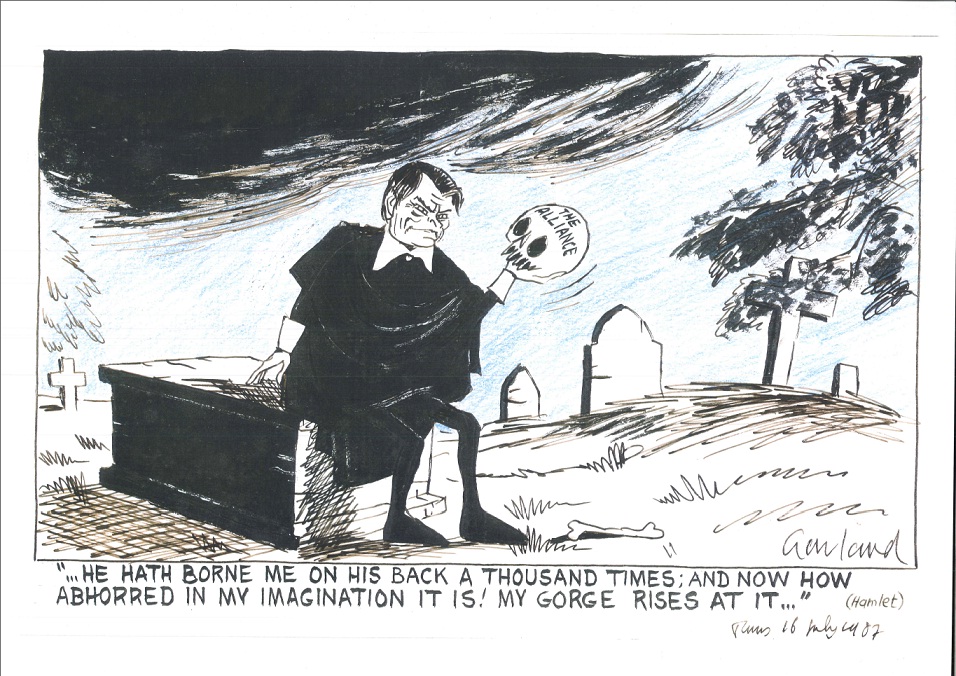 We also hold the political papers of Lord David Owen, Chancellor of the University of Liverpool from 1996-2009. These papers span his political career, covering his time as Chancellor and his position as the co-founder and subsequent leader of the Social Democratic Party. Although this material naturally includes correspondence, reports and campaign literature, there are also some quirky items within his papers. The puppet show 'Spitting Image' parodied Lord Owen in the 1980s; posters of which can be found within the archive alongside satirical cartoons by Nicholas Garland. In addition to the David Owen papers we hold the political papers of John Bruce Glasier and his wife Katharine St John Conway, founder members of the Independent Labour Party.
The papers of the Liverpool poets;
Roger McGough
,
Brian Patten
and
Adrian Henri
are also held within our archives. The three individuals worked closely together throughout their literary careers, publishing an anthology together entitled
The Mersey Sound
. Special Collections and Archives also holds other literary collections spanning the 15
th
-21
st
centuries, including some poems by Ted Hughes, Seamus Heaney and D. H. Lawrence.
We also have 'Europe's largest catalogued collection of Science Fiction material.' This is comprised of the manuscripts and personal papers of writers such as Olaf Stapleton, John Brunner and John Wyndham, making it a popular archive for researchers and fans alike. Wyndham, famous for the novel The Day of the Triffids, valued his privacy and instructed that his personal papers be destroyed. However, some 350 war-time letters to his partner Grace Wilson have survived, making them a particularly special asset to our collection.
The Cunard Steam Ship Co. Ltd Archive contains administrative papers including minute books, registers, letter books and public relations material. Although much of this material is business related, there are surprising and heart-warming discoveries to be made within this archive. One photograph tells the story of a fox-hound who escaped from a motor-bus conveying his pack to the Cunard liner 'Caronia' for shipment to America. The image shows him following his capture, safely installed on board.
In addition to the Cunard archive, further material relating to the shipping trade can be found in the Eric Hardwicke Rideout papers that are also held within our archives. These papers include Rideout's research notes on the port of Liverpool and items relating to the customs houses and tobacco trade. Both archival collections acknowledge Liverpool's heritage as a thriving port, famous for its docks and shipping trade.
We hope that some of the items in our collection will inspire you to visit your local archives to discover the many stories and treasures it holds. Our current displays are situated within Special Collections and Archives on the ground floor of the Sydney Jones Library. http://www.exploreyourarchive.org/
Lorna Goudie
Graduate Library Assistant