The annual Appleby Horse Fair, in Cumbria, which takes place in June, provides a rare occasion when images of Romany Gypsies are prominent in the national press.
The Victoria Gallery & Museum's current exhibition from the Gypsy Lore Society Archive – Fred Shaw (1867-1950): Gypsy Portraits – continues until Saturday 26 September, showcasing the work of this skilled amateur photographer. The exhibition's curator, Moira Lindsay, has selected her favourite photo from the display, of Charlotte Cooper: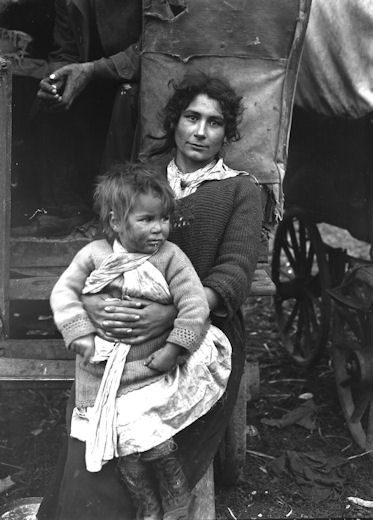 Moira explains her choice:
I think the way Shaw has captured her expression combined with the composition is superb. I also noticed the other day – while looking for something else as you do – that Charlotte and the child are also in P.192, which is such a different photo, and P.192 is the print that Shaw had inscribed on the back 'showing the type which the general public call Gypsies'.

I think looking at P.192 in relation to P.193 reinforces his skills in capturing that moment in time in P.193 when clearly there are a lot of other things happening around them yet Charlotte is sitting calmly gazing off: Shaw has made a moment in time monumental.

The best way I can put it, is that sometimes an image makes you catch your breath, and this one does that for me.
Frederick James Shaw's fascination with gypsy life and culture began as a small child when he accompanied his nursemaid on visits.  In his childhood he learnt much of their language and quickly became fluent in several Romani dialects.
Shaw worked as a printer, but his spare time was taken up with photography. Some of his photographs were reproduced in the journal of the Gypsy Lore Society, of which he was a member. He clearly had a fascination and respect for the people he met. His photographs show a real trust and connection between Shaw and his subjects which combined with his skill is what makes them so captivating.
His photographs do not romanticise their life, nor does Shaw approach them as an ethnographer, but as a portraitist. He said that 'the best and truest Romano Rai is the man who likes to be with Gypsies for their own sake and is not everlastingly questioning them about their ancestry and their customs'. His friend and obituarist, Andrew Macfarlane, recalled that he was scathing about writers who claimed 'some remote Gypsy ancestor as responsible for their interest, and by inference, subtle insight into Gypsy life: "hereditary, like a wooden leg".'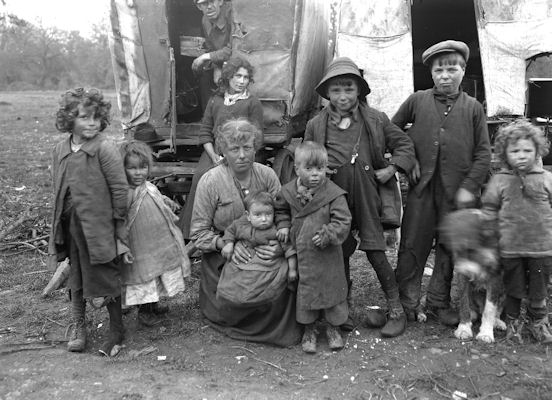 Shaw's collection was presented by his wife Helen to the Gypsy Lore Society Archive which is deposited with University of Liverpool's Special Collections & Archives. The titles in the exhibition are the captions recorded by Fred Shaw on his photographic negatives or prints.