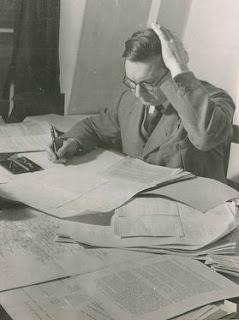 Dr Dennis Chapman was a member of University staff from 1946 until his retirement in 1977. During this period he was Senior Lecturer in Social Science 1946-67, Assistant (and later Acting) Director of Business Studies 1967-77 and was Honorary Secretary of the Liverpool Association of University Teachers.
This photograph depicts Chapman at work as one of the editors writing a report for the Wartime Social Survey in which members of the public were interviewed to gain
"information about the habits, needs and reactions of the people to Government Departments".
The addition to the Dennis Chapman papers comprises work-related papers and research material, after Chapman's retirement: correspondence, photographs, notes, journals, articles, personal documents, booklets and news clippings.
Subject areas of the papers include Sociology and Chapman's research interests into the flax and jute industry in Somerset and Dundee. See: Finding aid for D910: additional papers of Dennis Chapman
Sian Wilks, Archivist