In 1948, United Nations General Assembly adopted the Universal Declaration of Human Rights. This significant declaration is now used as a guideline for many nations around the world when implementing laws or adopting policies. As Human Rights Day commemorating the Universal Declaration of Human Rights takes place in December, we thought it fitting to show some of the material we have in Special Collections and Archives that champions the rights of children and refugees across the world.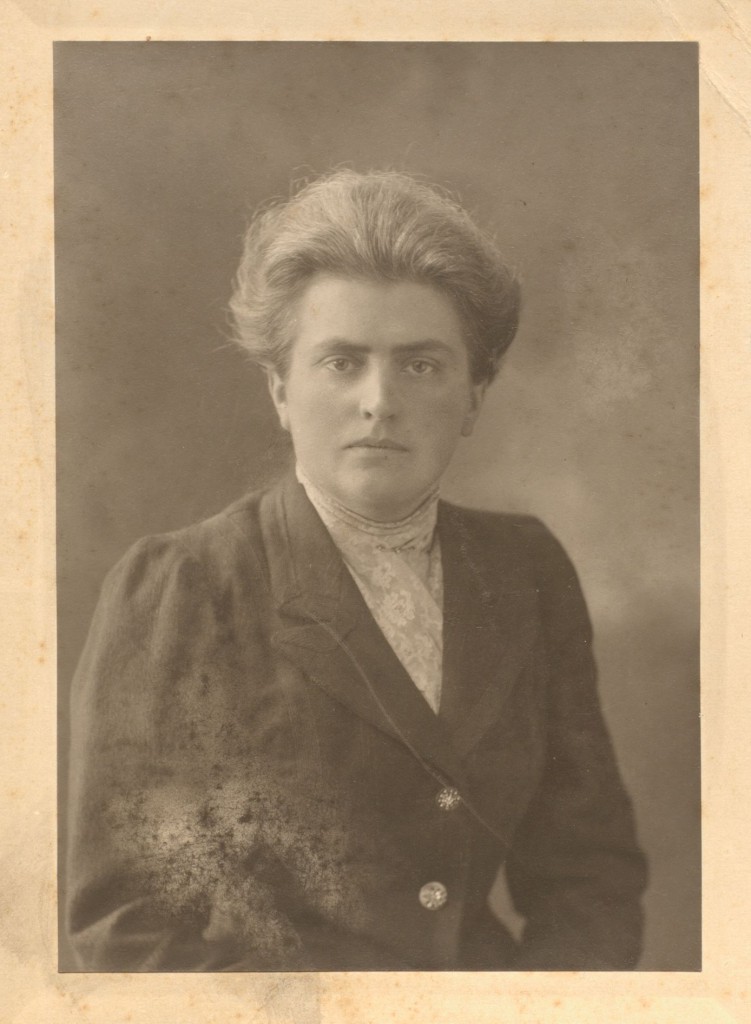 In particular, social reformer and M.P. Eleanor Rathbone was instrumental in ensuring the safety and wellbeing of those affected by war and any subsequent geographic displacement. As she formed the Children's Minimum Committee in 1934 to actively campaign for the eradication of children in poverty, it is perhaps very fitting that the Declaration of the Rights of the Child was further expanded in 1946, the year of Eleanor's death. This promoted the safety and welfare of children across the world.
In the later 1930s, she was an active participant in campaigning for peace and the safety of Spanish civilians during the Spanish Civil War. Here at Special Collections and Archives we hold material in the Rathbone Collection (RP XIV.2.13) that relates to Ms Rathbone's attempts to ensure that the British government were doing all they could to assist refugees and injured civilians in Spain. The below telegram to the future Prime Minister Clement Attlee outlines Eleanor's attempts to persuade the government to protect refugee ships leaving Spanish and French ports.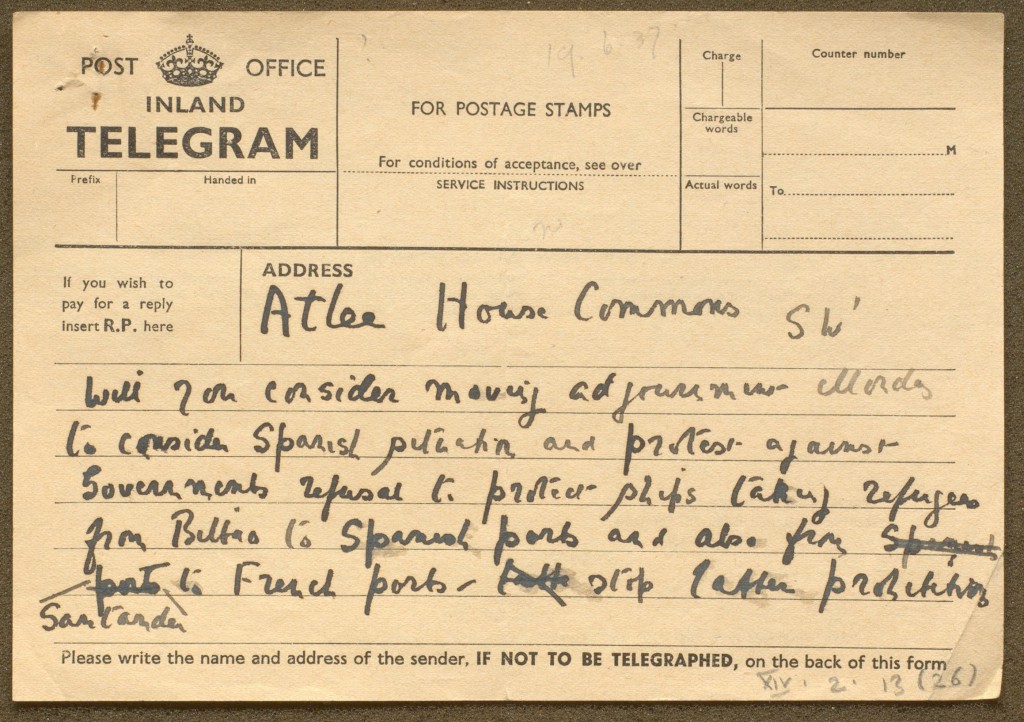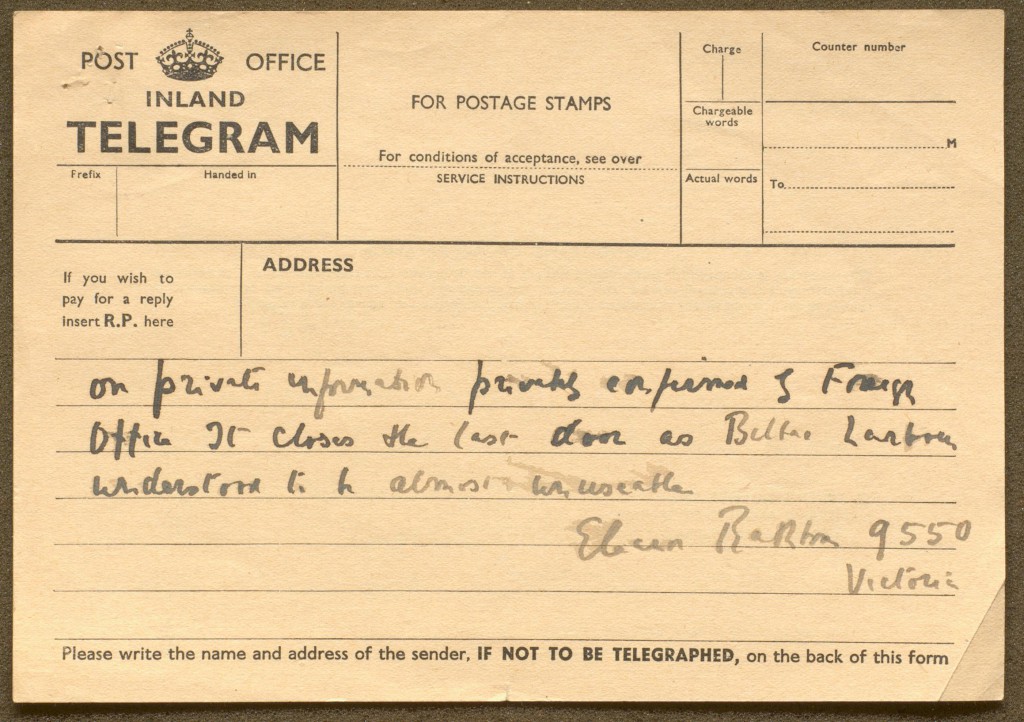 Eleanor was also instrumental in lobbying for the safe removal of refugees from those countries whereby the threat of Nazi Germany was prominent, and further their safety and ensuring the best treatment whilst in Britain [RP XIV.2.17]. In particular, she was keen for those families that were separated across international borders to be reunited in Britain as soon as possible. Eleanor wrote to the Home Secretary in reference to the Government's regulations on allowing refugees into the country, which she described was "as though one were to throw a child out of the top window for fear of catching cold through leaving the door open". [RP XIV.2.17(3), Letter to Home Secretary dated 3rd February 1940].
Current support for child refugees can be found in December through Christmas Jumper Day, in aid of Save the Children. This was certainly a cause close to Eleanor's heart, and as the page below taken from The Girl's Own Annual demonstrates, children in the 1930s should be safe and showing off their rounders positions!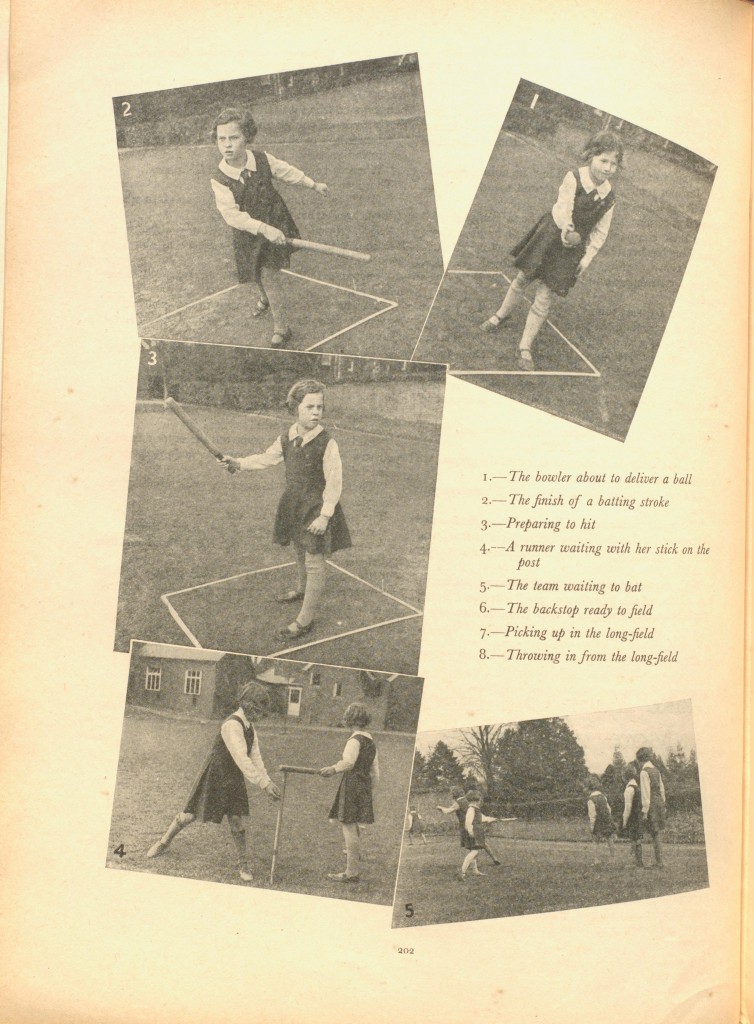 See here for an overview on the Rathbone Collection. As always, the material is available to view here at Special Collections and Archives. We are based in Sydney Jones Library, Liverpool University, and open Monday to Friday, 9:30am until 4:30pm.