"Mies van der Rohe & James Stirling: Circling the Square" is a major new exhibition at the Royal Institute of British Architects (RIBA), offering a re-examination of two iconic architectural schemes proposed for the same site in the City of London. Commissioned by architectural patron and developer Lord Peter Palumbo, Mies van der Rohe's unrealised Mansion House Square project is explored alongside its built successor, James Stirling Michael Wilford & Associates' No. 1 Poultry. The design history of the two schemes highlights the differing movements and influences of the mid-20th century. Intended to replace an eclectic block of listed buildings, both became subjects of passionate debate, and high-profile inquiries.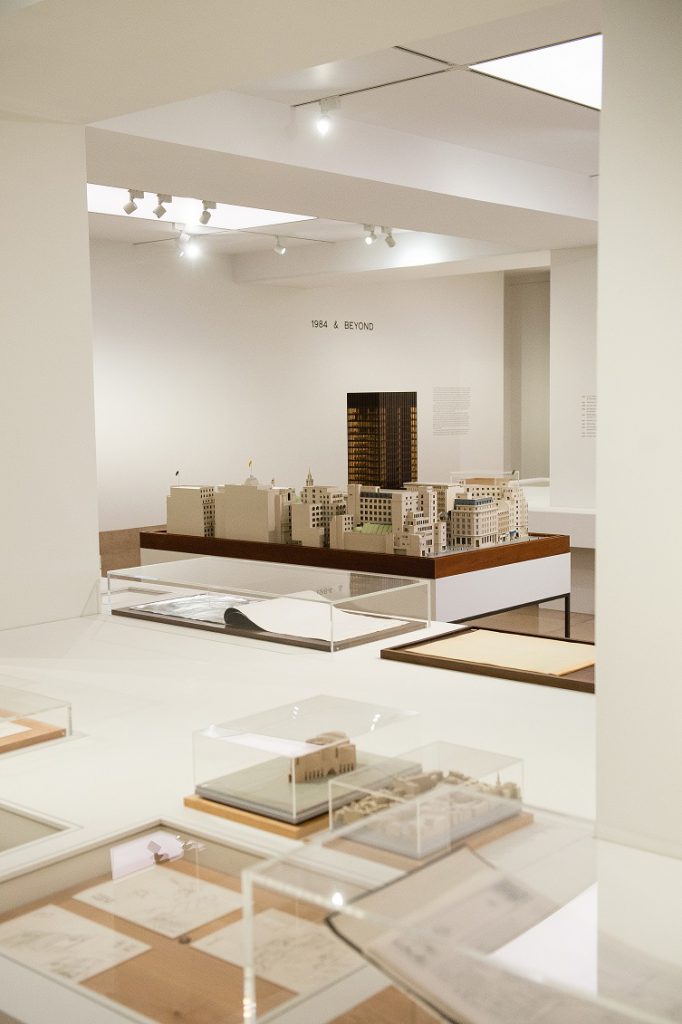 Mies van der Rohe, one of the most prominent architects of the 20th century, designed his proposal for Mansion House Square at the very end of his career, between 1962 and his death in 1969. The glass tower of 19 storeys and accompanying public square and underground shopping centre would have been Mies' first and only project in the UK. After a protracted planning process, the scheme was finally rejected in 1985. Lord Palumbo then approached James Stirling, fresh from his success at Stuttgart with the Neue Staatsgalerie in 1984, to conceive an alternative vision for the site. James Stirling, Michael Wilford & Associates' No. 1 Poultry was completed in 1997, two years after Stirling's untimely death. It has recently been awarded Grade II* listed status; while it still divides opinion, the building was designed with a consciousness of both its historic surroundings and Mies' earlier design.
On display from Special Collections & Archives are two letters from the archive of William Graham Holford, Baron Holford of Kemp Town (1907-1975), architect and town planner. Holford studied at the University of Liverpool's School of Architecture under Professor C.H. Reilly, and in 1936 was appointed to the Lever Chair of Civic Design, a post which he held until becoming Professor of Town Planning at University College London in 1948. During his career Holford sat on many committees, including the Royal Fine Art Commission, the National Joint Council of Architects, Quantity Surveyors and Builders, the Royal Academy of Arts, and the Royal Society of Arts. He was President of the Royal Institute of British Architects from 1960 to 1962; amongst personal and consultancy papers, records of international visits, lectures and articles, his papers include records of the Institute during his presidency. These detail his activities and the influence he was able to bring to the questions of architectural politics of the time (D147/RBA).
The letters exhibited are one written by Mies van der Rohe to Holford on 15th February 1963, claiming "to be building such a building in London would indeed be an honour" (D147/C39/1/(ii)), and another dated August 1969 written by Peter Carter on the death of Mies van der Rohe (D147/C39/1/(i)). One of the numerous criticisms levelled against Mies' scheme for Mansion House is that he took little personal interest in the project, which the 1963 letter helps to disprove. The correspondence is also indicative of the nature of the two mens' collaboration, and, alongside digital images of Holford drawings also on display, provide an important insight behind the scenes of this much publicised project.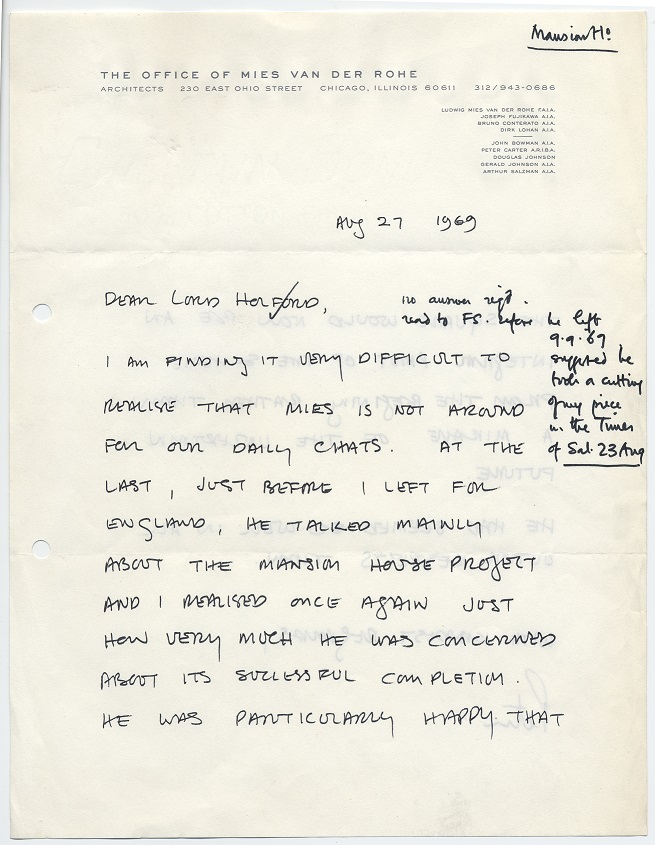 The exhibition, which was rated 4 star in a recent Guardian review, opens on 8 March and closes on 25 June 2017.