Earlier this month SC&A received a donation of material commemorating the Queen Mary and her launch in 1934 and memorabilia from a Sylvania Mediterranean cruise in 1965. These items were donated by Kit Syder in memory of her Grandparents, Tom and Hilda Roby who collected the items through their connection with the John Roby Ltd Company (later Roby & Utley) and as passengers on a Cunard cruise. This accession is particularly timely as today marks 50 years since the Queen Mary made her final voyage from Southampton to her new home in Long Beach, California.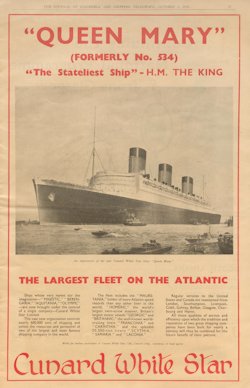 It is perhaps difficult today to appreciate how significant the Queen Mary was when she entered service, for not only was she the largest and fastest ship the world had ever known but she was also the most expensive. Items within this new accession help to demonstrate the impact the Queen Mary had on the country and her wide-ranging appeal.
They include a supplement from The Journal of Commerce and Shipping, (as the first ship to be launched by the newly formed Cunard White Star Line Ltd. the Queen Mary dominated news headlines); a scale model by Bassett-Lowke Ltd, complete with printed instructions and a fold-out scale drawing; a hand-held Queen Mary puzzle from the 'R. J. Series of Popular Puzzles' and collectable confectionery and cigarette cards that used illustrations to demonstrate the scale and features of the Queen Mary to the public and potential passengers.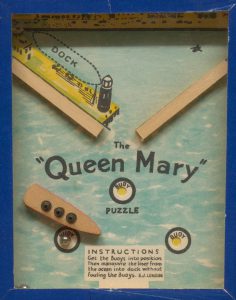 The new accession also includes items relating to Thomas Utley (Rainhill) Ltd (a brass foundry which made fittings for the shipping industry) in the form of a promotional booklet and catalogue, staff photograph and news clipping. The promotional booklet as shown was produced by Thomas Utley (Rainhill) Ltd. Rainhill Liverpool to highlight a selection of the sidelights and windows supplied to the Queen Mary.These items will be of particular interest to those who are researching suppliers to the Queen Mary and will complement Sir Percy Bates' correspondence that can be found within the Cunard Archive's 'Chairmen's Papers'.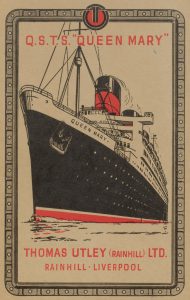 Pictured below is just one of the menu cards collected by Tom and Hilda Roby on their Mediterranean cruise on the Sylvania in 1965. Further items from this cruise include copies of the Cunard Ocean Bulletin and even Cunard-themed cocktail stirrers, matches and a bar of soap!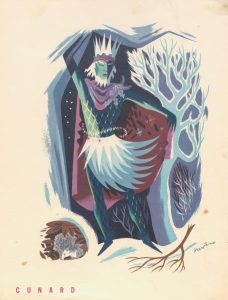 The full catalogue for this new accession (D1169) will be available online via the Cunard webpage.