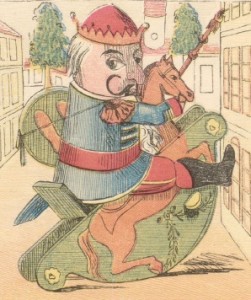 The inscription on the front page of The Comical Storybook reads,
From Pappa, with  much love, To May Rathbone; On attaining her fourth year:- 30th  November 1870.
This book was initially given as a gift from Theodore William Rathbone to his daughter on her birthday. In turn May Rathbone has since bequeathed it to our own Special Collections. With its '100 colored illustrations' this beautifully bound book features five short stories, one of which is the festive 'The Wondrous Tale of King Nutcracker and Poor Richard'. It is appropriate that May shared her birthday – 30 November – with St Andrew's Day, as the Sunday following this marks the start of advent.
In the run up to Christmas we can imagine the Rathbone children having this story read to them, May alongside her younger sister Lucy, although sadly Lucy (1869-1872) would only live to see one more Christmas after this. 'The Wondrous Tale of King Nutcracker and Poor Richard' is written in verse and epitomises a Victorian Christmas, detailing all things delightful to children,
Fruits, and sweets, and playthings rare; Guns and  drums, and picture-books… Hail, Christmas-tide, thou glorious tide!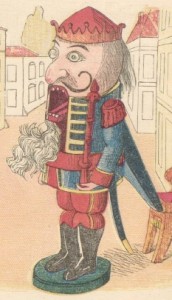 This story is loosely based on 'The Nutcracker and Mouse King' written by Hoffman and published some fifty years earlier in 1816. It is this latter tale which was later adapted and now famed as Tchaikovsky's ballet. This story differs however, with its jovial tone pervaded by references to poor Richard, reminding readers and children to remember others at Christmas time.
When mirth and joy around you  flow / Oh give a thought to others woe!
Visitors to Liverpool in Advent may have missed the English National Ballet's performances of The Nutcracker, but there is still The Nutcracker Trail to enjoy.
Lorna Goudie, Graduate Library Assistant