Eerie, empty streets that once echoed with footfalls of crowds. Global pandemics that suspend everyday life as we know it. Savvy populations stocking up on food, water, and… toilet paper? Science fiction writers have imagined (almost!) every aspect of dystopia. They say truth is stranger than fiction—and we are living in strange times, indeed. But fear not! Our Science Fiction Collections Librarian has curated a selection of science fiction texts that will help you survive—and thrive in!—our dystopian present.
Philip K. Dick, A Maze of Death
Don't be put off by the grim title; this is a wild, imaginative and twisting tale of a series of murders that take place in a small community. As the survivors struggle to find out 'whodunnit', the narrative takes a turn for the bizarre—and the memorable ending upends the reader's expectations entirely.

George Orwell, Animal Farm
A classic allegory of the events and personalities leading up to the Russian Revolution and Stalinism, Animal Farmremains a perennial anti-fascist tract. The twisting machinations of the villainous pig Napoleon—the fabrication of myths and narratives he circulates to placate the farm animals under his sway—should inspire rage as much as they amuse. If the book teaches us anything it is this: keep your eyes and ears sharp in times of political chaos…
The novel is featured in our current exhibit 'Banned, Binned, and Bombed', which may be viewed online.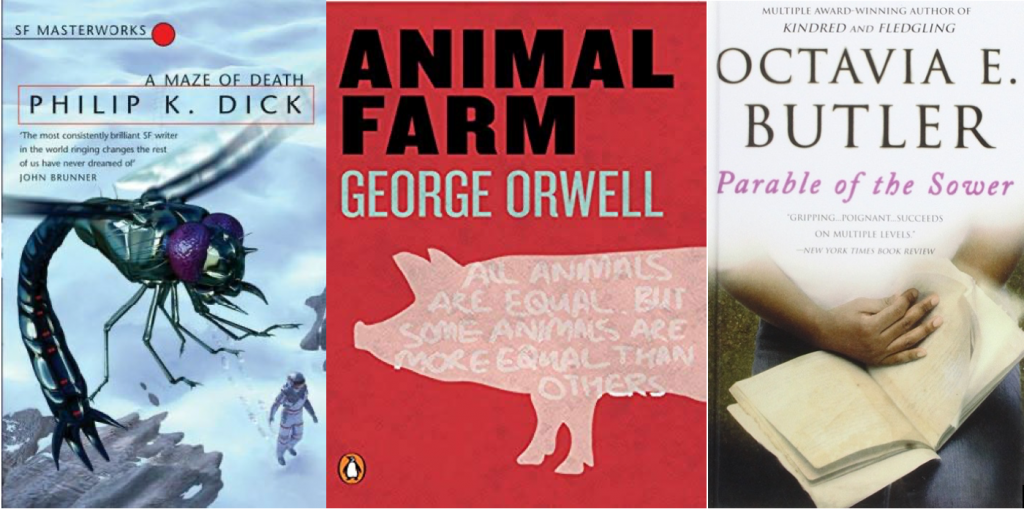 Octavia Butler, Parable of the Sower & Parable of the Talents
Octavia E. Butler is an often under-looked sf writer who created some of the most astonishing, compelling and hopeful novels and stories in the genre. The 'Parable' series of novels, consisting of 'Parable of the Sower' and 'Parable of the Talents', follow a woman and her daughter as they try to navigate a world ravaged by a disease known as 'The Pox'.
Within a society that is also struggling with moral decay and violence, the characters formulate a utopian—but complex, and critically thought-out—creed called 'Earthseed', with the aim of restoring ethical ways for people to be together in a community. The novels also pay moving testament to the importance of keeping stories alive through oral traditions, reading, writing, and the construction of libraries and archives (not that we're biased…)
Thomas Disch, 334
Caution should be taken when approaching this novel; it's not for the faint of heart, and contains potentially disturbing themes—not that one would expect anything less from such a provocative and radical author as Thomas M. Disch! Set in New York around the year 2025 (so not too far off…), the novel is composed of five stories chronicling the lives of five very different characters as they go about their daily lives in a dystopian near-future wracked by increasingly hostile class divisions and wealth disparity.
Bessie Head, A Question of Power
Alright, so this one's technically a bit of a cheat in that it's not really science fiction—it is closer to something like 'magic realism'—but the novel's extraordinary, surreal narrator charts a journey through mental illness and soars, as one Sunday Times reviewer wrote, "from rock bottom to the stars." This is an inspiring and mesmerizing, if difficult, read.
Michel Faber, The Book of Strange New Things
A literary chameleon who moves with grace and confidence between genres, Michel Faber leaves us with a moving work of speculative fiction in his most recent, and perhaps last, novel. 'The Book of Strange New Things' tells the story of Peter Leigh, an English missionary, who is sent to a distant planet called Oasis to convert the indigenous aliens to Christianity. He stays in contact with his wife Bea, who has remained on Earth, via a messaging program called 'Shoot' (sound familiar?) However, her messages become increasingly sporadic and alarming in tone as she details the deterioration of terrestrial society—and Peter is forced into a great reckoning with all that he loves and holds dear. A slow-burning but incredibly rewarding novel: one for those who like their science fiction towards the literary end of the spectrum.
Rivers Solomon, The Deep
Solomon's sophomore novella (after the brilliant and also-recommended An Unkindness of Ghosts) starts from a startling premise: the water breathing descendants of enslaved African woman tossed overboard during the Middle Passage have formed their own, seemingly utopian, underwater society. The traumatic memories of the past can only be accessed by the Historian, Yetu, who flees to the surface world when the pain becomes too unbearable. There she finds a world that will call on everyone to reclaim their memories, their history, and their identity, if they are to survive it.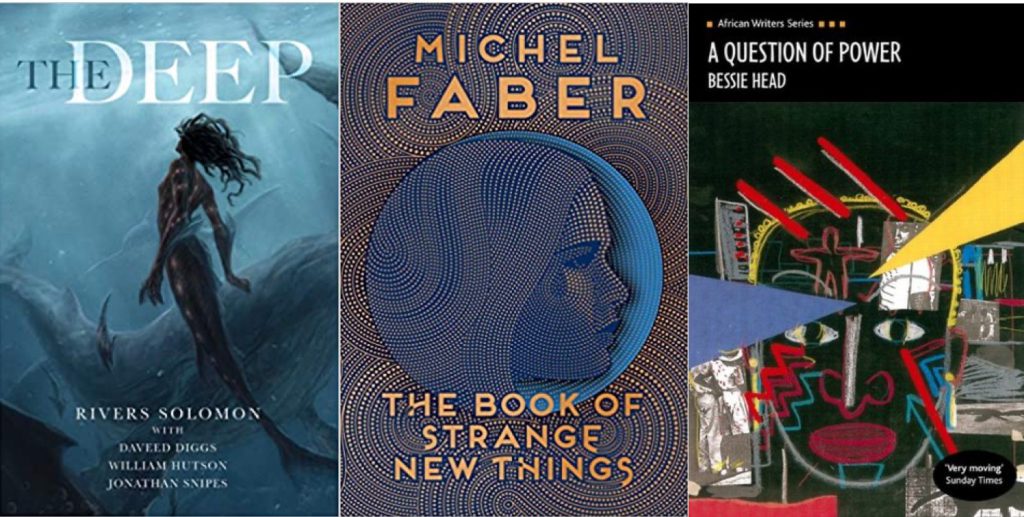 Margaret Atwood, Oryx and Crake (Book 1 of the 'MaddAddam' trilogy)
Margaret Atwood, Mistress of Dystopias, is perhaps most famous for the harrowing The Handmaid's Tale. But (among her many, many other brilliant works) her surrealist 'MaddAddam' trilogy is not to be missed. Oryx and Crake is a postapocalyptic tale of climate change, genetic engineering—and the unlikely relationships that can form between very different beings. You'll never look at pigs the same way after reading this!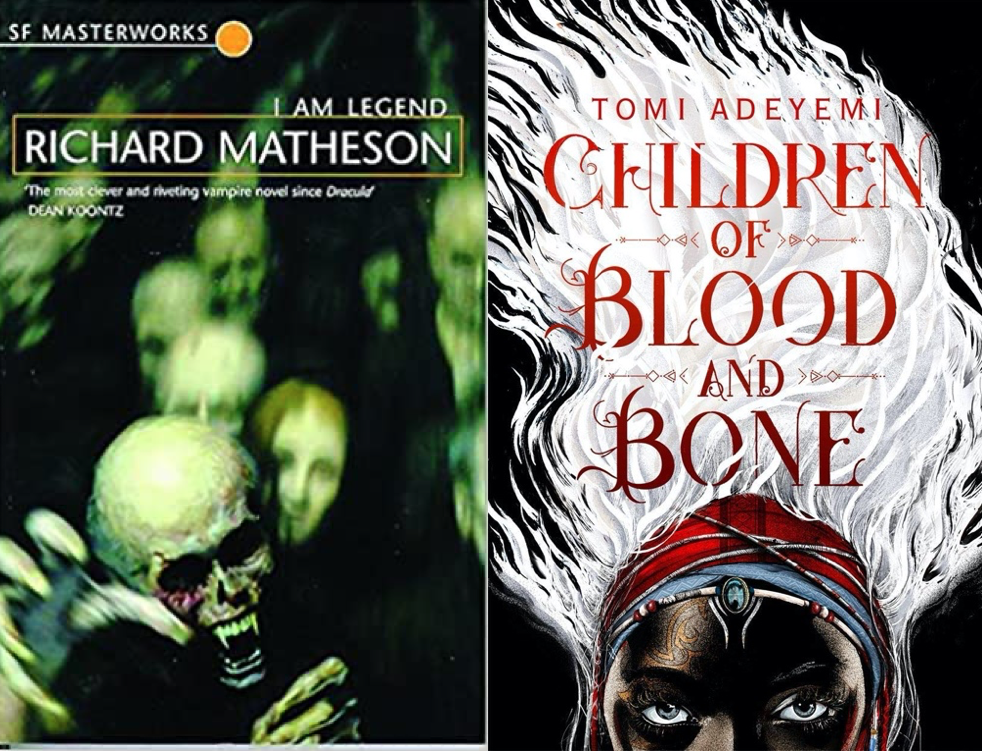 Richard Matheson, I am Legend
Reader, beware: you're in for a pleasant surprise, as this unexpectedly moving and hopeful novel is very different to the Hollywood movie you might have seen back in 2007. The protagonist is one of the last humans left alive in a world overrun by a disease that has turned most of the world's population into blood-drinking vampires. Yet, as time goes on and the vampires begin to develop their own society, one thing becomes clear: it is impossible for worlds to go 'back to how they were,' and we must all do our best to adjust to often radical changes.
Tomi Adeyemi, Children of Blood and Bone
This West-African inspired debut tells the story of Zélie, a magic user struggling to survive—and develop her powers—in a world in which magic-users are hunted down by a tyrannous king.
As well as these longer works, there are also many fantastic short stories and novellas available to read online. Here is a selection of some of my favourites:
Sarah Pinsker, Left the Century to Sit Unmoved (Strange Horizons)
Caroline Yoachim, Carnival Nine (Beneath Ceaseless Skies)
Shamar Harriott, Notes on the Plague (FIYAH Lit Magazine)
Octavia E. Butler, 'Speech Sounds'
Maya Chhabra, The Plague-House (Anathema)