Special Collections and Archives (SCA) receives a wide range of enquiries from researchers who are keen to learn more about passengers and explore the (often limited) records within the Cunard archive to support their research.
However, one of the most overlooked groups of passengers on Cunard ships is that of children – often appearing as 'missing' in the archival records, despite the fact that child passengers were present on Cunard's earliest voyages and have continued to be passengers throughout the company's 180-year history.
Although small in number, it is interesting to see in the surviving records how children were catered for on Cunard cruises and voyages. We take a look at some example records within the Cunard archive that document the experiences of children as passengers.
Passenger Lists
Surviving passenger lists (both the formal business ledgers and souvenir examples treasured by passengers) are very limited within the Cunard archive. Those that do survive tend to withhold the names of the children that travelled on board in a similar fashion as that seen with an accompanying 'servant' or 'maid' – instead children are recorded as simply 'child/ren' or 'infant' under the parents' name.
In Cunard's earliest of passenger lists, the partial record for the Britannia's 4th July 1840 crossing from Liverpool to Halifax and Boston is shown. It provides an 'Abstract' for the total number of adults, children and servants carried. None of the children are identified by name, for example see 'Berth 27/28'.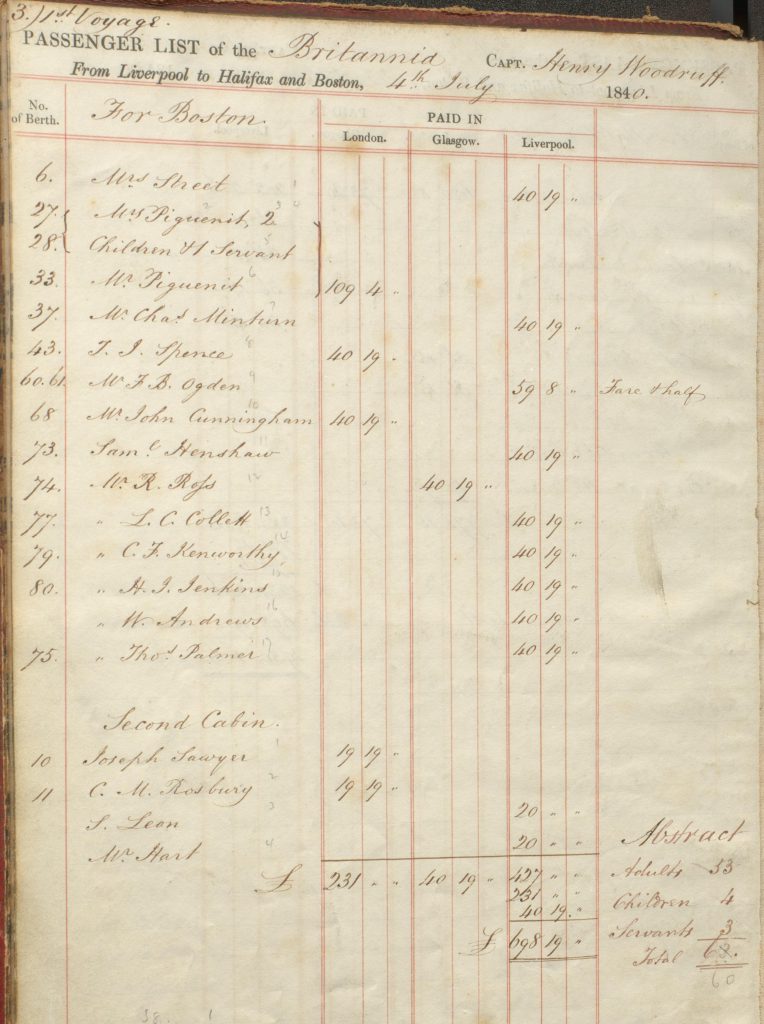 Cunard Staff Magazine
An important historical resource within the archive, the Cunard staff magazine features a mixture of company and staff news, providing an insight into Cunard's passengers of the 1920s and society more generally. A glimpse into the wide range of experiences from the point of view of children is documented, albeit infrequently. For example, images of emigrating families and traveling groups often include children and even births took place at sea, with a baby born on board the Franconia in 1927 featuring in the magazine.
There are then articles within the magazine that are aimed at children as an audience (or at least their guardians), specifically competitions and onboard activities such as games – scenes that infer that children were increasingly being catered to as passengers, perhaps reflecting the demographics of those that were travelling at the time.
Promotional Material
Photographs within the Public Relations Department series often document the facilities on board Cunard ships that were available to children – primarily nursery rooms, complete with modern accessories and decorated by artists with bespoke artwork and decorative scenes. Nursery staff were employed on many Cunard ships and these staff members also feature in some of the photographs. Unfortunately there are no illustrations within the archive of the first playroom at sea which was onboard Cunard's ship the 'Arabia'.
Parties appear to be a popular activity for children with birthdays, Christmas and tea parties celebrated, complete with their very own menu cards.
Recent Donations
Last year we were fortunate to receive a donation of Sylvania cruise memorabilia that contained some items that were specifically for children. The donor was herself a young child during the voyage and thinks she remembers the name tag being given out during a lifeboat drill. This is a unique record within the Cunard archive and is complimented by 'Children's Tea Party' menu cards. Catalogued as part of the Cunard Associated Deposits (CNDA), this collection is searchable via our archive catalogue using the reference number '2020.030'.
With progress continuing with the cataloguing of the John Langley collection, we continue to discover interesting items which help document Cunard's heritage. Recently we listed a bundle of letters that recollect the daily activities of a nursery worked named 'Lorna' who worked in the RMS Queen Mary nursery. They include letters written on board RMS Queen Mary during her maiden crossing, a Royal visit to the nursery and interesting comments about general life on board. We are sure that these letters will be popular with visitors to the archive as they are a rare example of contemporary first-hand experiences of working for Cunard.
Given that records relating directly to passengers and the booking process have largely not survived as part of the Cunard archive we hope that these example records have provided some avenues of thought for where to locate records relating to passengers within the business papers. For a specific group such as 'children' a simple search term would most likely not produce anything of value – thinking about the business archive as a whole can help researchers pinpoint potential areas of interest.
You can learn more about the Cunard archive and any recent accessions via its webpage where links to the online catalogues can be accessed.