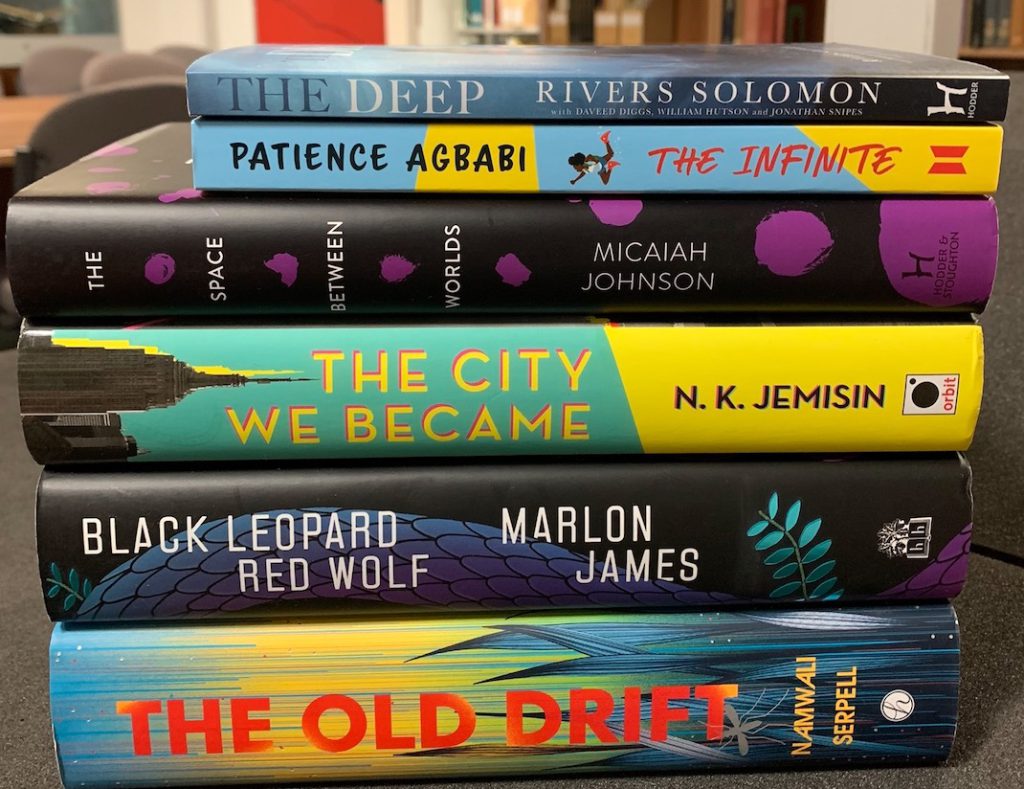 To celebrate Black History Month 2021, Science Fiction Collection Librarian Dr. Phoenix Alexander has selected a showcase of contemporary works by Black authors who write across and through literary genres.
For a long time it has been common to label genre works by Black authors as 'Afrofuturist', often in spite of their disparate settings and themes. Samuel R. Delany, for instance, speaking on his being historically grouped with the late, great Octavia E. Butler, emphasised the fact that they were very different writers. In a personal email, Delany maintained that "it's the critic who has to figure out how and why it [Delany's work] relates to the conditions of Black women and men in this country." Relatedly, scholar Marisa Parham coined the term 'Astrofuturism' to refer to more literary (as opposed to audio-visual) Black-created 'texts', and the author Nnedi Okorafor claims the term 'Africanfuturism' for her work, distinguishing it from the predominantly US-centred 'Afrofuturism.'
Following the lead of these thinkers, the five books featured in this blog post highlight the sheer imaginative range of works by Black authors writing today: works that are, increasingly, being recognised, awarded and celebrated by the genre.
---
Namwali Serpell, The Old Drift; Patience Agbabi, The Infinite
Our first two books are linked by their recognition by the Arthur C. Clarke Award; the former won the Award in 2020, and the latter was shortlisted in 2021.
The Old Drift is a dazzling sprawl of a novel that tell the story of three Zambian families over a span of three generations. Only veering into science fictional territory in its latter section, The Old Drift refreshes perceptions of what constitutes an 'African' novel and demands space in a genre that has historically been hostile to non-Western futurisms.
Patience Agbabi's The Infinite is similarly ground-breaking in that it is one of the few children's books to be nominated for the Arthur C. Clarke Award. Its protagonist, Elle, is a 'Leapling': a child born on the 29th February, and possessed of the ability to jump through time. Elle is enlisted into the 'Time Squad'—a group of time travelers that traverses the space-time continuum to prevent temporal crimes—and finds herself challenged with solving a surprisingly grisly crime. Topical, timely, and joys to read, both of these novels are heartening emblems of the state of contemporary SF.
N. K. Jemisin, The City We Became
Speaking of awards, the New York-based novelist N. K. Jemisin is a three-time Hugo Award-winner for her Broken Earth trilogy, and follows that series with The City We Became. In this novel, New York city is alive, as is every world city, embodied in avatars who meld flesh and place. But New York city is under attack from a cosmic horror that, in Jemisin's hands, becomes startlingly linked to another metropole of horror literature…
Marlon James, Black Leopard, Red Wolf
Returning to an African mythological foundation, Marlon James' Black Leopard, Red Wolf follows his Man Booker Prize-winning A Brief History of Seven Killings and tells the story of a bounty hunter, Tracker, who joins a group of hunters pursuing a lost boy. Surreal, cerebral and completely re-writing the rules of epic fantasy, the novel is, in James' own words, "not even remotely European" in its structure and aesthetic.
Rivers Solomon, The Deep
Finally, Rivers Solomon, Daveed Diggs, William Hutson and Jonathan Snipes' The Deep imagines an aquatic world populated by merfolk descended from African slaves thrown overboard during Middle Passage voyages. Hutson, Snipes and Diggs make up the hip-hop collective 'clipping.', whose music Solomon emphasizes was essential to the creation of the novella. In this manner, The Deep returns to the sonic, aesthetic registers of Afrofuturism as defined by Mark Dery, Kodwo Eshun, Alondra Nelson and others, bringing in voices from the 'lower frequencies' to bring forth a different story from an abject past.
---
These books are part of the Science Fiction Collections at Special Collections and Archives, and represent just a tiny sample of the amazing work shaping the genre today. Our materials are available to read in the Reading Room by appointment; you can book one, and browse the full range of materials via our online catalogue at the following link: https://libguides.liverpool.ac.uk/library/sca/sfhub.