Have you ever wondered what the Special Collections and Archives (SCA) team do behind-the-scenes?
The SCA team will be taking turns to post about their activities every month from now until Summer 2022. This next post in the series is authored by Lisa Hawksworth, the Acting Head of Special Collections and Archives.
In September 2021 I took on the role of Acting Head of Special Collections & Archives when the Head of SCA took a 9-month leave of absence. My usual 'day job' is Faculty Librarian for Humanities and Social Sciences, based in the Sydney Jones Library. This additional role is an opportunity for me to learn about the fantastic work taking place in SCA, and explore how we might expand the reach of SCA to enable more students and staff to engage with our collections in their learning, teaching and research activities.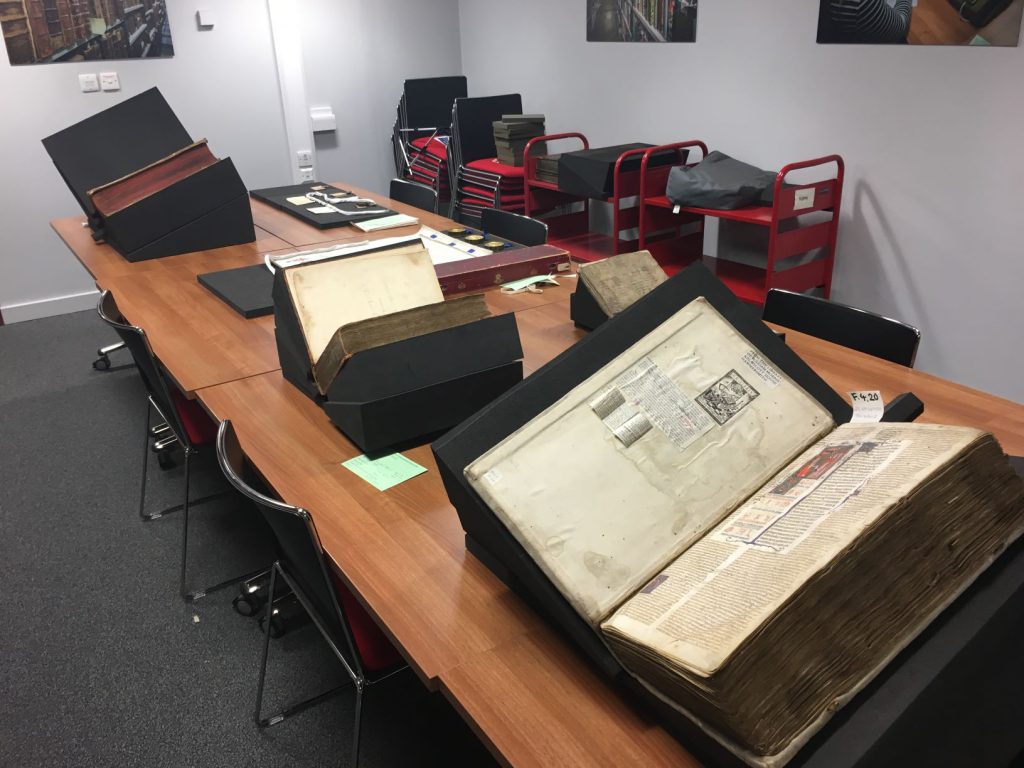 One of my key responsibilities is to manage the team of SCA staff. I meet with the people I line manage on a regular basis so they can update me on their work and I can provide support where required. I see my role as enabling each and every member of the team to do their job to the best of their ability. I try to ensure these meetings are face to face – although hybrid working is being implemented across the university and we are working partly on and partly off-campus, over the past 18 months I think many of us have realised how important it is to see people in person, and how we previously took this for granted.
I also arrange monthly meetings of the entire team, where we discuss the work we've been doing and I can inform the team of any issues/developments which have arisen across Libraries, Museums & Galleries (LMG) or at an institutional level. When working in a specialist unit, it is easy to feel a little cut off from what is happening elsewhere, and I think it is important to provide information on what is happening more broadly across the institution, which enables the team to see how their specialist roles fit into wider LMG and university aims and objectives.
Since taking on this role, I've become more familiar with the logistics of managing and storing special collections and archive materials. You may be aware that certain materials need to be stored in a specific way in order to preserve them, and we we have temperature-controlled stores, specialist air conditioning units and even freezers for storing films (some of which have been digitised and are available on YouTube; see below)! The need for more space to store our growing collections, in an appropriate environment, is acute. We are in the process of developing an area in the basement of the Sydney Jones Library to provide growth space, which involves working across several LMG teams and in due course, will require liaison with university Facilities staff and external specialist suppliers to ensure the room is refurbished to the required standard.  
Special Collections & Archives has been successful in winning bids for external funding to support their work. Most recently, a grant from the National Archives was obtained to catalogue the Mac Lua Archive, a unique collection of historical documents relating to the social, cultural and political history of modern Ireland. This two-year project will involve a dedicated Project Officer working with the University Archivist and the Institute of Irish Studies to catalogue the material, promote the archive and develop its research potential. Myself and the University Archivist will shortly be recruiting the Project Officer and I'm looking forward to welcoming a new member of the team. In the meantime, I've been liaising with staff at The National Archives over the terms of the project and what our responsibilities are.
Contact with The National Archives is just one way in which the SCA section links to national groups and initiatives. I've also attended meetings of the Special Collections and Heritage Network of Research Libraries UK, a professional network for those involved in leading cultural heritage activities within UK research libraries. Libraries and librarians are expert at collaborating with each other and sharing experiences, and it has been really interesting and helpful to attend network meetings to learn about issues facing the sector. The fact these meetings are now held online makes it much easier to attend.
One of the key issues facing many special collections and archive services – not just those in Higher Education – is how to manage 'born digital' material. Beth Williams, an Archivist working on the Cunard Archive in SCA, referenced this in her last blog post. We need to ensure there are sustainable and robust processes in place to store and retrieve digital material in order to support the researchers of the future: how will they access the primary sources they need if the source format has become obsolete? I'm glad I don't have to figure out the answer to that one myself, I'll leave it to the archive experts!