NB: The Mayer book collection was transferred to Bebington Central Library in 2019. 
Joseph Mayer was born in Newcastle-under-Lyme, Staffordshire in 1803, he became a jeweller and goldsmith and moved to Liverpool when he was 20 years old.  In the mid 1830s Mayer went into partnership with his brother-in-law, James Wordley, and they set up their business at 62, Lord Street, Liverpool.  As his sister's family grew he lived briefly in Queen Street, Edge Hill, before moving to Clarence Terrace, Everton Road.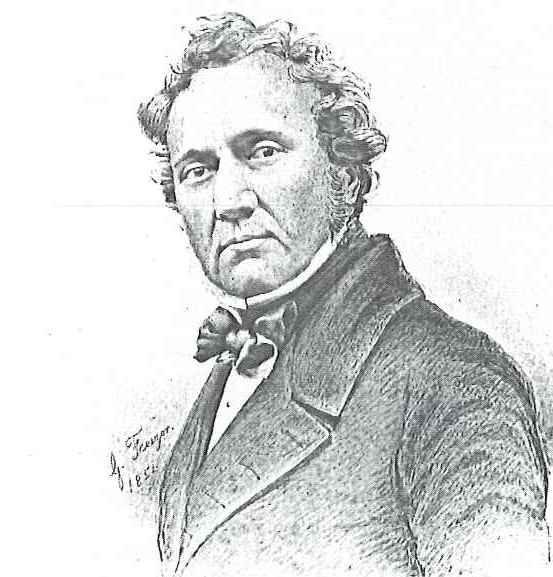 Joseph Mayer became a passionate collector of antiquities, drawings, jewellery, metalwork, and books; he travelled abroad for the first time in 1828, picking up many treasures to add to his collections.  As Mayer's business became very successful in the 1850s, he was able to devote himself more fully to his collection and to the promotion of learning.
His collections consisted of a wide range of different exhibits, ranging from drawings and engravings, jewellery, gems and ivories, to enamels, miniatures and metalwork.  He also founded his own museum located in Colquitt Street, Liverpool in 1852, which included Egyptian and Anglo-Saxon antiquities (including the Faussett Collection of Anglo-Saxon antiquities, The Fejervary Collection of ivories and prehistoric metalwork, The Hertz Collection of gems and W.H. Rolfe's Collection of Anglo-Saxon antiquities).
Joseph Mayer printed a number of books at his own expense, for example, Anglo Saxon and Old English vocabularies, edited by Thomas Wright.  He was deceived into purchasing spurious papyri of the Gospel of Matthew and other scriptures by the impostor Konstantinos Simonides, who encouraged him to publish them, they were known as Codex Mayerianus.  He became a founder member of the Historic Society of Lancashire and Cheshire in 1848, and was responsible for publishing many of their works, and this led to his involvement with collectors in London, and his subsequent election as Fellow of the Society of Antiquaries in 1850.
Mayer moved to the Wirral in 1850, and briefly lived in Dacre House in Rock Ferry, then moved to Pennant House, Bebington.  He was responsible for bringing gas and water to the village, and he also founded a number of clubs for sports and recreational activities, and rasied funds for a village hospital and horticultural society.  He devoted himself to the volunteer movement and in 1864 became Captain of the Liverpool Borough Guard (4th Cheshire Rifles).
The Mayer/Bebington Free Library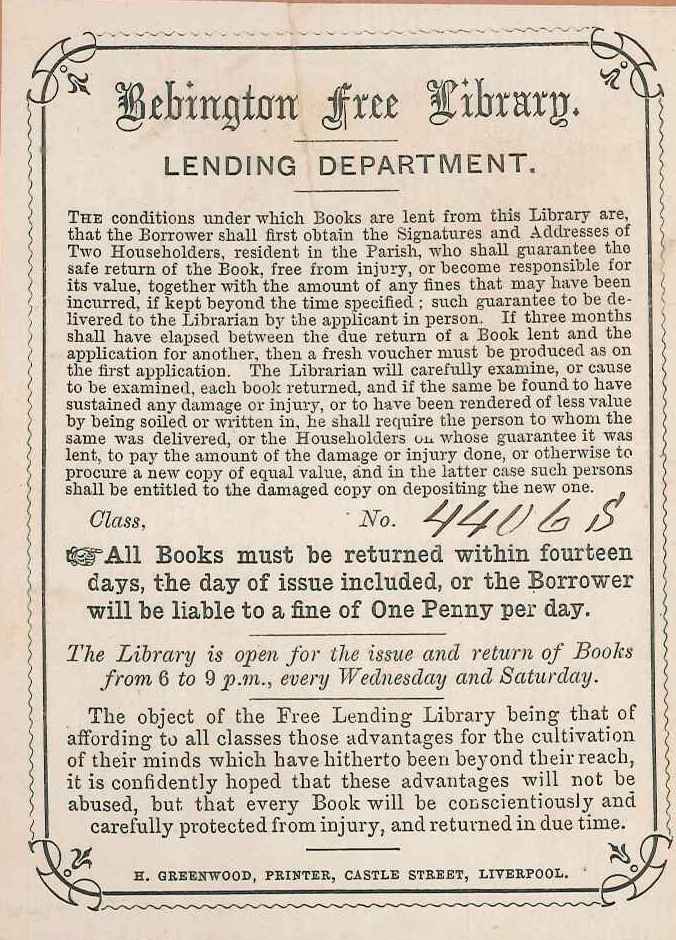 Joseph Mayer created a Free Library for the villagers of Bebington which originally consisted of many works from his own personal collection; it was founded in 1866 with 20,000 volumes.  He initially established the library in Thomas Francis's old house which he had bought, however, the demand for these facilities soon outgrew the original library premises.  In 1869, Mayer decided to buy five acres of land and a farmhouse and barn adjoining his own house; he converted and extended the farmhouse into the new Free Library, and the farmland became public parkland.  The library was officially opened in 1870, and was used by all Bebington residents from poor labourers to wealthy business people.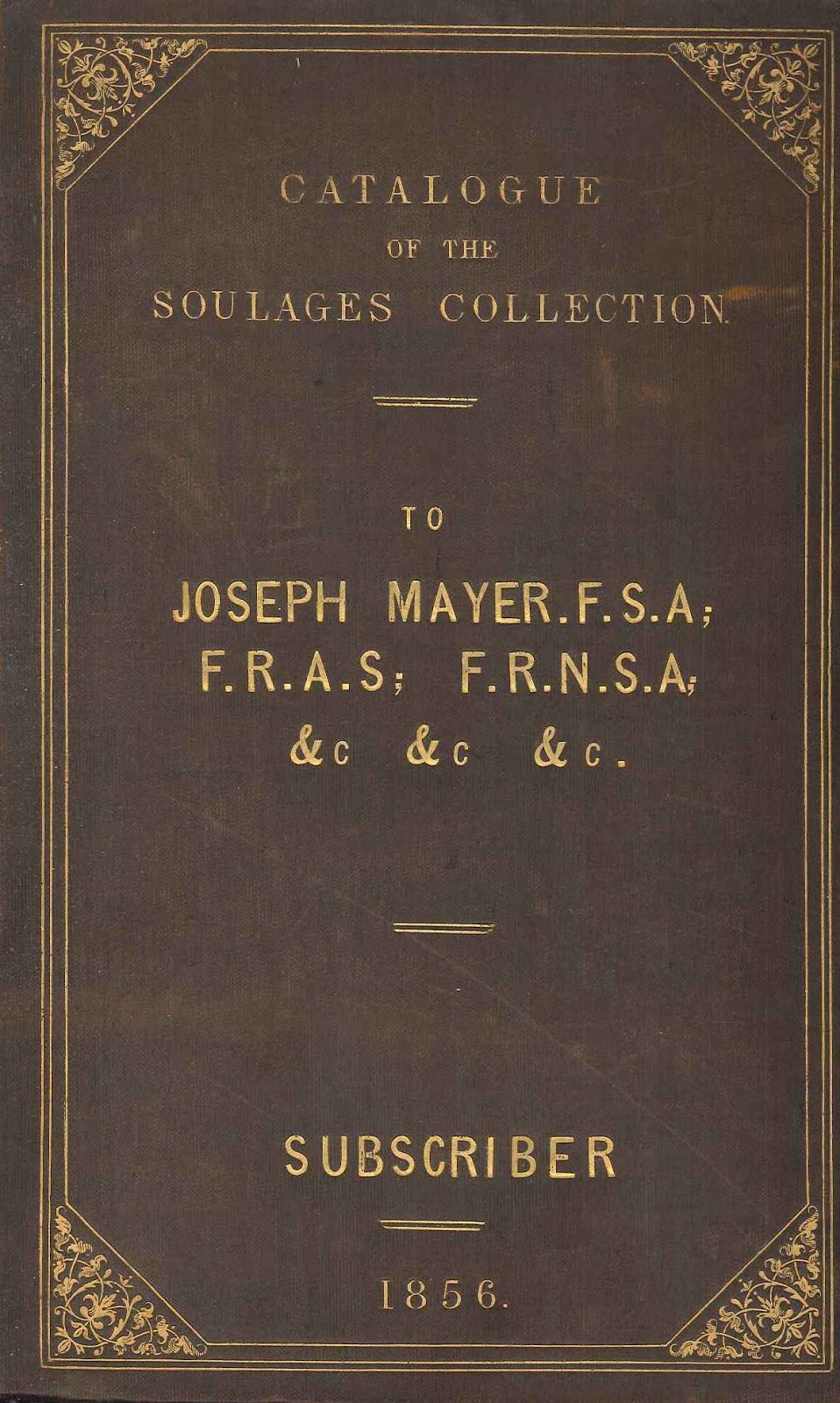 Mayer was responsible for the upkeep of both the library and the parkland, however, in 1878 he decided to create the Mayer Trust to manage these duties.  The Trust was originally made up of Mayer himself and four friends, and he chaired the Trust until his death in 1886.  He died unmarried, and his estate was divided between his remaining living relatives and the Mayer Trust.  His bequest to the Trust, however, was insufficient to meet its running costs, and in 1894 the local council took on some of the cost of the Free library.  In 1930 they eventually took over the full running of the library, hall, museum and parkland.  The Free Library became Bebington Public Library, and was transferred to a new building in the civic centre in the 1970s and the remains of Mayer's original collection were kept in storage.  The original Mayer Library building is now used as offices for Voluntary and Community Action Wirral, and the parkland is 'Mayer Park'.

Special Collections and Archives at the University of Liverpool were privileged to receive the remaining 371 volumes from Joseph Mayer's original Free Library from Bebington Public Libraries.  The collection has been fully catalogued and is available for research, alongside the major part of the Mayer manuscript collection, on deposit from National Museums Liverpool.