Catherine Tully, School of the Arts student, investigates the enduring appeal of 'Alice in Wonderland.'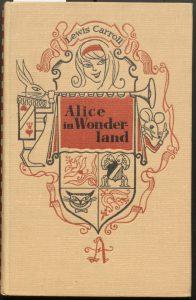 Lewis Carroll's masterpiece of children's literature has celebrated its 150th anniversary and festivities of the famous event continue around the country this year.
Both novels, Alice's Adventures in Wonderland and Through the Looking Glass are synonymous with children's literature, and although there are no thorough records of the number of copies that have been sold, the novels have never been out of print. Over 100 different editions have been published and the books have been translated into 174 different languages.
The novels, most commonly referred to as Alice in Wonderland, have fascinated and enthralled readers for generations. Although reading culture has changed dramatically in the last 150 years, the novels remain timeless and appealing. Alice offers readers iconic characters; an illusory narrative and hidden depths, meaning the books are captivatingly complex yet equally as easy to read.
Dr Esme Miskimmin, from the University's Department of English, offers her opinion on its popularity: "They appeal to a variety of readers for a variety of reasons: they are thought of as children's stories, but were also intended for and read by adults.
"There's something for lovers of nonsense, of logic, hours of fun for the mathematically-minded, of whimsy, of nostalgia and Victoriana, to name but a few."
Alice's story has been re-illustrated and re-imagined for decades, yet despite many creators adapting the novels, it is the first illustrations of Alice that are used as a reference point for many.
After years of editions and artist impressions, Alice's original red dress was widely established as blue after Carroll's death in the editions of Alice and Through the Looking Glass published in 1911. The blue dress, together with white apron and stockings has remained the image of Alice ever since in both text and the Walt Disney 1951 film.
The evolution of the illustrations of Alice can be viewed at the University's Special Collections in the Sydney Jones Library. The Library houses many historic texts including several editions of Alice in Wonderland that document the changing persona of the character including drawings by John Tenniel, Margaret W. Tarrant, Mabel Lucie Attwell and Rene Cloke.
Dr Miskimmin said: "It can come as a surprise to us when we come to read, or re-read the books, as they are quite a long way removed from the version that exists in popular imagination."
Alice is still widely interpreted and altered even today through work such as Tim Burton's 2010 film Alice in Wonderland and his latest venture, Through the Looking Glass which is due to be released in May this year.
Since the novel has celebrated its sesquicentennial anniversary, events are still happening around the country to mark the novel's longevity. Dr Miskimmin said of these events that "the best ones are those that go back to the texts themselves, and consider them aside from the cult they have generated."
There is currently a free exhibition at the British Library in London that features Lewis Carroll's original manuscript with his own hand-drawn illustrations alongside many other treasured editions. The novel is also celebrated through a new musical inspired by Lewis Carroll's story, Wonderland featuring music by Blur's Damon Albarn and is currently at the National Theatre's Olivier Theatre until April 2016.
Local Alice attractions include Lewis Carroll's hometown in Cheshire, where he was born as Charles Dodgson in Daresbury, as well as two Alice in Wonderland theme cafes, Richmond Tea Rooms in Manchester and Mad Hatters Tea Room in Chester.
In his foreword to The Complete Alice by Lewis Carroll, Philip Pullman states that they "are as fresh and clever and funny today as they were a hundred and fifty years ago." Alice in Wonderland is a great icon of English Literature and it is fantastic that the novels and characters are still so widely influential and celebrated today.
By Catherine Tully, School of the Arts student
To see the Alice in Wonderland books mentioned, please contact scastaff@liverpool.ac.uk to arrange a viewing.
Reposted from University of Liverpool, Student News