This week marked 50 years since the launch of the Queen Elizabeth 2 (or QE2) by Her Majesty Queen Elizabeth II. Often described as one of Cunard's greatest ships, the QE2 travelled over 5,800,000 miles and carried almost 2.5 million passengers during a career that spanned 40 years.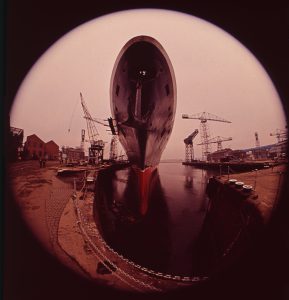 By the end of the 1950s, discussion over the replacement of the Queen Mary and Queen Elizabeth was taking place. The decision to replace the 'Queens' was deemed to be of national importance and as such a special committee, known as the Chandos Committee was created to advise the Government and to determine whether such a project was economically viable. Originally Cunard had wanted to build two new liners with the help of a Government subsidy, however the committee's report proposed that the Government loan Cunard £18 million towards the construction of one vessel. The project became known as 'Q3' and six British shipyards were asked to tender – this prestigious project was a huge opportunity for British shipbuilders to construct a transatlantic liner.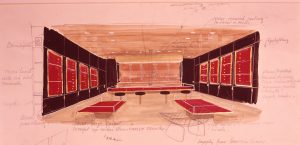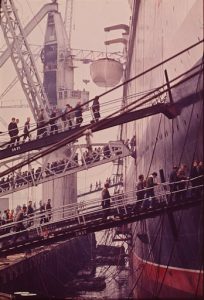 Increased opposition to the building of Q3; in part due to the decline in British shipbuilding coupled with the growing competition from air travel resulted in Cunard's Chairman, Sir John Brocklebank announcing in October 1961 that the plan was to be postponed. By 1963 the scheme had been altered in response to the growing popularity of transatlantic air travel. The new proposal was to build one slightly smaller liner which could traverse the Panama and Suez canals and would primarily be used for cruising (dual-purpose).
The new ship, code-named 'Q4' was built by John Brown & Company Ltd, Clydebank (later Upper Clyde Shipbuilders Ltd) and scheduled for May 1968. On 20th September 1967 the keel was launched by Queen Elizabeth II and the ship was named Queen Elizabeth 2.
One of the shipyards asked to tender for Q3 was The Fairfield Shipbuilding and Engineering Company Limited, Glasgow. While updating catalogue descriptions for the Cunard Archive we recently came across two folders which contains Fairfield's specification for the 'Geared Turbines' and 'Machinery Installation' for a 'Proposed Cunard Express Liner'. However a lack of contextual information such as date and name of the ship means that it is unclear whether this is for project 'Q3' – if anyone has any information about this record please feel free to contact us. Below is a section from one of the illustrations accompanying the specification.
Alongside the business papers within the Cunard Archive, researchers may also be interested in some of the collections within the Cunard Associated Deposits that relate specifically to the QE2; namely D387 images relating to the QE2 (The Architectural Press Ltd) and D922 Papers of Mr. T. Kameen, Technical Director for Cunard.