With only two weeks of advent remaining it comes time for us to warm up our singing voices with some traditional Christmas song. A. H. Bullen's "A Christmas Garland: Carols and Poems from the Fifteenth Century to the Present Time" was published in 1885 and is a marvellously festive collection.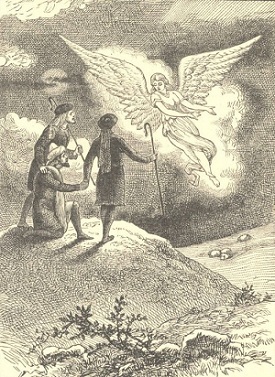 "Christmas Chants and Carols" records many songs that are familiar to us today; "The First Nowell", "God Rest You, Merry Gentlemen" and "In The Bleak Midwinter"; as well as some that have rather fallen from the popular conscience, such as "Saint Stephen Was A Clerk" or "Three Damsels in the Queen's Chamber".
The second part of the book holds the "Carmina Sacra", or the sacred songs of Christmas time. It includes hymns and verse such as "On The Morning of Christ's Nativity" by John Milton, and "For Christmas Day" by Francis Kinwelmersch.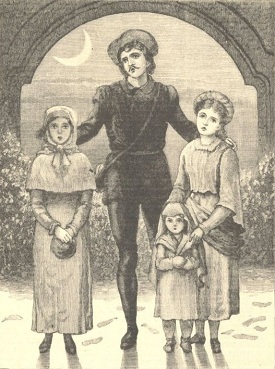 The third section documents the songs associated with a number of Christmas traditions, such as that of wassailing and the Boar's Head Feast. It also notes the tradition of the Yule log, in the poem "Ceremonies for Christmas". The poem was written by Robert Herrick, incidentally the first person to record the tradition in Britain. Writing in the 1620s or 1630s, he portrayed the "Christmas log" as being brought into the house by whooping farmhands, whom the farmer's wife would then reward with all of the drink they could take. Herrick noted that the log was supposed to bring prosperity, and that when set alight to music with the remnants of the last year's log, it would protect the house from evil for the next twelve months.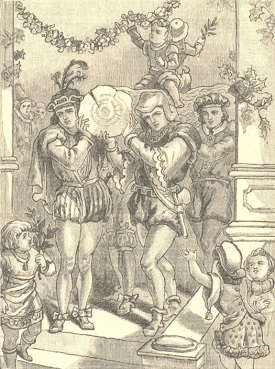 Come, bring with a noise,
My merry, merry boys,
The Christmas log to the firing;
While my good dame, she
Bids ye all be free,
And drink to your heart's desiring.
 With the last year's brand
Light the new block, and
For good success in his spending,
On your psalteries play,
That sweet luck may
Come while the log is a tending.
 Drink now the strong beer,
Cut the white loaf here,
The while the meat is a shredding
For the rare mince-pie
And the plums standing by,
To fill the paste that's a kneeding.