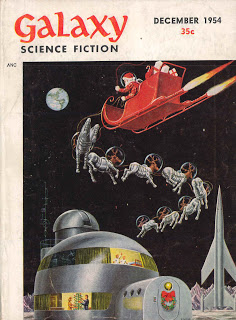 "A miniature sleigh, and eight tiny rein-deer "
But in space-suits?
This Galaxy cover, from December 1954, is yet another seasonal illustration by Ed Emshwhiller featuring his four-armed Santa.
It's good to know that, in the future, Santa will still be delivering gifts throughout the solar system. These moon-colonists are obviously looking forward to his visit, putting up a Christmas tree and handing a wreath outside.  What's puzzling about this  space-age Santa, though, is why he needs the traditional eight reindeer, carefully protected against the hazards of space, to pull a rocket-propelled sleigh!