Last summer Cunard deposited further records to be added to their business archive after finding material that had historical value in their offices. Within this particular batch of records were two small boxes containing black and white negative transparencies.
On closer examination many of the transparencies appeared to show passengers on board the Queen Mary during the late 1930s. It was immediately obvious that these were special – a unique snapshot of life on board this historic ocean liner.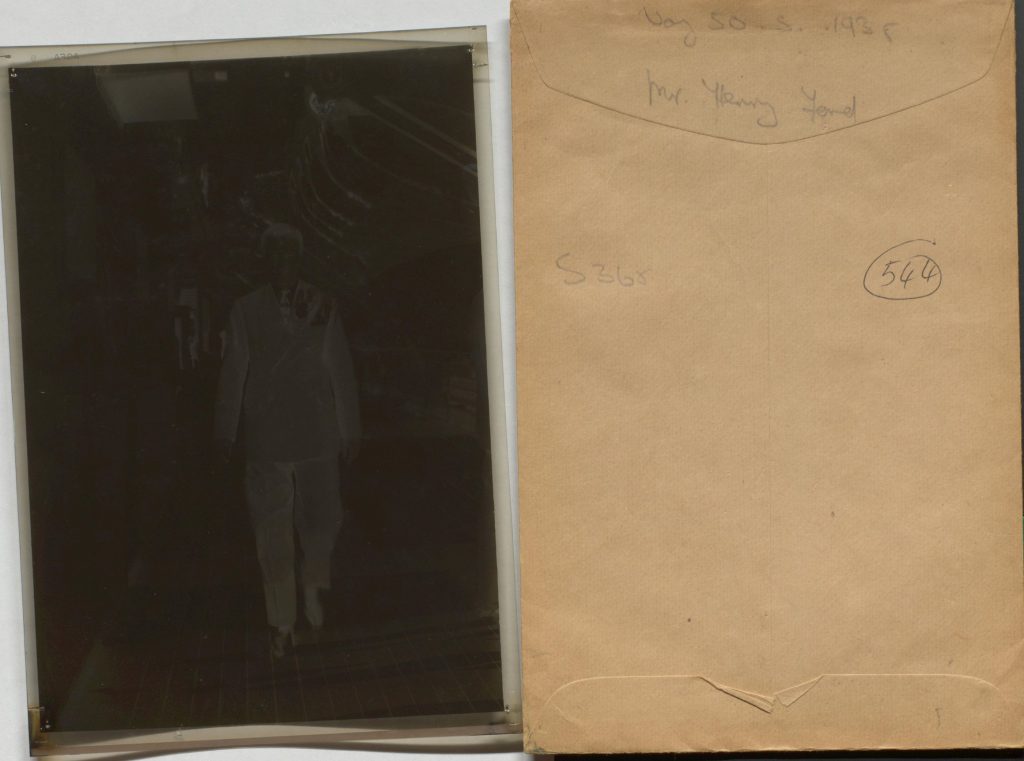 In the weeks before lockdown began, arrangements were made to digitise the transparencies in order to preserve them and help provide access to readers. They will no doubt be a popular resource and having digital copies will help reduce unnecessary handling of the originals. So far around a quarter of the approx. 200 transparencies have been scanned. Working from home has meant that the digitisation of this collection has had to be put on hold, although cataloguing those already scanned can begin.
One of the boxes was labelled 'Vintage Passengers', with each transparency stored in an envelope with pencil notes on the back. The information recorded was brief but included the names of those individuals photographed and year of travel/voyage number. All of the images so far scanned were taken during eastbound and westbound transatlantic voyages during 1937-1938.
Not all of the individuals are perhaps familiar to us now, however that doesn't diminish the interesting stories they help to tell about the range of passengers that travelled on board the Queen Mary during its early career. Examples include Henry Ford, Betty Carstairs a "British power boat racer known for her speed and her eccentric lifestyle", the German Tennis Team, and various writers, actors and ambassadors.
These transparencies are an important addition to the Cunard archive and will complement the existing Queen Mary photograph collection. The contextual information that helps identify the passengers provides a fascinating glimpse into life on board the Queen Mary, one of Cunard's most famous ships.
We hope to provide further information about this collection once they have been fully digitised and catalogued, including photographer information. We look forward to continuing work on these transparencies and learning more about the passengers that travelled with Cunard.
Further information about the Cunard archive can be found on the Cunard archive webpage.