In this post we will run through the common FAQs, including how to book an appointment with us, and what to expect when you visit us.
If you have any queries regarding visiting and using SCA, please check our Visiting and Using webpage or contact us at scastaff@liverpool.ac.uk.
Who are Special Collections and Archives and what do we hold?
Special Collections and Archives cares for and makes available in perpetuity the unique and distinctive historic collections of the University of Liverpool. This includes printed books, pamphlets and manuscripts dating from the 12th to the 21st century; Europe's largest catalogued collection of Science Fiction material, including the Science Fiction Foundation Collection and a wealth of literary archives; and nearly two miles of archives, including collections such as the University Archive and the Cunard Archive.
Information on the collections can be located on the Collections A-Z webpages and the Science Fiction Hub.
Where is Special Collections and Archives?
Special Collections and Archives is based in the Ground Floor Grove Wing of the Sydney Jones Library. Please do follow the one-way directional systems on your way to us. Staff will advise on your appointment booking if we are required to accompany you from the Sydney Jones Library Reception through to Special Collections and Archives.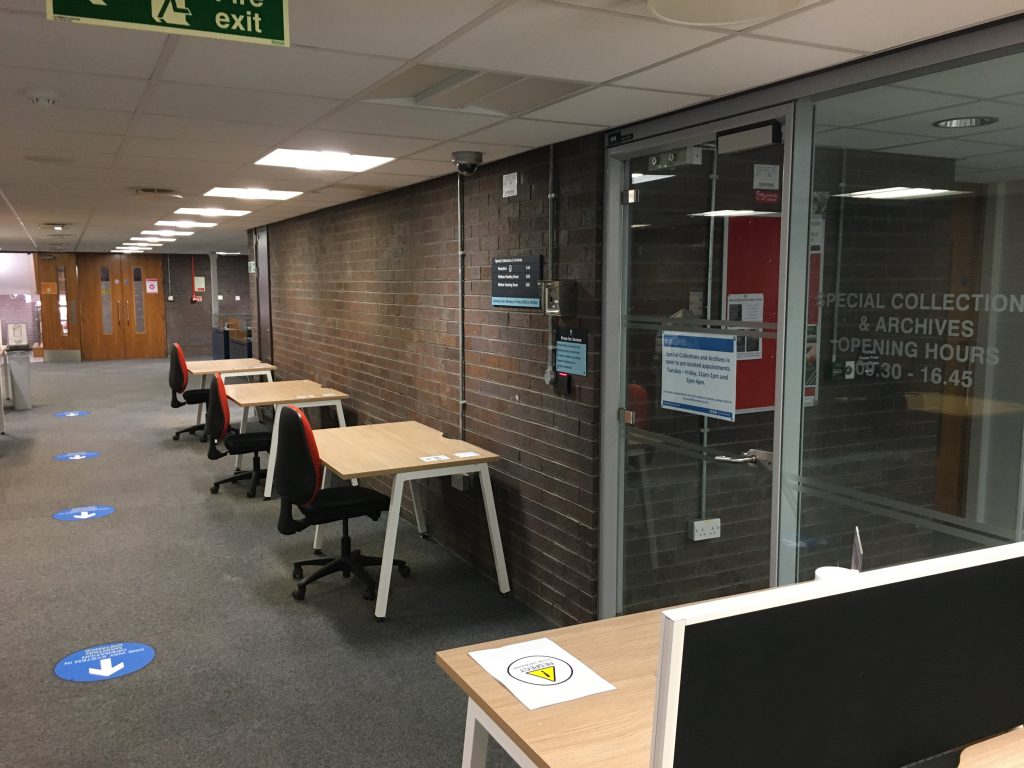 I'd like to consult material in person in the Reading Room. How do I book an appointment?
No problem! Our online booking form is available here.
You will need the reference numbers and/or class marks of the material you wish to consult before submitting the form. This information can be found in the catalogues, which are accessible from the SCA website homepage and the Collections A-Z pages.
Appointments are available in two hour slots, Tuesday to Friday. The slots are 10:30am-12:30pm, 11am-1pm, 2pm-4pm, and 2:30-4:30pm. The booking form provides the availability. They are allocated on a first-come-first-served basis, therefore if you are keen to reserve a specific date/slot it is best to book as soon as possible.
In order to meet the high demand for appointments, a maximum of two appointment slots may be reserved per person per week. SCA staff will be happy to advise further on availability.
The form includes SCA Reading Room Regulations and Handling Guidelines, therefore please do read these carefully before submitting your completed form. Our YouTube video on handling guidelines may also be helpful.
How much material can I consult per appointment?
At the moment we have a limit of up to three archival boxes or six volumes/books per appointment. This allows us to ensure all material and book rests are quarantined for 72 hours after your appointment and before the material is returned to the stores. Information is provided in the catalogues regarding the extent/size of material, but SCA staff will let you know when you request your appointment if you have requested too much material.
What do I do on arrival?
Please do wash your hands on arrival to the Sydney Jones Library. There are bathrooms based in the main atrium. This works well for the material too, as clean dry hands is the best start to handing primary sources. You may also need to scan your completed Appointment Registration Form and email this to us if you do not have access to facilities at home.
On arrival to Special Collections and Archives you should press the intercom button by the front door. A member of the team will then let you in the secure area and the lockers are located on the immediate right. You should be advised your locker number on booking your appointment; if you are unsure, a member of the team will be happy to let you know.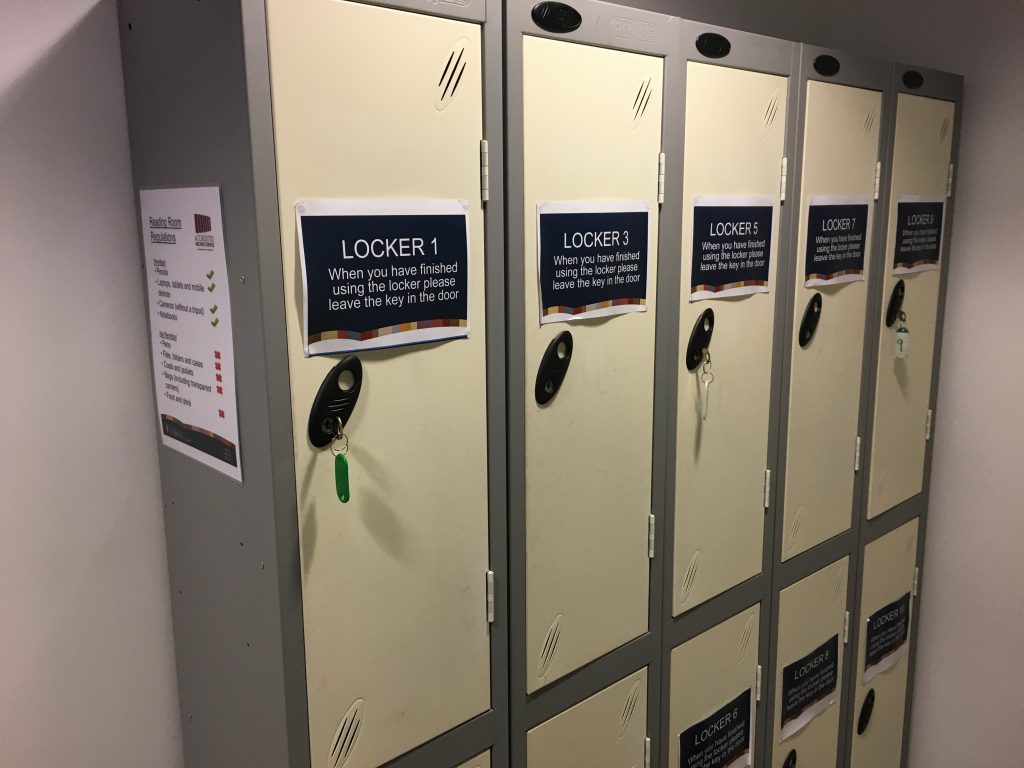 The requested material which has been confirmed by SCA over email will be available to consult on your arrival. It will be set-up in the Reading Room for you and a member of the team will direct you to your seat and explain how to use the material on the specialist rests.
What do I need to bring with me?
Along with your photographic I.D. card and a printed/digital copy of your appointment confirmation, you will need to bring your own pencil and paper, as we are unable to lend stationery at the moment. You are also required to wear a mask during your visit. Disposable spare masks are available at the sanitising point immediately outside the SCA front door.
You are welcome to bring a laptop, tablet, mobile phone and camera (please notify staff on arrival if you plan to photograph material; please no tripods and ensure that the flash function is disabled).
As mentioned above, you are very welcome to make use of your locker for the rest of your belongings (including food and drink). Your locker is provided free of charge for the duration of your visit to SCA.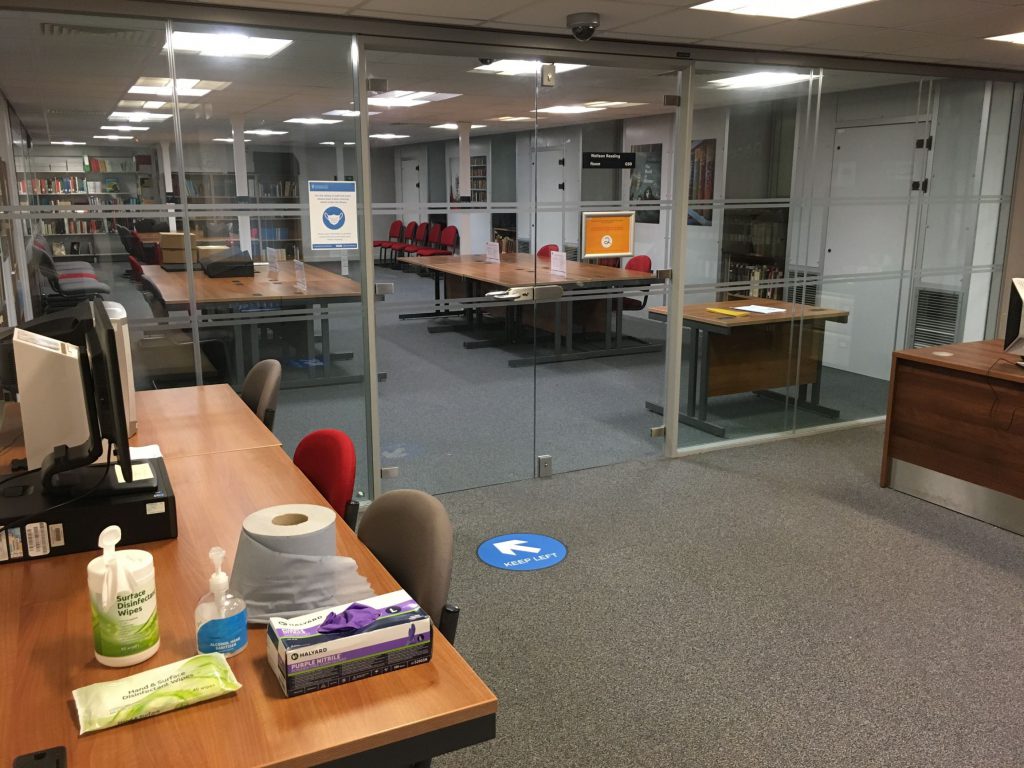 What health and safety measures are in place?
Special Collections and Archives is adhering to the University Library safety measures. We are following government and University guidance and are committed to ensuring that the library is a safe space for everyone.

– Cleaning of touch points in between appointments (e.g. door handles and tables)
– Perspex screens at Reception desks to protect staff and readers
– Social distancing measures in place (one reader per appointment) to protect staff and readers
– Hand sanitiser and wipes are available at Reception
– Mask wearing is mandatory during your visit
Please do not book or attend an appointment if you have any symptoms of Coronavirus (Covid-19), or if you have been asked to self-isolate.
For more information see the Library "Keep the Libraries a safe space for everyone" webpage.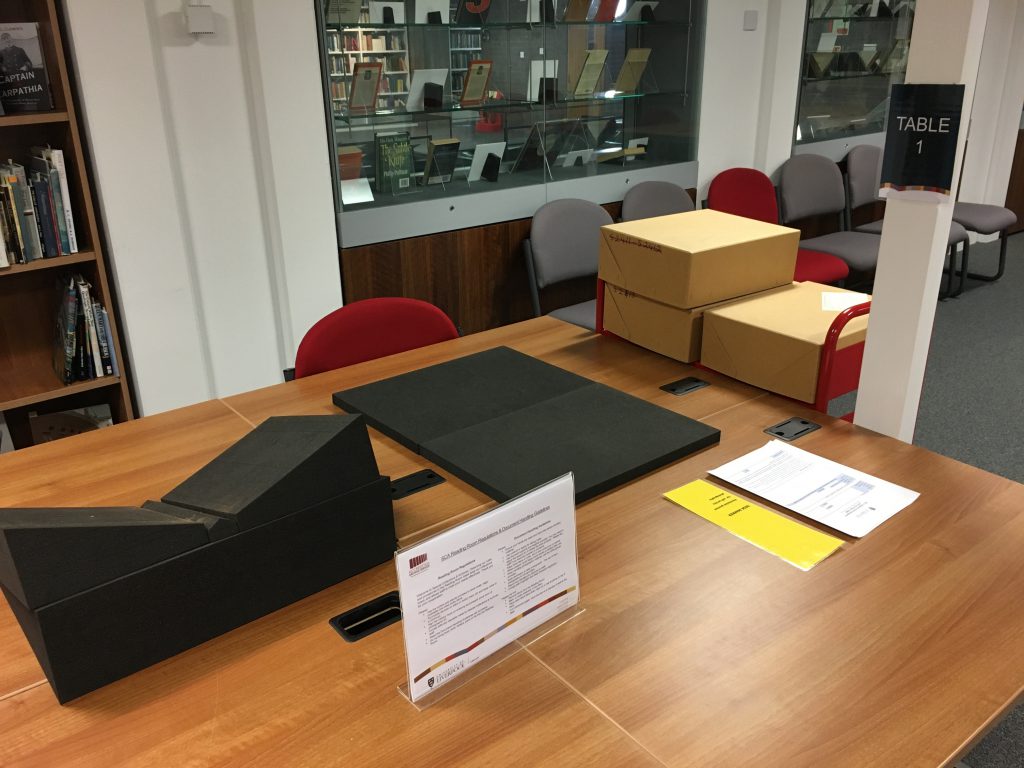 I'm not able to visit in person, what help is available?
Feel free to email us with any general enquiries (scastaff@liverpool.ac.uk) and a member of the team will be happy to assist.
For more specific research enquiries, we offer a reprographics service, whereby we copy material of a suitable condition and send the images via email/DropBox. This service is available for up to 100 scans and copyright regulations apply.
If you are interested in this service, please do contact us with the reference numbers of the material you are interested in acquiring copies of, and a member of the team will be in touch to confirm that the material is a suitable size/condition to be copied and the cost involved.
At the moment staffing resources are limited by social distancing requirements, therefore there may be a delay in our response or your enquiry may be placed in a queue. SCA staff are doing their best to answer all enquiries and a member of the team will be in touch as soon as possible.