In our third blog post for the International Women's Day series-and continuing the celebration of women in literary history-we focus on Femizine: an early sf zine that represents a landmark publication in genre fandom.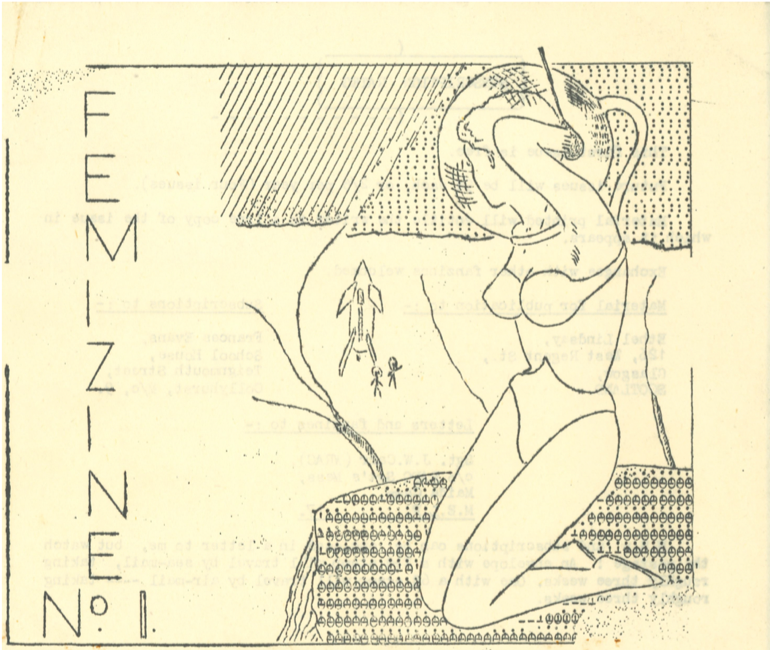 "Our cover is mainly for the men," reads the editorial introduction to the inaugural issue of Femizine (1954): a zine for 'femme-fans' (women!) of the science fiction genre. "Take a long, last, lingering look. Wave a fond farewell to the cover girl. From now on, we join Frances Evans in her campaign for 'more beefcake.'" Signed by 'Joan W. Carr', the ostensible editor of this new publication, Femizine promised to carve out a space for female fans of the genre who had hitherto been neglected and/or pushed out of this male-dominated field. Running for fifteen issues between 1954 and 1960, Femizine featured stories, poems and reviews by female sf fans, convention reports, non-fiction pieces and humor pieces and comics-all compiled by a female editorial team. Or so they claimed. Read on to discover the strange case of Femizine: a ground-breaking zine in sf/f publishing history!
Defining their intended audience as 'femme-fans,' Carr expressed the hope that men would 'still subscribe' to the zine, and even made space for men's commentary in the form of a reader's letters section titled, amusingly, 'mail and female.' Issue One ends with a call to arms for women to create and send content to the zine: "LET'S BE HEARING FROM YOU!"
Somewhat unfortunately, the promise of 'more beefcake' on the covers of Femizine was rescinded by the very next issue, which appeared in the same year. "There will be no beefcake," Carr confirms. "It seems there has been a change of mind-a woman's prerogative-and the idea now is to get a stylized illo [illustration] that can be printed and used for each issue." Interestingly, the letters section of this second issue reveals a discussion about the use of pronouns and gender labels; "no one is quite certain of what to call the femmes." Proposed suggestions included 'FAN' for male, singular subjects, 'FANNE' for female, singular subjects, 'FEN' for male plural subjects, and 'FEMMES' for female plural subjects, anticipating important questions of pronoun choice and gendered forms of address relevant to today.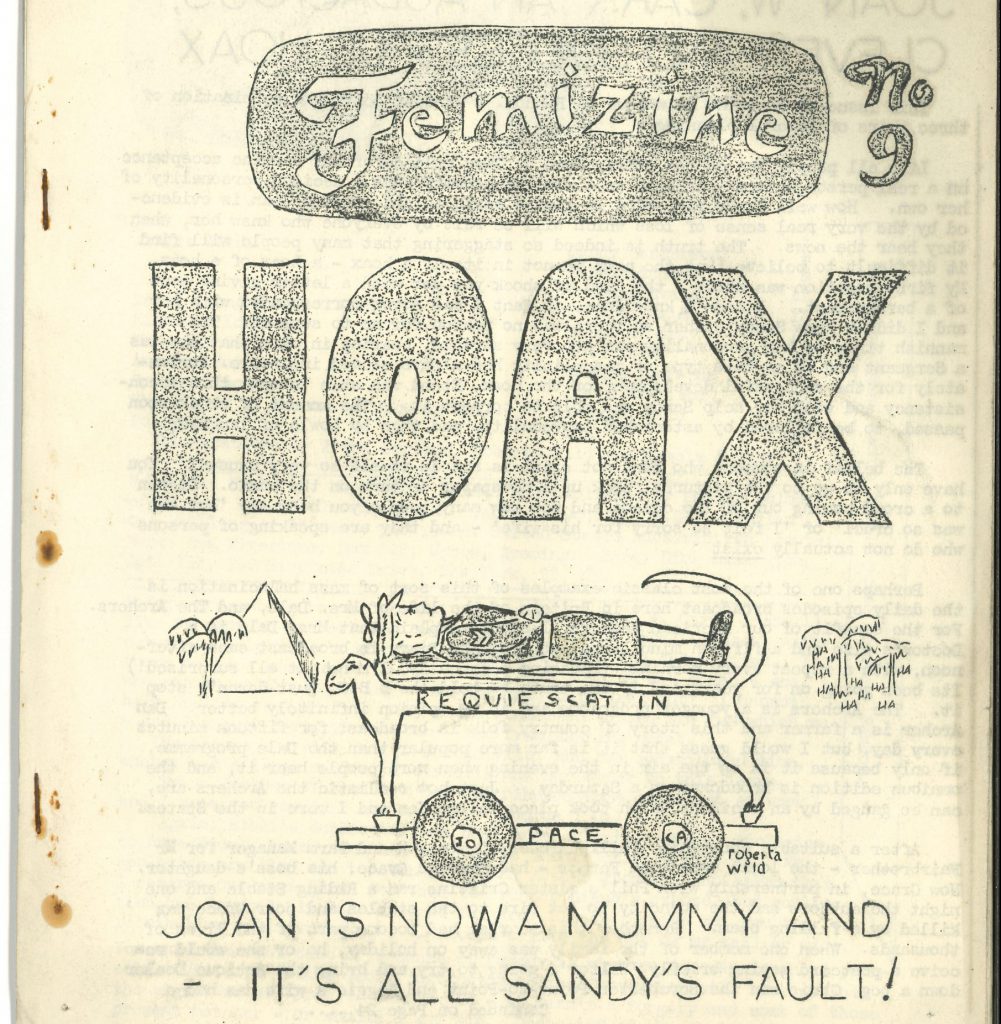 Things proceeded seemingly without a hitch for the first eight issues. The pages of Femizine contained spirited and lively debate on the sf scene-including clap-backs to various misogynist responses to the zine and 'femmes' in sf more generally-until Issue 9, the front cover of which is displayed above. In this issue, it was revealed that 'Joan W. Carr' was a fictitious creation of a male editor: H. P. 'Sandy' Sanderson! In a lengthy editorial spanning most of the issue, Sanderson talks about 'inventing' the figure of Joan Carr; "She had to be a woman rather than a man," he explains, "partly because it would better show the extent of my success, and partly because in the beginning I only intended to hoax the NSFC [National Science Fiction Convention], all of whom (with one exception) were men."
The following issue of Femizine, edited by Ethel Lindsay, appeared with a new name, 'Distaff,' and featured a phoenix on its cover, representing an attempt to forge ahead with a new identity despite this great controversy. The title reverted back to Femizine in the next issue (1959), however, due to protest from the readership. 'Fez,' as it was affectionately referred to, continued to remain an important space for women in sf fandom.
Lindsay's editorials in the last few issues championed the zine's unique presence beyond Sanderson, who had simply provided the 'template'. Lindsay continued to champion the female contributors to the zine, and pushed for more women to submit content right up to the fifteenth and final issue, published in September 1960. "I want to thank the femme fans who have contributed to Fez," Lindsay writes in Femizine Issue 12, "…[and] the femme fans who really mean to contribute, "who any day now, will sweep the dishes off the table and sit down to write." Today, Femizine remains an early, and remarkable, example of headway into the male-dominated world of sf fandom and genre publishing writ large.
Femizine is just one title in the zines and periodicals holdings of Special Collections and Archives; these holdings comprise of over 2,400 titles. To find out more, visit our SF Hub: https://libguides.liverpool.ac.uk/library/sca/sfhub.