SPEC EP.A64 is a beautiful book. A chunky octavo, it is bound in leather (pigskin) over bevelled1 wooden boards, with decoration impressed (blind tooled2) on every inch of the covers and spine. There is evidence of the remains of metal and leather closing clasps, which would have been secured on the upper cover. Together, these features suggest a binding from the first half of the 16th century. The use of pigskin is particularly associated with bindings produced in Germany.
In fact, on closer inspection, we find that decoration on the binding contains more than one helpful indication as to when and where this book was bound. The date '1548' is has been impressed at the foot of the central panel of the upper cover; and a densely decorated outer frame incorporates another date: '1539'.
The decoration in this frame is also comprised of the initials 'C.G', as well as images of Justitia, Prudentia and Lucretia. This pattern has been identified as having been used by a Wittenberg bookbinder, thought to be either Caspar Genseler (active 1539-1588) or Christoph Georg (with thanks to an unnamed previous cataloguer, for making this identification from volume 1 of Konrad Haebler, Rollen und Platten, page 137, roll 6).
The presence of a fore-edge title in Greek indicates that the book's earliest owners stored it with the fore-edge facing outwards (spine hidden from view), as was common practice in the 16th century.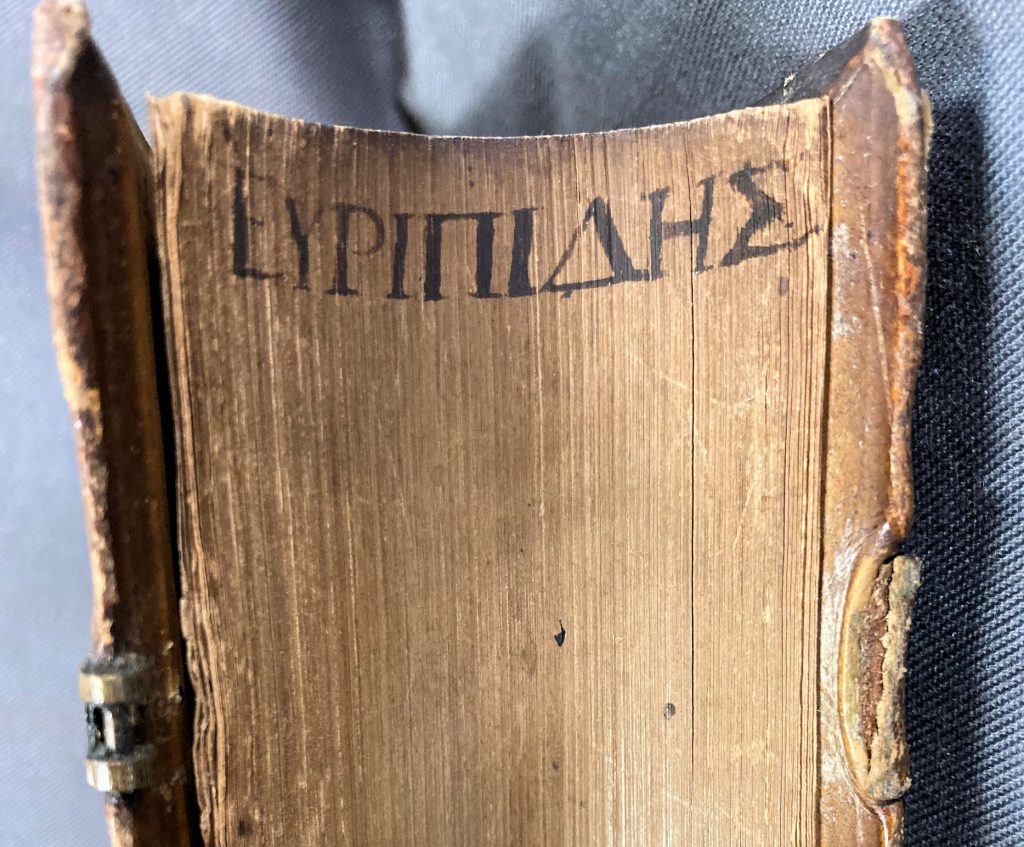 I noted earlier that the upper cover of SPEC EP.A64 is stamped with the date 1548. Mirroring this, at the top of the cover, are the initials "IA". When we open the book, and take a peak at the front pastedown, we gain a further clue as to the identity of "IA": an inscription in ink reads "Ioannes Aicholcz". A bit of research indicates that this is likely to be German doctor and botanist Johann Aicholcz (or Aicholz) (1520-1588). Aicholcz studied at the University of Wittenberg between 1543 and 1547.
Wittenberg was an interesting centre of printing in the first half of the 16th century: a relatively small place punching above its weight in terms of output, thanks in no small part to the industry created by Martin Luther (see Pettegree, Andrew, "Print and the Reformation: A Drama in Three Acts", Church History, Vol. 86, Special Issue 4, December 2017, pages 980-997). Whilst Pettegree has emphasised Martin Luther's role in the boom years of Wittenberg printing, this book was owned by another important figure in the history both of that town and of the Protestant Reformation – Luther's close associate and friend, Philipp Melanchthon (1497-1560).
A quotation from Plutarch in Greek on the front endpapers is signed in what appears to be Philip Melanchthon's hand (with a slight note of caution – annotations in a number of books have been misattributed to Melanchthon in the past). A later owner has emphasised the connection to Melanchthon, with this pasted in portrait, from an engraving by Albrecht Dürer.
Melanchthon was appointed professor of Greek at the University of Wittenberg in 1518, aged 21. Printed by Aldus Manutius (1459-1515), in Greek type, in 1503, SPEC EP.A64 contains 18 of the 19 plays of Euripides. Only four of these plays had ever been produced in print before 1503. Melanchthon himself produced a Latin translation of the works of Euripides, which was published in 1558.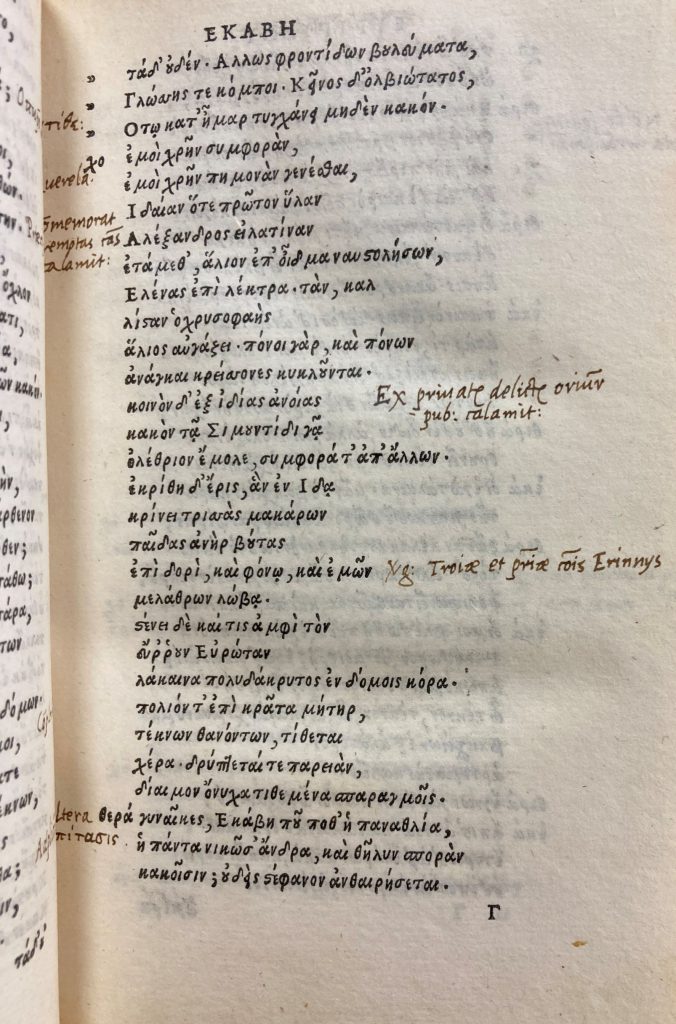 There are two, later inscriptions accompanying those of Melanchthon and Aicholcz. The first, 'Bibliotheca Heinlini', remains something of a mystery (as ever, we would be very grateful to hear from anyone reading who might be able to shed any light upon it). The second, from a label on the front pastedown, reads: "Viro doctissimo Joanni Eliot Hodgkin hoc anime pergrati munusculum d.d.d. Joannes Hutter Bohn" (To the most learned man John Eliot Hodgkin this small present is given and dedicated as a gift in most pleasant spirit by John Hutter Bohn).
John Eliot Hodgkin (1829-1912) was an engineer and antiquarian – a collector of books and manuscripts, as well as coins, seals, pottery and other objects. John Hutter Bohn was a member of a very well-known bookselling family. His father John Henry Martin Bohn (c.1747-1843) was a bookseller and bookbinder, his brother James (1803-1880) a bookseller and bibliographer, and his brother Henry George Bohn (1796-1884), a bookseller, publisher and translator. John worked both as a bookseller, and for forty years as a cataloguer at Sotheby's (see Roberts, W. The Book-hunter in London, (1895), page 243).
SPEC EP.A64 eventually wound up at the University of Liverpool via Robert George Morton (1880-1973). Morton. Founder of Argosy and Sundial circulating libraries, Morton donated 374 items to the University of Liverpool library in 1969, including a number of medieval manuscripts and early printed works.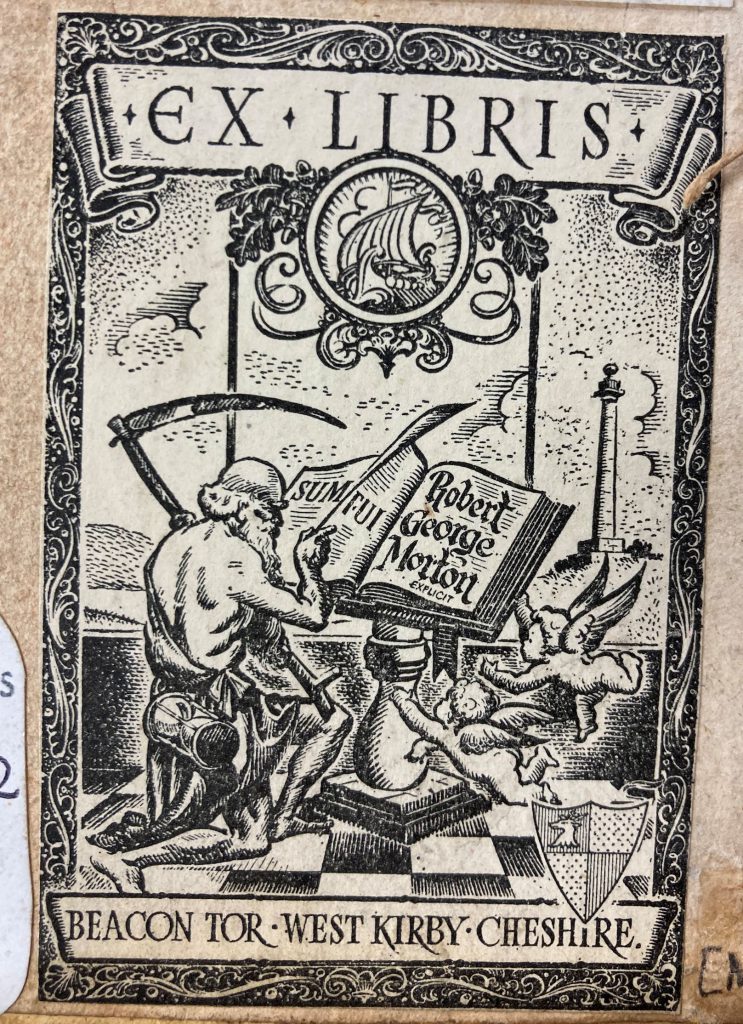 Glossary:
Bevelled: "A technique of binding in which the edges of the boards … have been bevelled, i.e. cut to an oblique or slanting angle, before being covered" (Carter, John, ABC for Book Collectors, 1980 (6th ed.), p.35)
Blind tooled: "In binder's terminology tools are the engraved metal implements (usually of brass) with wooden handles, which are used by hand to impress a design on the covers of a book" (Carter, John, ABC for Book Collectors, 1980 (6th ed.), p.202)