The Cunard Magazine (1918-1927) was a house magazine, first produced in January 1918, and was initially set up as a means to keep in contact with Cunard staff on active war service, in an effort to show the company's support and to keep up morale. The magazine replaced manuscript bulletins produced using the company's "Comrade fund" which were designed for the same purpose. Staff members were encouraged to submit their contributions to the magazine, which appear in the form of correspondence, stories, poems, anecdotes, sketches and articles. Each issue includes a contents page.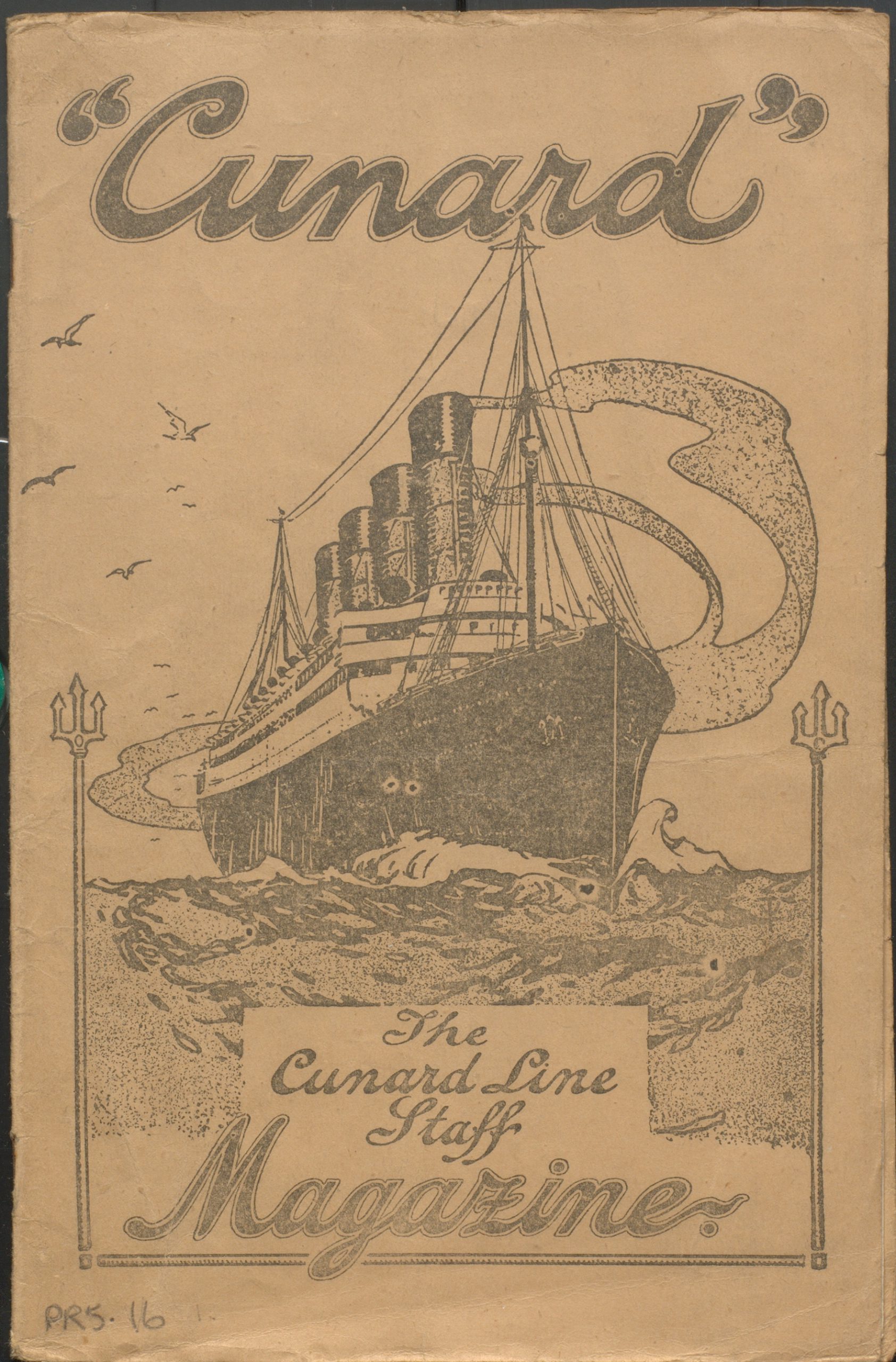 Early editions of the magazine produced during the First World War devote a substantial amount of their content to news relating to the war and its impact upon the company. Regular features during the war include correspondence from staff members on active service under the title "Active service letter bag", in addition to notices recording members of staff who were reported killed, missing in action, taken as prisoners of war, or wounded, as well as comrades who were awarded military honours, promoted or visited Cunard offices. The magazines record news of such staff members by name, often providing details of individuals' circumstances along with their photographs. In depth articles regarding key individuals or events in the war are also featured, in addition to news regarding Cunard itself.
A further feature of these early editions of the magazine are articles devoted to different Cunard offices. There are also more light-hearted contributions from staff members such as the call for more socks to be sent to the front line, and details of events held to entertain the troops or the wounded. Unsurprisingly it became popular with those serving at home and abroad.
In the period following the end of the First World War, the magazines are characterised by longer articles, many of which are of a technical nature, such as the role of freighter ships, the provision of oil fuel, or machinery space. They also contain a great deal more adverts than earlier editions.
Colour was introduced to the magazines gradually from December 1922, and its use and the presence of more elaborate illustrations increased in later editions. Many of the front covers were designed by famous artists of the time. As the magazine progressed a greater number of photographs were used as well as articles relating to passengers, particularly focusing on famous individuals.
Throughout its publication, many issues feature detailed articles on members of staff, often including photographs, in addition to notices recording staff marriages, deaths, achievements and births of children. There are also articles featuring the staff of individual offices or Cunard ships. Promotions and changes in the structure of the company are also recorded, in addition to Cunard news. There are also frequent articles focusing on individual ships, including their histories, technical details, new commissions, together with photographs and sketches of the ships' interiors and exteriors. Also featured in the magazines are pages aimed specifically at female members of staff, at first under the title "our ladies' corner", and later "ladies' pages".
Sport, games and competitions, including chess and draughts, bowling, cricket and tennis for example, both on board and on shore, are also included in the magazines. Christmas editions of the magazine were particularly elaborate, featuring lots of pictures, songs, and special articles. Some issues also featured additional Christmas supplements.
Later staff publications were typically in the form of shorter newsletters, for example Cunard News (1950-1965) which was published on a monthly basis. The newsletter featured news relating to Cunard including staff, ships and passengers. There were also a large number of photographs, particularly of prominent passengers, in addition to special articles on the company's history, achievements and changes to services.
Smaller runs of house magazines and newsletters exist within the Cunard archive, although often as singular items which have been donated as part of a larger collection. Examples include New Cunard, Cunard Leisure News, Cunard's People and The Crow's Nest.
Although very few business records from the White Star Line have survived as part of the Cunard archive, there is a fantastic run of the White Star Magazine (1928-1934). This house magazine was produced monthly in a similar format to the Cunard Magazine and typically featured articles relating to the company's ships, prominent passengers and history. They also contain a large number of photographs of famous or prominent passengers, on board scenes and window displays. Company news and events are also covered along with an occasional obituary or reference to a specific White Star staff member.
You can learn more about the Cunard Archive via the dedicated webpage which includes links to the online catalogues. All of the Cunard catalogues are also available in printed format for consultation in our reading room.