By Phoebe Chandler, Classical Studies BA student, participating in a placement in the SC&A at the University of Liverpool.
With just one search of The University of Liverpool Library Search, it can be quite overwhelming the results you get, after all, our catalogue is quite extensive! We do have the largest catalogued Sci-Fi collection in all of Europe in the Special Collections & Archives and a huge collection from our many wonderful donors over the years. So, let us make this easier for your research.
So, let's start at the beginning – the library home page. At the top you can see a blue banner, labelled 'Library Search – Search for books, journals, articles, videos, music and more…'
Let's say for example you are researching a piece on Beatrix Potter.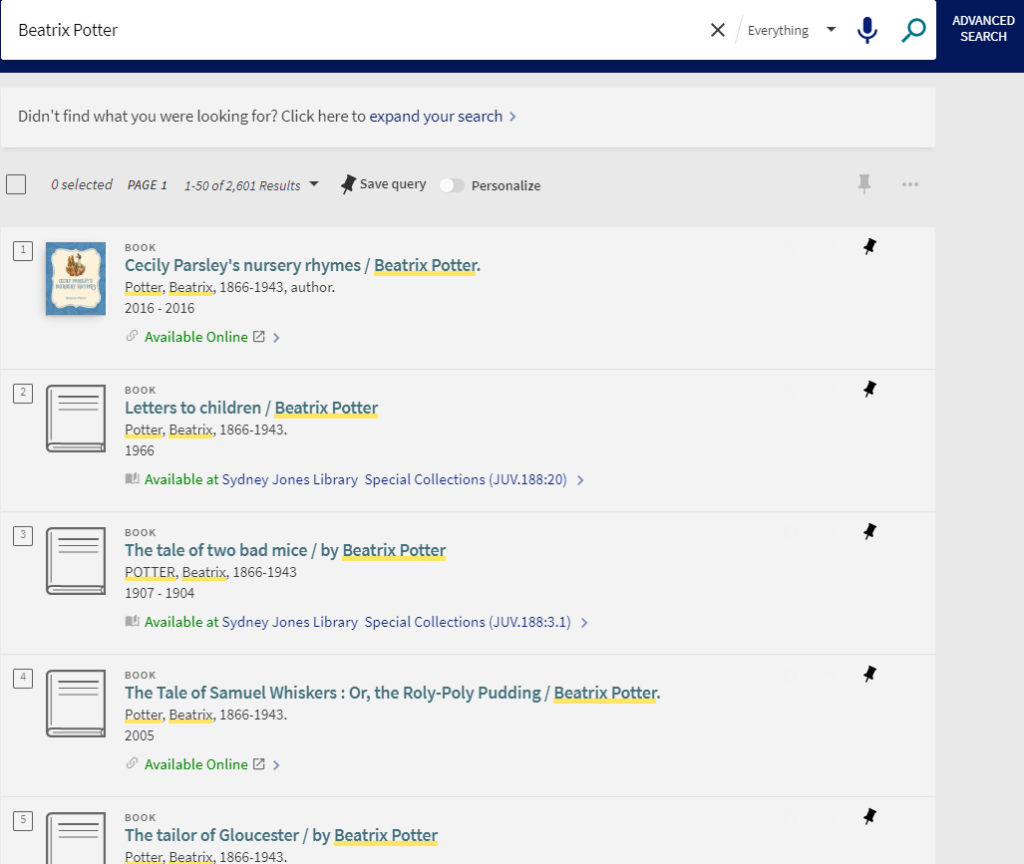 Using the normal search, you can find 2,601 wonderful results. These vary from books that are available online (both writings by Potter and about Potter), to articles relating to Potter, to physical books on the shelf in the Sydney Jones library and in the Special Collections & Archives.
Now it can be hard to go through 2,601 results about Beatrix Potter to find something you are looking for, so we can shorten this down.
It we click on 'Advanced Search', just right of the search bar, we discover a 'Search Criteria'.
From this we can bring up more specific results for your research – we can search for 'Everything', which is the results we have already seen, Print Only, Special Collections or Expanded search.
Expanded Search will widen the scope of your search, so for instance, an expanded search for Beatrix Potter will bring up 8,699 results.
However, I would like to draw your attention to the Special Collections tab. By clicking on this, you have filtered your search to 49 results. These are early editions held within the Special Collections & Archives, which can be viewed by booking a space within the Reading Room. (And there are even two additional results you can find in the Science Fiction Collections using the dropdown menu on the Special Collections tab).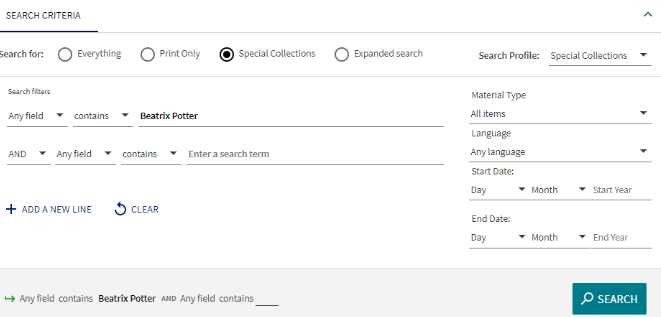 But what if you want to find something more specific? What about an inscription within a Beatrix Potter book within the Special Collections & Archives?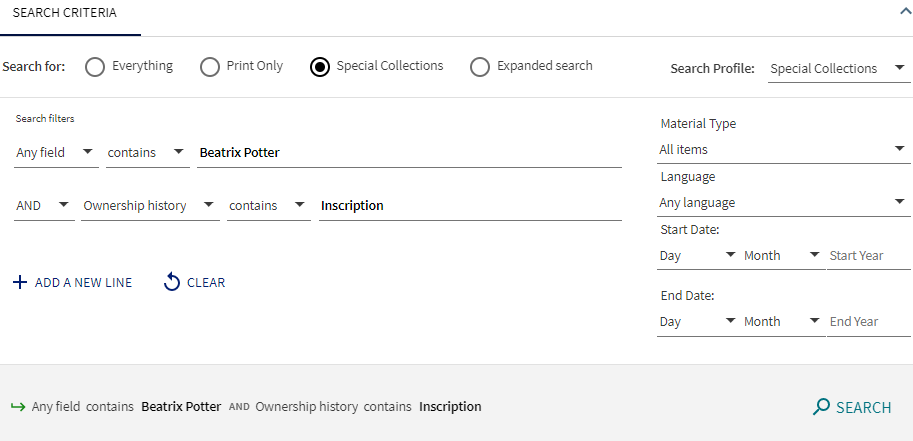 Within that second search bar, labelled with 'AND / Any field / Contains / Enter a search' we can make our scope increasingly narrow to find exactly what you need for your research.
For 'Any field' on this second search we will change it to 'Ownership History'; but from here you could also find a more specific book. Leaving 'Contains' as is, we will add 'Inscription' to the search function:
This brings up one singular book, which is under the Class Number JUV.188:1.5, and is a 1902 edition of 'The tailor of Gloucester' by Beatrix Potter. In the 'Details' section, we find our inscription – 'With love & best wishes for Christmas, from Beatrix Potter. Dec. 20th 02'.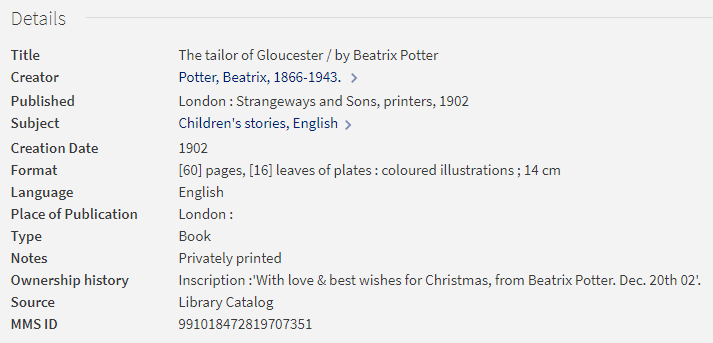 Class Marks are also incredibly useful, and you can use them to find not only specific books within the collection, but also specific editions of the book.
From this section, as with most books in the Special Collections & Archives collection, we can see the title, creator, when and where is was published, when it was created, the subject, language, and any notes!
I would like to show you now an example of the library search being used for a research project ongoing here in Special Collections & Archives department.
The project was as titled: 'To investigate female ownership and engagement with historical books on scientific subjects (broadly interpreted) in Special Collections.' The term "scientific books" was purposely broad due to the nature and history of the relationship between women and science, as for so long, there was no place available for women within STEMM (Science, Technology, Engineering, Mathematics and Medicine), and so "Domestic science" was also included this list. You can find more reading about the project here.
And so, to find the books necessary, the 'Advanced Search' function came in incredibly useful.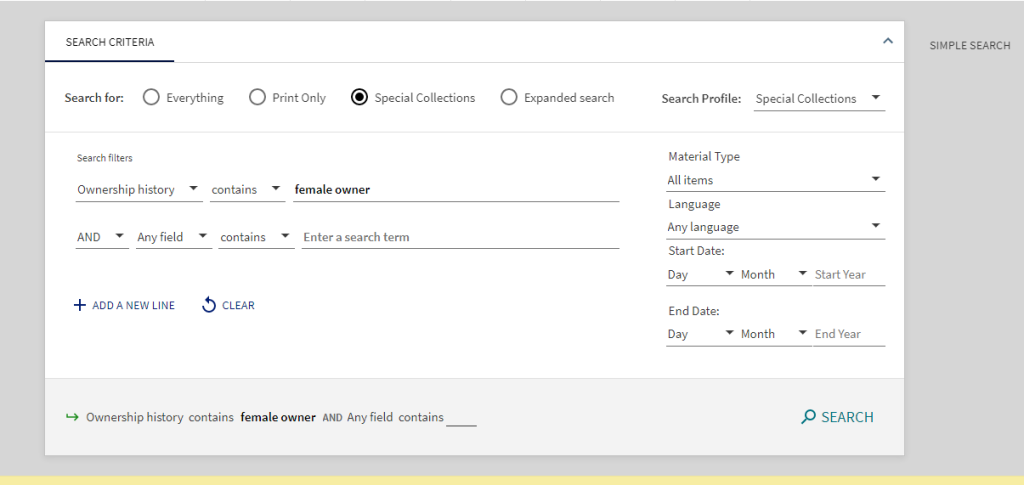 The report was collected through manual handling of books to find other inscriptions, not just the ones previously reported, and to update them onto the system in order to make them easily found for your future research.
There is something quite prominent, though, when using the books within our collections to map out history. For example, we have a huge Rathbone Collection in our library, donated from several different members of the family over the years. However, we do find evidence gaps, and we discover the need and curiosity for other sources to try and identify owners from these fragmentary bits of information. But we are working towards this ongoing project, with many more stories yet to be discovered. A prime example of these evidence gaps is Miss May Rathbone, who donated 172 children's books (as recorded in the University's Annual Report for 1961), but very little is actually known about her. She came up quite a bit within the STEMM project, as many 'science' related books accessible to women were aimed at children.