Following the theme of our Love in the Library display, Special Collections & Archives organised a Valentine's Day event, attended by colleagues from around the University and other Liverpool cultural and educational institutions.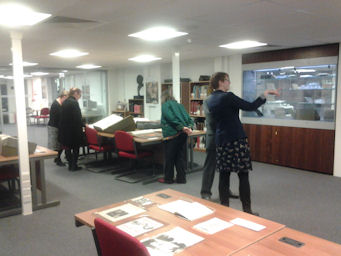 Staff from Liverpool University Press, Corporate Communications, Computing Services, National Museums Liverpool, Liverpool John Moores University and Liverpool Hope University joined us for an introduction to the collections and staff, tours, and tea in the next-door Researcher Reading Room.
The Valentine's Day theme was pursued in the captions for material on display, as each item was matched up with an invitee. These 'blind dates' were helped along by a large dose of serendipity, as unsuspected connections emerged. The event proved to be a great way of networking and we hope will lead to future collaborations.