With a general election fast approaching, we have identified some material from our collections which can help to show how elections in the past were, fought, won, and lost.
Special Collections and Archives contains collections relating to a number of political figures, some of whom served as members of parliament, including Eleanor Rathbone, Sir John T. Brunner, and Lord David Owen.
In some ways, the basic materials of an election campaign appear to have changed little over the last century. Leaflets explaining a candidate's position, flyers advertising public meetings, and small cards on which the key slogans of a campaign are put across are all still used today. In Brunner's papers, such material survives from his 1887 by-election victory over the Liberal Unionist Lord Grosvenor in Northwich, Cheshire.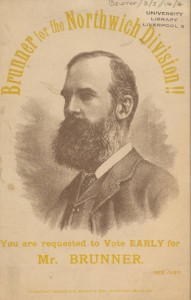 Eleanor Rathbone's papers give us an insight into a long-gone quirk of the British electoral system: the existence of university seats. These were not physical constituencies, but electorates made up of university graduates, wherever they happened to be living.
Eleanor Rathbone represented the Combined English Universities, as one of two Members, from 1929 until her death in 1946. Although from a family largely aligned with Liberal politics, she sat as an Independent. This non-party approach clearly appealed to the electors of this seat, including Liverpool University graduates, who returned her four times.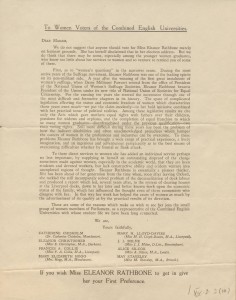 This year there is much talk of political realignment and the emergence of new parties. This in itself is nothing new. The Labour Party was once an insurgent political organisation battling for every vote against the main parties of the day. The early 20th century election material contained in the papers of Katharine and John Bruce Glasier, founder members of the Independent Labour Party (ILP), reminds us of this.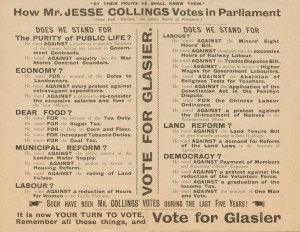 Almost a century later, David Owen's Social Democratic Party (SDP) was heralded as bringing about a political realignment upon its split from Labour in 1981. Lord Owen's papers contain material from the general elections and by-elections fought by the party in alliance with the Liberals throughout the 1980s. Despite some good results, by the late 1980s the Alliance began to split. In 1988, the Conservatives narrowly held Kensington from Labour, while separate Liberal Democrat and Social Democrat candidates came third and fourth.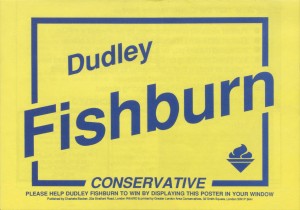 As well as archival material, our collections contain various printed political pamphlets, some dating from before the political party system as we know it developed. In the 18th and 19th centuries, supporters of candidates would pen songs and rhymes set to popular tunes to extol their virtues. Tracts such as this one published by John Wilkes satirised the practice of corruption during a Hampshire election, but references to "freeholders" and "brave boys" are a reminder of how tightly the franchise was restricted to male members of the propertied classes.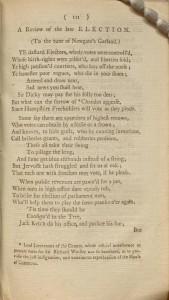 These days, of course, things are very different. Gone are the university seats and the limited franchise. Over the last century political parties such as the ILP and SDP have risen and fallen. Nevertheless, some of the material here indicates that the bread and butter of electoral campaigning has perhaps not changed as much as we might think.
A selection of election material from SCA collections can currently be seen in our display cases in the Grove Wing of the Sydney Jones Library.
Edd Mustill
Graduate Library Assistant