To celebrate the bicentenary of the Liverpool Royal Institution, opened by William Roscoe on 25 November 1817, an exhibition is on display at the Sydney Jones and Harold Cohen libraries until the end of the year.
In addition, a reading of selected passages from Roscoe's 80-page opening address will take place in the School of the Arts Library between 3 and 5pm of the 100 year anniversary date, with a tour of the exhibition. The free public event is hosted by Eighteenth-century worlds.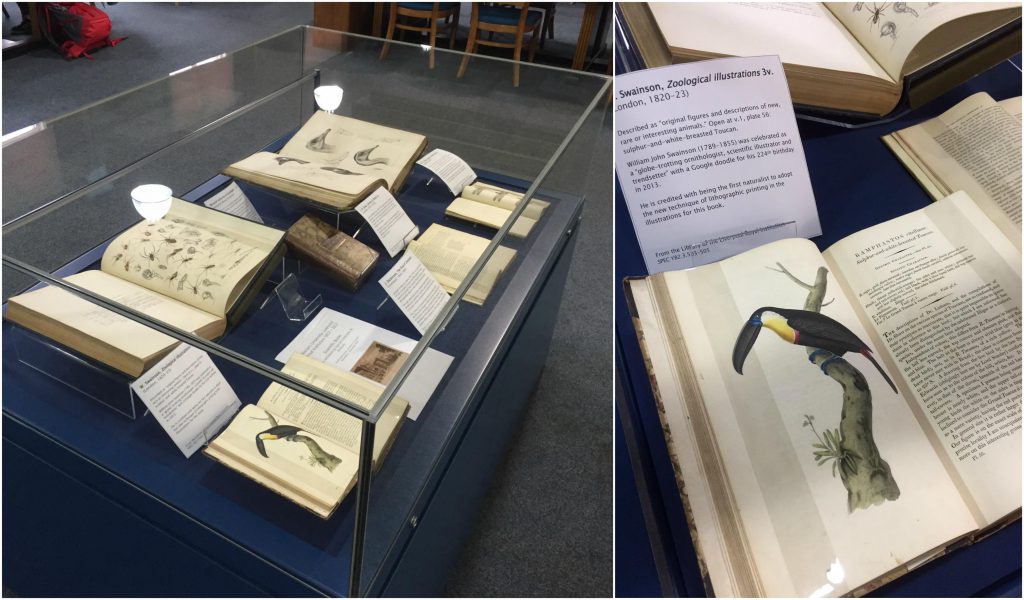 The Harold Cohen Library is showcasing scientific books from the Library of the Liverpool Royal Institution, including a selection of coloured plates of insects and birds which made use of the new technique of lithography. The plate of a toucan from the first volume of William Swainson's Zoological Illustrations (1820; above image) recalls the Google doodle for Swainson's (224th) birthday in 2013 (below image).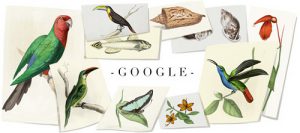 John Blackwall's A History of the Spiders of Great Britain and Ireland (1861-1864) describes 300 spiders and illustrates 272 of them. It was the life's work of the Manchester businessman, who retired to North Wales to complete it. The copy in the Liverpool Royal Institution Library was one of the first to be borrowed when rules changed to allow the fee-paying subscribers ("proprietors") to take books home. The borrower, Rev. H. H. Higgins, had a professional interest, having arranged the invertebrate display in Liverpool's Free Public Museum when it moved to William Brown Street.