Three items from Special Collections & Archives have been included in a new exhibition at the Museum of Liverpool, which explores the history of Liverpool's Royal School for the Blind and the experiences of generations of its students.
The School, the first in Britain, was founded in 1791 by Edward Rushton. Born in Liverpool and apprenticed as a sea-boy at 11, Rushton contracted an eye infection on board a slave ship, an experience which left him both blind and with an interest in radical political causes.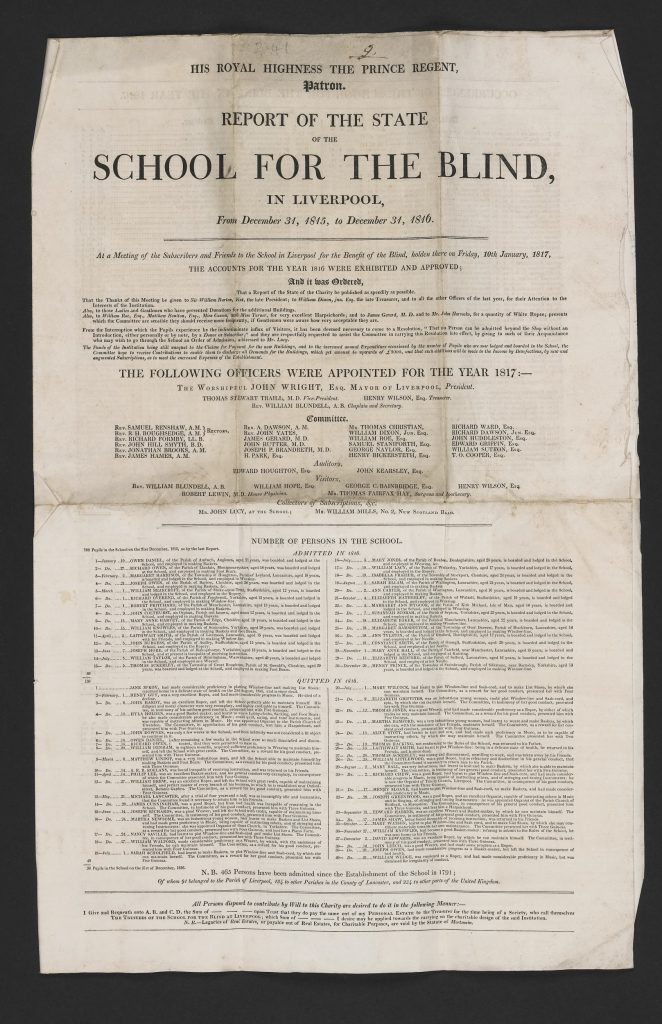 'The Blind School: Pioneering People and Places' is one of three exhibitions curated by History of Place, a national project run by Accentuate, which explores 800 years of disability history through eight different sites around the UK.
A group of volunteers working on the Heritage Lottery-funded project visited Special Collections & Archives as part of their research in 2016. The group consulted a number of items from the collection and later selected three items to appear in the final exhibition, all printed in Liverpool – An unselfish life: sermon preached at the Blind School Chapel (1878); Report of the state of the School for the Blind (1817); and An address to the benevolent founders of the Chapel for the Blind (1828). The books are displayed alongside objects, spoken stories and a film made with visually impaired and blind students from St Vincent's School in a narrative which challenges people's attitudes towards blind people, both past and present.
The exhibition includes audio description, Braille, British Sign Language interpretation, and multi-sensory features, and is open at the Museum of Liverpool until April 15th 2018.