If you have visited Special Collections and Archives since the start of December, and have seen our Christmas tree adorned with 2B pencils, latex glove baubles, and tinsel made from paper clips and unbleached cotton tape, then you will know that SCA is fully into the swing of Christmas.
Our latest Christmas-themed treasures event will take place Thursday 5th December 5pm – 6pm, and will look back at how Christmas has developed into the holiday that we know it as today.
As we approach the Christmas break here at the University of Liverpool, we wanted to share some of our festive favourites that will be shown at the event.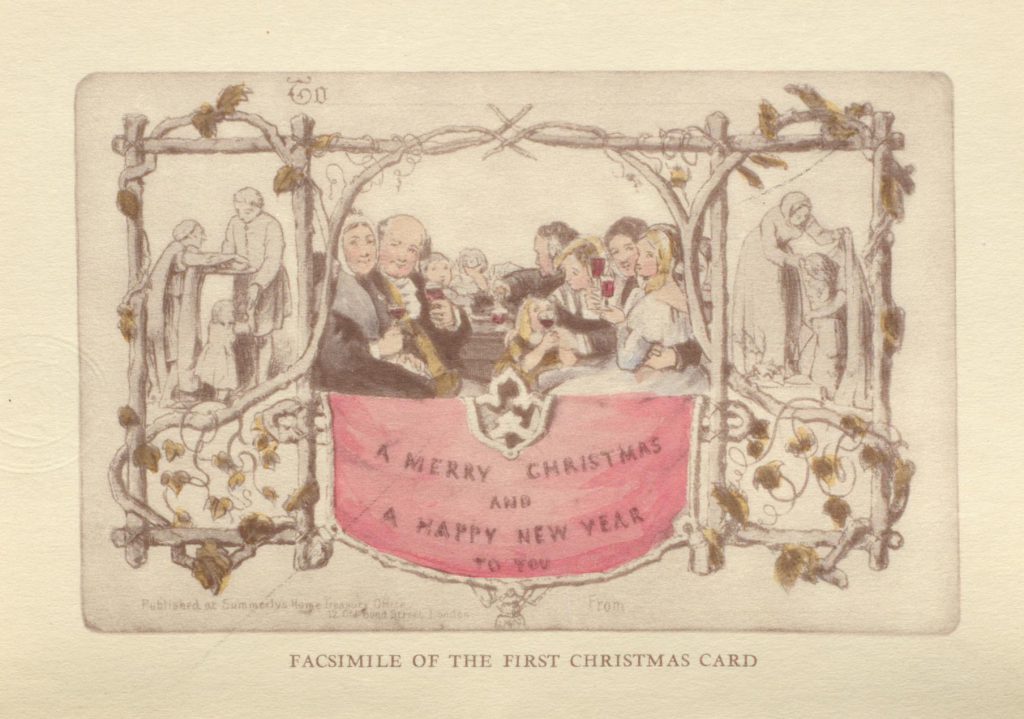 Newton, A. Edwards, The Christmas spirit, privately printed (1930) – SPEC K11.9(30)
This facsimile of the first ever Christmas card produced in 1843, shows a family celebrating together in the center, surrounded by images of charitable giving. This is a theme that became ever more popular in the Victorian-era, and other Christmas souvenirs were quick to follow in promoting concepts of charity and togetherness.
The idea for the card came from Henry Cole (1808 – 1882), in response to the growing number of unanswered letters he had received containing Christmas well-wishes. Looking for a way to reply to these letters quickly, Cole commissioned the artist John Callcott Horsley (1817 – 1903) to design a Christmas card.
Cole had more of these cards printed, and sold them at a shilling a piece. This was considered a lot of money for the period, and initially the idea didn't cotton on. It wasn't until a few years later that the idea of the Christmas card grew in popularity.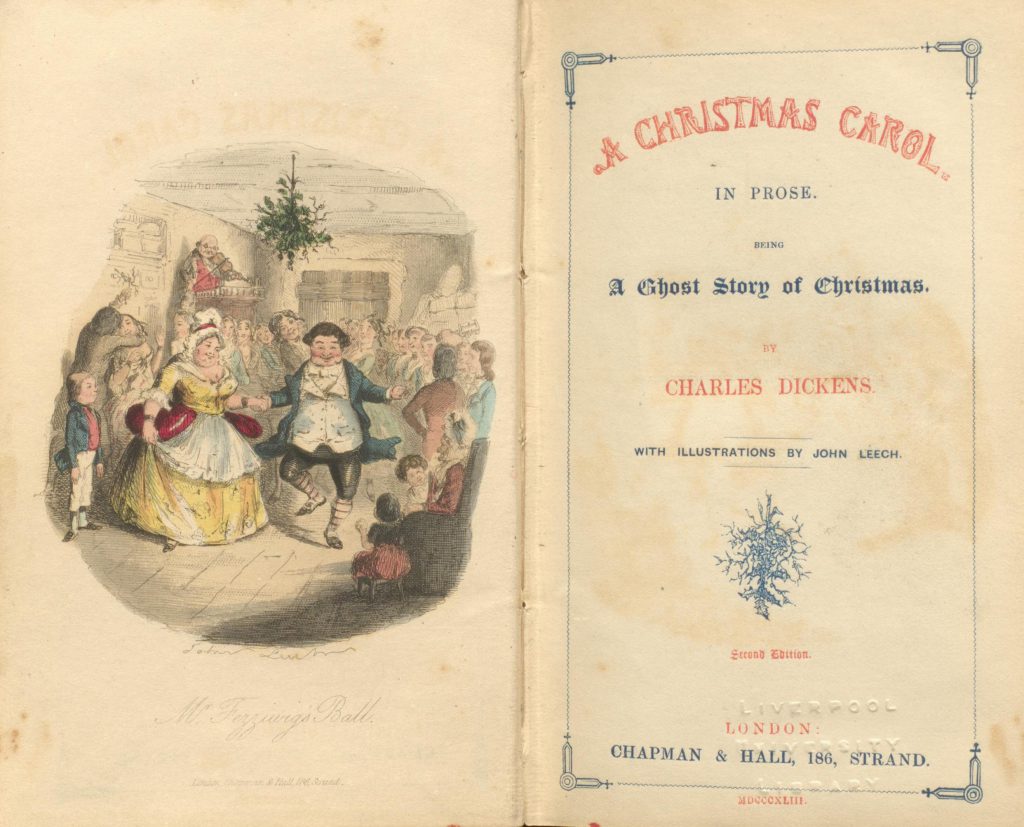 Dickens, C., A Christmas Carol: In Prose: Being a Ghost Story of Christmas, (London: Chapman & Hall, 1843) – SPEC Y84.3.65
This second edition of Dickens' 'A Christmas Carol', from 1843, includes beautiful illustrations by John Leech.
In the century before its publication, as a result of industrialisation and social changes, Christmas traditions had fallen into decline. However the Victorian era marked the revival of old traditions such as Christmas carols, as well as the introduction of new ones, such as the Christmas card and the decorating of Christmas trees, which was popularised by Prince Albert and Queen Victoria.
'A Christmas Carol' was fundamental in re-popularising Christmas. Dickens (1812 – 1870) wrote the text in response to the growing problem of child poverty he had witnessed during his lifetime. He had hoped that the text would remind readers of the need to address wealth inequalities between the poor and rich, and that by encouraging Christmas traditions he would be able to promote 'carol philosophy', a term coined by Dickens to mean charity, generosity, and merriment.
The first print of six thousand copies had sold out by Christmas Eve, and since then the book has never fallen out of print.
Christmas Book (1930-1938) – RP XVB.4.7
This notebook from the papers of Sybil and Reynolds Rathbone shows just how much the concept of gift-giving and sending Christmas cards has grown since the Victorian era. The notebook includes pages of names of intended recipients for cards, calendars and presents.
The book records giving gifts such as chocolates and bath salts- not too different to today it would seem.
Also at the event there will be a selection of books from the Sci-Fi collection, which show the extent to which these modern concepts of Christmas have fed into popular culture since Dickens.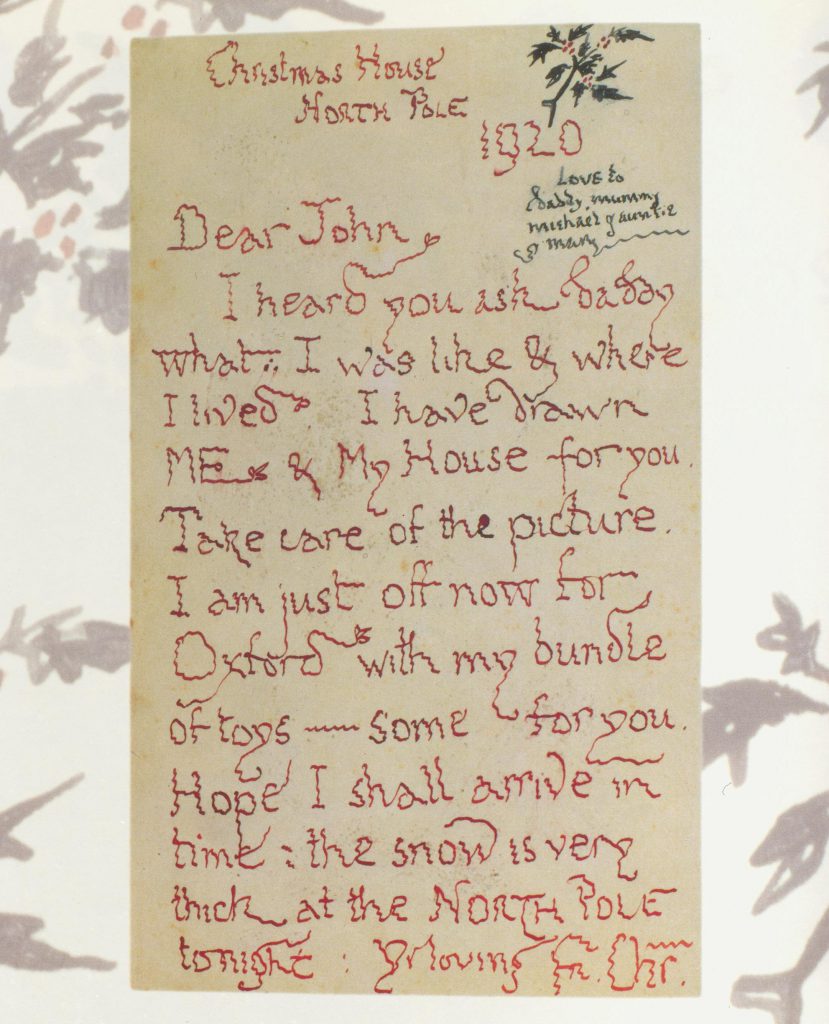 Tolkien, J. R. R., Letters from Father Christmas, (London: Harper Collins, 1999) – PR6039.O32.L47 1999 O/S
This book contains letters written by J. R. R. Tolkien (1892 – 1973) to his children, pretending to be Father Christmas, sharing stories of life in the North Pole and discussing the gifts they have asked for from Santa.
If you would like to see all these treasures and more then come along to tonight's event, held in Special Collections and Archives from 5pm to 6pm.
Don't forget to keep an eye out on our social media for details of the next Treasures event in the new year!
Written by Eleanor Mckenzie, Graduate Trainee.