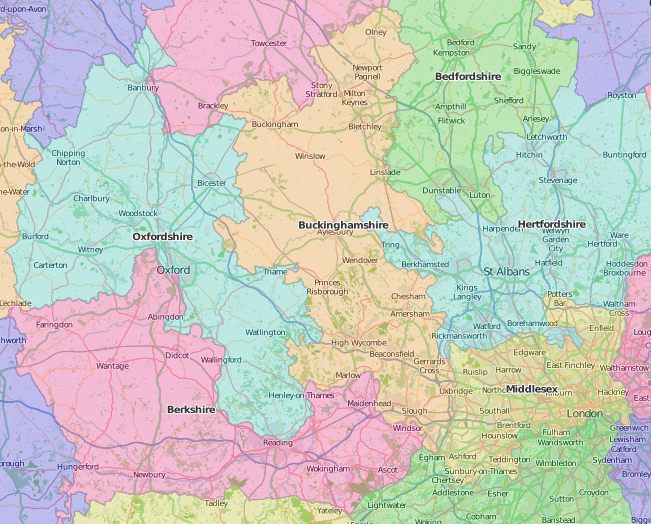 Bedfordshire, Berkshire and Buckinghamshire all feature the first volume of the brothers Daniel and Samuel Lysons' Magna Britannia – described, at 900-odd pages, as "a concise topographical account of the several counties of Great Britain" (1806). Their work was based on personal visits to collect material (their friend Horace Walpole paid tribute to "the two Lysons, and their strong legs and activity and perseverance") supplemented by material gathered by circulating printed questionnaires. The post office helped out by allowing replies by clergymen to be sent free of charge. The project got as far as Devonshire (volume 6) before Samuel's death in 1819.
John Speed's map of Bedfordshire is elegantly simple, with an inset plan of Tudor Bedford. 18th century Bedfordshire is briefly described by Resta Patching, in Four topographical letters, written in July 1755, upon a journey thro' Bedfordshire … &c. From a gentleman of London, to his brother and sister in town: giving a Description of the Country thro' which he pass'd; with observations on every Thing that occurred to him, either Curious or Remarkable (1757). The promise (or threat) of the title is borne out by the minutiae of Patching's somewhat grumpy descriptions. It is not surprising that this seems to have been his only publication.
Speed's Berkshire is dominated by Windsor Castle, which occupies the top third of the map, displacing a plan of Tudor Reading to the map of Buckinghamshire. The later antiquarian Elias Ashmole gives a solid account of the county in The antiquities of Berkshire. With a large appendix of many valuable original papers, pedigrees of the most considerable families in the said county, and a particular account of the castle, college, and town of Windsor (1719), but there are also more light-hearted accounts. The literary annuals collection includes Heath's picturesque annual for 1840: Windsor Castle, and its environs, by Leitch Ritchie; with fifteen engravings by the first artists, after original drawings
Children's books on Berkshire include The scouring of the white horse; or, The long vacation ramble of a London clerk by the author of 'Tom Brown's schooldays' with illustrations by Richard Doyle (1859). The white horse of the title is at Uffington, where the author, Thomas Hughes, was born, and both novels include folklore and local history of rural Berkshire. A Victorian verse chapbook includes 'The Berkshire lady's garland' (1840?), which can be read in the National Library of Scotland's chapbook database.
Speed describes Buckinghamshire as having "an infinite number' of sheep", though none are depicted on his plan of Buckingham. For residents keen on toponomastics, the collection of Robert George Morton includes The place-names of Buckinghamshire (1925) – the first volume in The English Place-Name Society's (non-alphabetical) survey by county. The series reached volume 91, Leicestershire, in 2016.
The famous concrete cows would be quite at home in the rural Buckinghamshire landscapes in two books which long pre-date Milton Keynes: A Description of the gardens of Lord Viscount Cobham, at Stow in Buckinghamshire "sold by B. Seeley, in Buckingham, and George Norris, in Newport-Pagnell", the first walking guide-book to an English garden (1744), and James Storer's The rural walks of Cowper; displayed in a series of views near Olney, Bucks: representing the scenery exemplified in his poems; with descriptive sketches, and a memoir of the poet's life (1822).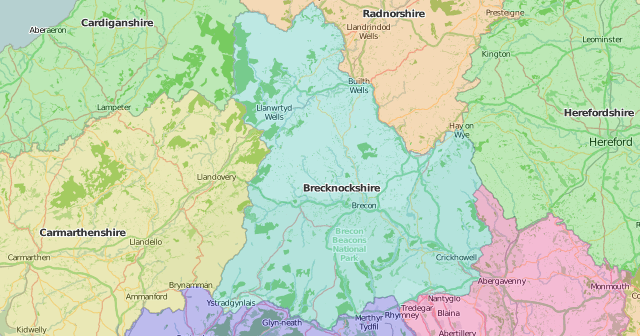 Last but not least, Brecknockshire, or John Speed's "Breknoke, both shyre and towne described" is "full of hills and uneven for travel", especially in the neighbourhood of towering Momuchdenye Hill (Pen y fan). A reliable later guide is A history of the County of Brecknock by Theophilus Jones, printed and published in Brecknock (1805-1809). Jones's work is described as 'the best of our Welsh county histories' by the Dictionary of Welsh Biography which also reproduces a cheerful and kindly portrait of Jones from the National Library of Wales. And a once locally-owned book is David Thomas's 18th century copy of Geoffrey of Monmouth's British history, translated into English from the Latin, with his inscription, "Brecon, 1857".
Special Collections copies of works cited:
Bedfordshire
Resta Patching, Four topographical letters (1757): SPEC L14.33
Berkshire
Elias Ashmole, The antiquities of Berkshire. With a large appendix of many valuable original papers, pedigrees of the most considerable families in the said county, and a particular account of the castle, college, and town of Windsor (1719): SPEC R.20.14/A)
Windsor Castle, and its environs by Leitch Ritchie; with fifteen engravings by the first artists, after original drawings (1840): SPEC Annuals 1b.H445
Thomas Hughes, The scouring of the white horse (1859): OLDHAM 463
'The Berkshire lady's garland' (1840?) SPEC Y85.3.208.18
Buckinghamshire
The place-names of Buckinghamshire (1925): SPEC Morton 162
A Description of the gardens of Lord Viscount Cobham, at Stow in Buckinghamshire. (1744): SPEC Knowsley pamphlet 215
James Storer, The rural walks of Cowper (1822): SPEC Y82.3.735
Bedfordshire, Berkshire and Buckinghamshire
Daniel and Samuel Lysons, Magna Britannia (1806): SPEC Y80.5.28)
Brecknockshire (or Breconshire)
Theophilus Jones, A history of the County of Brecknock (1805-1809): SPEC Y80.5.39
Geoffrey of Monmouth, British history (1718): SPEC J35.33
Maps from wikishire.co.uk CC-BY-SA