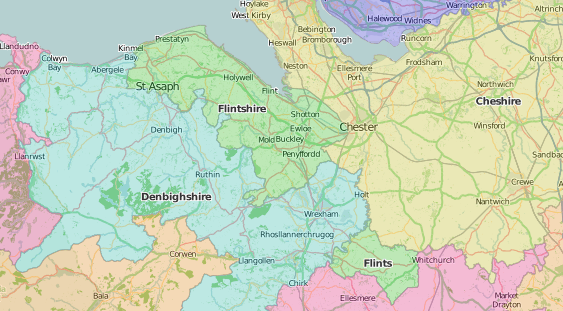 From the North Sea to the Irish Sea, and to the landlocked Flintshire exclave, Maelor Saesneg.
Flintshire is visible, if not visitable, from Liverpool – you can see the long stretch of the Clywdian Hills, though not the detached exclave of the English Maelor. John Speed's map clearly shows 'Clawdh Offa or Offa's Ditch' running through the hills, and he fills the ample space around the smallest Welsh county with plans of Flint, St Asaph, and 'St Winffrid's Well'. All these places are described in the locally-published Gleanings of the histories of Holywell, Flint, Saint Asaph, and Rhuddlan, their antiquities and surrounding scenery (1831). Rhuddlan's Eisteddfod of 1850 also features in Special Collections, and the only surviving copy of a wedding sermon preached in the parish church over 300 years ago.
Former Flintshire residents include Thomas Davies, a joiner in Mold, who wrote his name and the date, 24 May 1816, in his copy of Ystyriaethau o gyflwr dyn, yn y bywyd hwn ac yn yr hwn sy i ddyfod (1724: Contemplations of the state of man in this life), and the schoolboy Adrian Henri (1932-2000). Copies of the St. Asaph Grammar School magazine for May 1946 to July 1947 include Henri's 'Spring', 'An aspect of school life', and his drawing 'For whom the bell tolls'.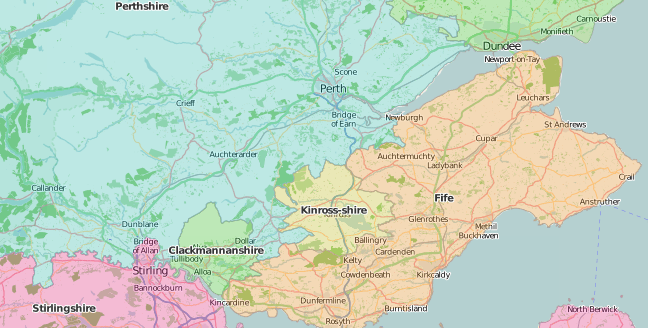 Fifeshire and Forfarshire (now Angus), separated by the Firth of Tay, drew praise in the first (1794) series of the General Views survey for the Board of Agriculture:
The climate of Fife is temperate, the inhabitants healthy, and the soil has been found fruitful when properly cultivated
and
The writer of this, has himself seen, very fine barley and oats, ripen in due season, on the summit of a hill in Forfarshire, elevated 700 feet above the level of the sea.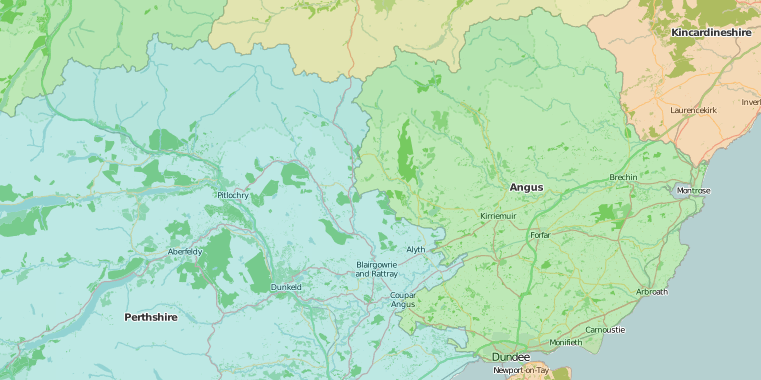 Some of the crops grown had doubtless been subject to the malt-tax that caused riots in 1725, as related in the anonymous Copy of a letter from a gentleman in Fife to his friend at Edinburgh, upon the subject of the malt-tax.
Walter Simson colourfully described The Fife Gypsies in his 1817-1818 series of Anecdotes for Blackwood's Magazine, edited posthumously by James Simson (1826-) in his History of the Gypsies (1865). Simson's work was part of the growing fascination which led to the Gypsy Lore Society: John Sampson (1862-1931) made notes from Simson for his classic work on the Romani language and R.A. Scott Macfie (1868-1935) owned and annotated copies of Simson's books. Perhaps some of the Fife Gypsy families featured in the 3 million-a-week postcards produced by the Dundee firm of Valentine & Sons, Scotland's most successful commercial photographers.
Special Collections classmarks:
Flintshire
Poole, J. Gleanings of the histories of Holywell, Flint, Saint Asaph, and Rhuddlan, their antiquities and surrounding scenery; with a statistical and geographical account of North Wales in general (Holywell, 1831): SPEC J22.39
Ieuan Glan Geirionydd (1795-1855), Eisteddfod Frenhinol Rhuddlan (1850): SPEC Y85.1.14.
Ellis Lewis (1662 or 1663-), A wedding sermon preach'd in the parish-church of Rhuddlan in Flintshire, on Sunday, October 21, 1716: SPEC LGP 406 /box 23.
Ystyriaethau o gyflwr dyn, yn y bywyd hwn ac yn yr hwn sy i ddyfod. Selections in Welsh from the 1672 English translation of Juan Eusebio Nieremberg, De la diferencia entre lo temporal y eterno (1724): SPEC G53.13
Adrian Henri, 'Spring', 'An aspect of school life' (v. 2/1), 'For whom the bell tolls' [drawing] (v. 2/2), St. Asaph Grammar School magazine. Vol. 2 no. 1-2 ; May 1946-July 1947: SPEC Henri 176-177
Fife and Forfar
Robert Beatson, General view of the agriculture of the County of Fife (1794): SPEC Y79.3.964.
Mr Roger, General View of the agriculture of the county of Angus or Forfar (1794): SPEC Y79.3.290(2)
Copy of a letter from a gentleman in Fife to his friend at Edinburgh, upon the subject of the malt-tax (1725): SPEC Thomson 35(2)
Walter Simson, Anecdotes of the Fife Gypsies. Blackwood's Magazine (1818): SPEC Scott Macfie B.4.45(4,6)
Walter Simson, A History of the Gipsies, with specimens of the Gipsy language (1865): SPEC Scott Macfie A.4.23
Maps from wikishire.co.uk CC-BY-SA