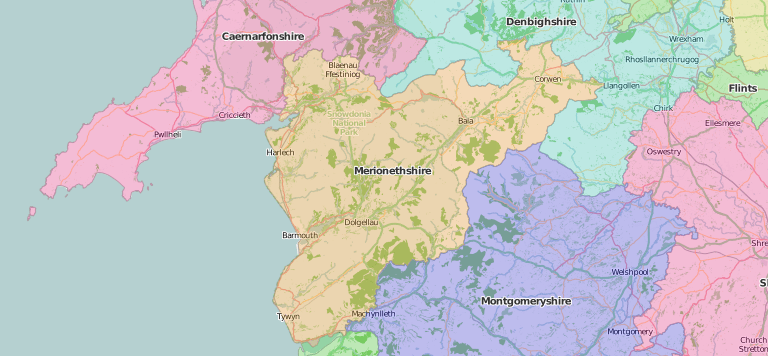 Neighbouring but starkly contrasting counties, ancient, desolate Merionethshire and prosperous marcher Montgomeryshire.
John Speed found Merionethshire the poorest of the English and Welsh counties, with little to recommend it except possibly "the many and mighty great winds that for the most part therein do rage". The market towns were Bala, on its lake, Dolgellau and Harlech: in Speed's town plan scarcely more than the castle. The map is covered by hills, notably the towering Caddorydris. It was still a difficult place to live in the early 20th century for Margaret Sampson, left to manage family life in remote Betws-Gwerfil-Goch (now in Denbighshire) while her husband John Sampson (1862-1931), University Librarian and Romany scholar, made excuses for staying in Liverpool, occasionally visiting  with his Gypsy Lore Society friends. During the Second World War, some of the University's Faculty of Arts departments were evacuated to Coleg Harlech in Merionethshire.
Merionethshire remains strongly Welsh-speaking, as it was when the Calvinistic Methodist preacher Thomas Charles (1755-1814) settled in Bala in 1783. As well as improving his own Welsh, Charles helped set up schools teaching in Welsh, and a Welsh printing press to publish his religious writings. His 'life and labours' and 'essays, letters and interesting papers' were published posthumously. The mid 19th century Cambrian tourist guide and companion, published in Dolgellau, promoted the county and found "curiosities, antiquities, mountains, lakes, water falls, towns, principal inns, roads, distances, romantic sceneries, etc" to recommend it, whatever the state of the weather.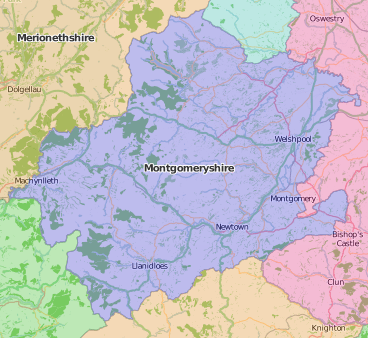 Tudor Montgomeryshire was a recently founded county (1536), overlaying the ancient Welsh kingdom of Powys, and much more to Speed's taste. He found the county town of Montgomery, "very wholesome for air, and pleasant for situation".
Montgomeryshire was also a good place for producing books: there was 18th century Welsh printing at Machynlleth and 19th century private printing at Welshpool (by Morris Charles Jones, 1819-1893, founder of the Powysland club), but it is best known as the home of the Gregynog Press (1923-1942) founded by the Davies sisters Gwen (1882–1951) and Daisy (1884–1963) in their country house near Newtown. The 42 volumes published by the Gregynog Press are tributes to its founders' high artistic standards and to their philanthropy, as local people were trained and employed by the business. Artists associated with the press include Agnes Miller Parker (1895-1980), who illustrated John Sampson's XXI Welsh Gypsy Folk-tales (1933), and Reynolds Stone (1909-1979), who designed the University of Liverpool Library bookplate. The press also published Lyrics and unfinished pieces (1940) by Lascelles Abercrombie (1881–1938), a lecturer in poetry at Liverpool University 1919 to 1922. Later University of Liverpool professors Kenneth Muir (1907-1996) and Walter Lyon Blease (1884-1963) gave many of the Gregynog Press holdings in Special Collections.
The press was relaunched as Gwasg Gregynog in 1978 and one of the first items published was a limited edition broadsheet poem, which had been previously published by Gregynog Press in 1924: Mary Whateley's landscape poem, 'Written on Walking in the Woods of Gregynog in Montgomeryshire, the Seat of Arthur Blayney, esq.' , dated 1 July 1794, reprinted from her Poems on Several Occasions. Special Collections holds a copy as part of the modern private press collections.
Special Collections classmarks of items cited:
Merionethshire
Edward Morgan (1783-1869), A brief history of the life and labours of the Rev. T. Charles, A.B., late of Bala, Merionethshire (1828): SPEC Y82.3.750
Thomas Charles (1755-1814), Essays, letters, and interesting papers of the late Rev. Thomas Charles, A.B., Bala, Merionethshire. Edited by Edward Morgan (1836): SPEC Y83.3.1098
The Cambrian tourist guide and companion, containing a concise account and description of North Wales: chiefly in the counties of Merioneth and Caernarvon (1831?): SPEC Y83.3.665(6)
The Cambrian tourist guide & companion, containing a concise account & description of North Wales: chiefly in the counties of Merioneth & Caernarvon: with their various curiosities, antiquities, mountains, lakes, waterfalls, towns, principal inns, roads, etc (1847): SPEC Y84.3.196
Montgomeryshire
John Richards, of Llwyngronw, Ychydig o rheolau yw derbyn, ai harfer gan bob dyn, ac fydd am fod yn Gristion yn ol y Bibl/ o gasglyad John Richards, Llwyngronw (Machynlleth: T. Evans, 1789): SPEC Y77.3.245(5)
William Romaine (1714-1795), Gwledd i'r Eglwys. Neu ddeuddeg pregeth, ar Gan Salomon / A Gymreigiwyd gan Thomas Jones, curad Creaton, yn sir Northampton (Machynlleth: Titus Evans, 1792): SPEC L1.32
Morris Charles Jones, Reminiscences connected with old oak panelling, now at Gungrog (Privately printed, 1864): SPEC Y84.3.314(26)
John Sampson, XXI Welsh Gypsy folktales (Gregynog, 1933): SPEC Scott Macfie C.4.16A
Lascelles Abercrombie, Lyrics and unfinished pieces (Gregynog Press, 1940): SPEC G45.44
Mary Whately, Written on walking in the woods of Gregynog in Montgomeryshire, the seat of Arthur Blayney, Esq / by Mrs Mary Darwall, formerly Miss Whateley: [a poem] first published in 1794, now reprinted at Gwasg Gregynog in June 1979 (Gwasg Gregynog, 1979): SPEC S/Z239(P.C.58)