Counties in Southern, Central and Northern Scotland.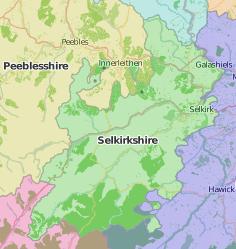 The Yarrow and Ettrick districts of Selkirkshire are known for their waters and their poets – "Surfaceman" Alexander Anderson (1845-1909), quarry worker, railway platelayer, Edinburgh University Librarian, and "Ettrick shepherd" James Hogg (c.1770-1835), peasant, bankrupt, successor to Robert Burns.
Anderson's 'Selkirk and the Yarrow' was printed in the fund-raising venture, The New Amphion: being the book of the Edinburgh University Union Fancy Fair (1886) while the collection of John Fraser contains many of Hogg's works. Mr Thomas Johnston, the writer on agriculture responsible for the 1794 General view of the agriculture of the county of Selkirk was more concerned with the prosaic subjects of ticks and turnips.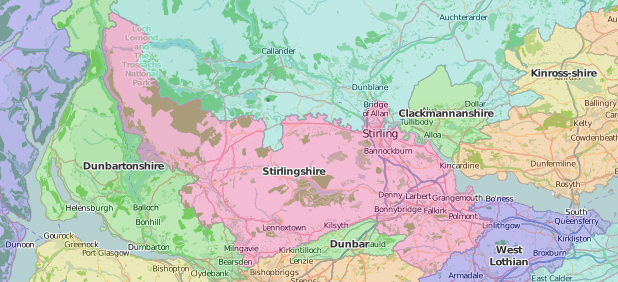 Stirlingshire, 'Gateway to the Highlands' was the site of many battles between the English and Scots, especially the forces of Scottish hero Sir William Wallace (d.1305), who is commemorated by Stirling's towering monument and writings of all kinds, including Blind Hary's 15th century account, Margaret Holford's metrical romance, and chapbook versions of his life.
Preserving sixteenth to eighteenth century Stirling architecture was the mission of James Sturk Fleming in his 1897 sketchbook, The old ludgings of Stirling: being the ancient residences of the nobility, clergy, and civic dignitaries not hitherto delineated and described.
Stirling seed merchant, Peter Drummond, set out to preserve the Sabbath and save the good souls of Stirling by his Stirling Tract Enterprise (1848-1980), distributing millions of free temperance and religious tracts, including juvenile tracts such as Joe Benton's coal-yard: two kinds of revenge.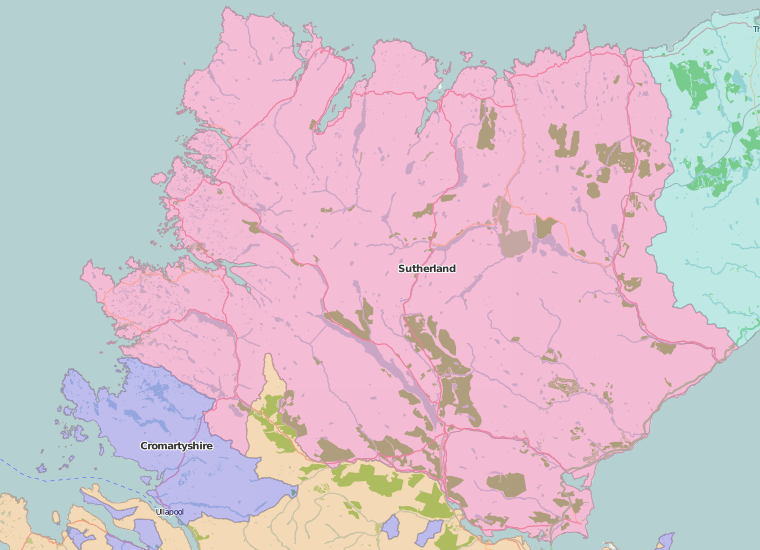 The Edinburgh Sutherland Association was founded in 1866 and continues 'to uphold and foster the art, literature, music, culture and language of the county'. It sponsored the first publication of The tour of Dr Richard Pococke, Lord Bishop of Ossory, through Sutherland and Caithness in 1760 (1888). Patrick Sellar (1760-1851) was a far less sympathetic figure in Sutherland, an expert on sheep, for which he made room by harsh evictions during the notorious highland clearances.
Special Collections classmarks of items cited:
Selkirk
The New Amphion: being the book of the Edinburgh University Union Fancy Fair, in which are contained sundry artistick, instructive, and diverting matters, all now made publick for the first time (Edinburgh: University Press, 1886): SPEC J15.26
Thomas Johnston, General view of the agriculture of the county of Selkirk, with observations on the means of its improvement (1794): SPEC Y79.3.287(4)
Stirlingshire
Blind Hary (active 1470-1492), Wallace; or, The life and acts of Sir William Wallace of Ellerslie … published from a manuscript dated 1488, with notes, etc (1820): SPEC H26.12
Margaret Holford (1778-1852), Wallace; or, The fight of Falkirk: a metrical romance (1809): SPEC Y80.4.26
History of Sir William Wallace, the renowned Scottish champion (1840s): SPEC Y85.3.207(01)
James Sturk Fleming, The old ludgings of Stirling: being the ancient residences of the nobility, clergy, and civic dignitaries not hitherto delineated and described; illustrated by forty pen and ink drawings by the author (1897): SPEC Y89.3.138
The story of the Stirling Tract Enterprise (Peter Drummond, 1867): JUV.A1059:2
Joe Benton's coal-yard: two kinds of revenge (P. Drummond, 18–?): JUV.A1059:1
Sutherland
The tour of Dr Richard Pococke, Lord Bishop of Ossory, through Sutherland and Caithness in 1760 (Sutherland Association, 1888): SPEC Fraser 1698
Farm reports. 3. County of Sutherland: Strathnaver, Morvich, and Culmaily farms, by Patrick Sellar (Society for the Diffusion of Useful Knowledge, 1831?): SPEC Y83.3.810(2)