North, South and Midlands England, with Wigtown the most southerly point in Scotland.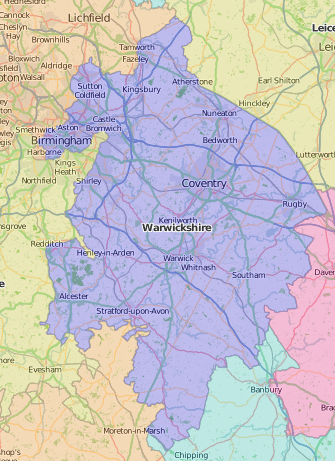 Speed liked Warwickshire with its "green mantles so embroidered with flowers … we may behold another Eden", at least in the south of the county: north of the river Avon was the rebellious Forest of Arden. Of the 18 market towns, Speed gives plans of Coventry and Warwick. Birmingham was still not much more than a single street.
A generation later, William Dugdale published his model county history of Warwickshire, based on 20 years' research. The copy in Special Collections was owned by James Comerford (1806-1881), not a local, although the motto on his heraldic bookplate 'So ho ho dea ne' is apparently an Old Norman-French hunting cry, appropriate to a county where you can still meet archers in the forest.
The Tudor Forest of Arden was a byword for resistance to enclosure; the town planner, Patrick Abercrombie (1879-1957, Professor of Civic Design at the University of Liverpool 1915-1935), would no doubt have sympathised: he spearheaded the movement which led to the Council for the Preservation of Rural England. In the 1920s, Abercrombie and his brother the poet Lascelles (1881-1938) were asked to report on preserving Stratford-on-Avon. The town's most famous resident, William Shakespeare, stands for the county as a whole in the Warwickshire volume of The King's England, a guide to the counties of England in forty-one volumes, and the last project of the journalist and children's writer, Arthur Mee (1875-1943).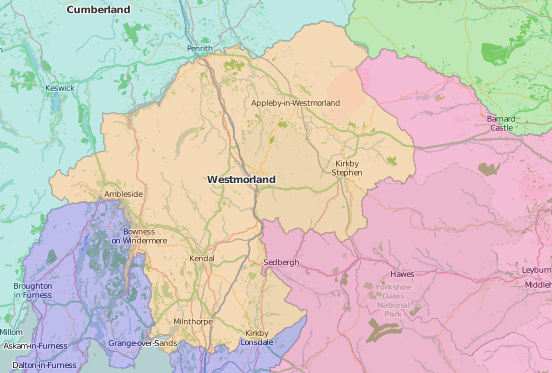 Tudor Westmorland, poor and thinly populated, was, "hardly to be brought to any fruitfulness by the industry and painful labour of the husbandman". The expanses of Ullswater and Windermere form part of its borders with Cumberland and Lancashire north of the sands. Although Appleby was the county town, Speed's map has only a town plan of Kendal.
Joseph Nicolson based his History of Westmorland and Cumberland (1777) on his uncle's manuscript collections relating to manors, tithes and genealogies, parish by parish; his contemporary William Gilpin's Observations, relative chiefly to picturesque beauty (1792) was part of a popular series based on the principle of 'picturesque tourism', and his own travels and sketches; it reached three editions and a fashionable large paper issue. Four decades later, Thomas Rose also took the picturesque rather than antiquarian route with a volume on the northern counties for the publisher H. Fisher & Son. The work's illustrations by Thomas Allom (1804-1872) were based on his sketching tours; Allom was also an architect, a founder member of RIBA, and the designer of Liverpool's William Brown Library.
Ann or Agnes Wheeler (c.1734-1804) was born in Cartmel, then part of Lancashire north of the sands, and she included Westmorland's more southerly neighbours, Lancashire and Yorkshire, in her book on the local dialect. The first edition (1790) was popular enough to be followed by an expanded second edition in 1802, a third in 1821, a 'new' edition in 1840, and to be reprinted in collections throughout the 19th century. The first edition is dedicated to James Wearing of Knowsley, in the hope that "it may, in some degree, share the laurels with Tim Bobbin".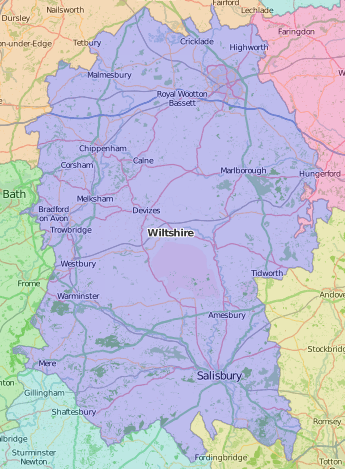 Speed's map of Wiltshire has a charming illustration of Tudor tourists at Stonehenge, as well a town plan of Salisbury including its stocks.
Sir Richard Colt Hoare (1758-1838) dealt with the ancient (north and south) history of Wiltshire, and embarked on a 'modern' history, but the six huge published volumes of this (1822-1844) had not quite covered the southern hundreds of the county before his death. It was modelled on John Bowyer Nichols' History of Leicester and published by him.
John Yonge Akerman (1806-1873) was famous as an antiquary, specializing in numismatics – he popularized the study of Roman coins, which, according to Speed, were contemporary with Stonehenge. Akerman's 1842 Wiltshire glossary bears very little relation to Latin, but claims direct descent from Anglo-Saxon – and the same pronunciation. It had the worthy purpose of helping "to defray the expenses of building a school-house for the children of labouring persons in the parish of Broad Blunsdon, Wiltshire". Edward Slow, the dialect poet, made the same claim for the antiquity of the Wiltshire dialect in his 1881 Wiltshire rhymes:
ar chap vrim Normandy, caal'd Bill tha Konkerer, com an got auver tha Zaxon voke, an mead em use his new vaingled lainguide ; bit we poor wase countery voke av stuck to tha wold tongue till now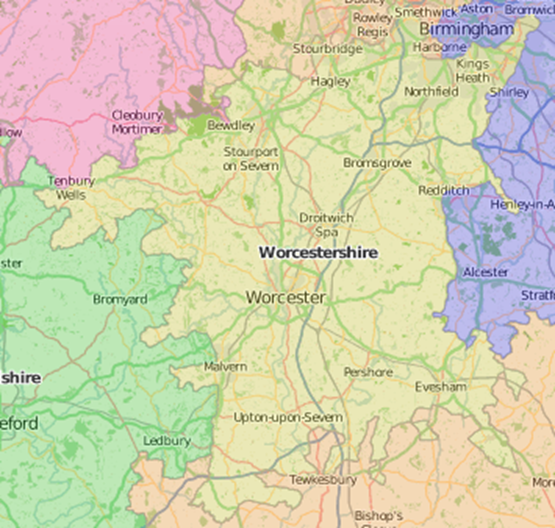 Worcestershire was famed for orchards at Pershore, and salt at Droitwich; the map by Hondius has a neat plan of Worcester, with arable scenes in the background and a shield with three pears.
Treadway Russell Nash (1725-1811), who first published his Collections for the history of Worcestershire in 1781-1782, was also a collector of rectories (he held multiple church livings in the county), and surnames (Treadway from his mother, and Russell from the family estates he inherited from his sister-in-law in 1795). He is listed with his three surnames as 'Rector of Leigh, Bevere' in John Grundy's 1797 Worcestershire guide.
Nash was too early to be included in the list of living authors in John Chambers' Biographical illustrations of Worcestershire (1820), but he merits a full eight pages in the 'lives of persons, natives or residents, eminent either for piety or talent'. The doyen of Axminster carpets, Michael Tomkinson (1841-1921) of Kidderminster was too late, but would surely have merited a place for his carpet-making, for holding every civic post going, from churchwarden to high sheriff, and especially for raising the funds to build Kidderminster library. At least two early printed books from Tomkinson's own library at Franche Hall have found their way into Special Collections. The title of the children's tract, The China cup; or Ellen's trial: a Worcestershire story, suggests that Ellen would doubtless have made it into Chambers on grounds of piety.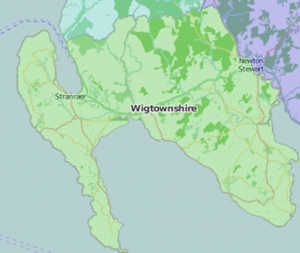 Wigtownshire (or the shire of Wigton), known for martyrs, smuggling, and more recently books, is the most southerly point in Scotland, east of Northern Ireland, and north of the Isle of Man.
Its position is shown in the New traveller's companion; exhibiting a complete and correct survey of all the direct and principal cross roads in England, Wales, and Scotland; as far north as Edinburgh and Glasgow; together with the roads to Perth and Aberdeen, Greenock, Irvine, Ayr, Port-Patrick, Wigton, &c. This useful work by Robert Laurie (1755?-1836) and James Whittle carried on into at least eight editions, adding to a long catalogue of geographical and navigational works they inherited from Robert Sayer (1724–1794) who handed over his print and publishing business on his retirement in 1794.
There was plenty of other publishing activity in 1794, including issues of more than eighty of the quarto series of the General views drawn up for the Board of Agriculture; Special Collections has a set of the reports owned by Secretary to the Board, Arthur Young (1741-1820), with his typically intemperate annotations in the wide margins provided for the purpose. The shire of Wigton is included in the volume for Galloway along with the stewartry of Kirkcudbright.
Special Collections classmarks of items cited:
Warwickshire
Sir William Dugdale (1605-1686), The antiquities of Warwickshire (1656): SPEC R.3.5/oversize
Patrick Abercrombie (1879-1957), Stratford-upon-Avon: report on future development; prepared at the instance of the Stratford-upon-Avon Preservation Committee (Liverpool University Press, 1923): SPEC LUP.923.ABE
Warwickshire: Shakespeare's country; edited by Arthur Mee; with 220 places and 215 pictures (1949): SPEC S/DA670.W3.M49
Westmorland
Joseph Nicolson, The history and antiquities of the counties of Westmorland and Cumberland. Two volumes (1777): SPEC R.2.12/oversize
William Gilpin (1724-1804), Observations, relative chiefly to picturesque beauty, made in the year 1772, on several parts of England, particularly the mountains, and lakes of Cumberland, and Westmoreland. Third edition (1792): SPEC Y79.3.550
Thomas Rose, Westmorland, Cumberland, Durham and Northumberland, illustrated from original drawings by Thomas Allom, George Pickering, &c.; with descriptions by T. Rose (1832): SPEC L44.3
Ann Wheeler, The Westmorland dialect, with the adjacency of Lancashire & Yorkshire, in four familiar dialogues: in which an attempt is made to illustrate the provincial idiom. The third edition (1821): SPEC Y82.1.11
Wiltshire
Sir Richard Colt Hoare (1758-1838), The ancient history of south Wiltshire (1812): SPEC 200.1.12
Sir Richard Colt Hoare (1758-1838), The ancient history of north Wiltshire (1819): SPEC 200.1.13
Sir Richard Colt Hoare (1758-1838), The history of modern Wiltshire (Printed by and for John Bowyer Nichols and John Gough Nichol, 1822-1844): SPEC Q17.1/oversize
John Yonge Akerman (1806-1873), A glossary of provincial words and phrases in use in Wiltshire (1842): SPEC Y84.3.993
Edward Slow, Wiltshire rhymes: a series of poems in the Wiltshire dialect. Never before published. Second edition (1881): SPEC Fraser 1591
Worcestershire
Treadway Russell Nash (1725-1811), Collections for the history of Worcestershire. Second edition with additions. [Supplement] (1799): SPEC L18.14/oversize
John Amphlett (1845-1918), An index to Dr. Nash's Collections for a history of Worcestershire. (Worcestershire Historical Society, 1894-1895): SPEC Y89.3.381
The Worcestershire guide; and, Worcester royal directory (Worcester, 1797): SPEC Y79.3.113
John Chambers, of Worcester, Biographical illustrations of Worcestershire: including lives of persons, natives or residents, eminent either for piety or talent: to which is added, a list of living authors of the county (1820): SPEC Y82.3.702
Bookplate of Michael Tomkinson (1841-1921), Franche Hall, Worcestershire in SPEC EP.D18 (1516) and SPEC EP.CSJ.A06 (1519).
The China cup; or Ellen's trial: a Worcestershire story (Religious Tract Society, 1882): JUV.345:14
Wigtownshire
New traveller's companion; exhibiting a complete and correct survey of all the direct and principal cross roads in England, Wales, and Scotland; as far north as Edinburgh and Glasgow; together with the roads to Perth and Aberdeen, Greenock, Irvine, Ayr, Port-Patrick, Wigton, &c. Accompanied by a new general map, which exhibits the whole, at one view; and an index villaris, distinguishing all the cities, boroughs, market-towns, and principal villages, which appear in the work; showing, also, the market-days, distances from London, &c. Fifth edition, corrected and greatly improved (1810): SPEC L2.2
General view of the agriculture of Galloway. Comprehending the stewartry of Kirkcudbright and shire of Wigton. With observations on the means of its improvement. By James Webster, farmer at Fowlis Easter, county of Perth. Drawn up for the consideration of the Board of Agriculture and Internal Improvement (1794): SPEC Y79.3.291(6)