From London in Middlesex through (once English, now Welsh) Monmouthshire across the Irish Sea to the Southern Irish counties of Munster – Cork, Kerry, Limerick, Tipperary and Waterford.
Tudor Middlesex was the richest county in the country, sustained by the port and industry of London more than farming. Speed's map is almost swamped by the separate plans of Westminster and London, and the accompanying illustrations of the churches of St Peter's (Westminster Abbey) and St Paul's (Cathedral). Westminster and London also had seats in parliament, supplementing the county's two, but the lack of representation of the rapidly growing population was causing gentlemanly comment by the start of the 18th century.
The spread of London is also suggested by the increasing range of topographical works: Daniel Lysons' Environs of London (4 volumes 1796, supplemented in 1800 to cover the rest of Middlesex) covered 12 miles while the map titled Laurie and Whittle's new survey of the environs of London extended twenty miles north and south and twenty-six east and west from St Paul's Cathedral (1816). The numerous editions of The ambulator, or 'pocket companion for the tour of London and its environs kept a fixed circuit of 25 miles, but steadily grew from 223 pages in 1774 to 332 in 1794; the 1811 eleventh edition in Special Collections has a mere 310 pages but added 'fourteen elegant engravings'.
Middlesex Quaker Priscilla Wakefield (1751-1832) wrote her family out of financial difficulties with her prolific writings for young people, especially her series of travel books including Perambulations in London and its environs (1809). Her successful Introduction to botany (1796) was in still print in 1841, but is not mentioned by Henry Trimen (1843-1896), who looked back over three centuries of Middlesex botany in his model Flora of Middlesex (1869).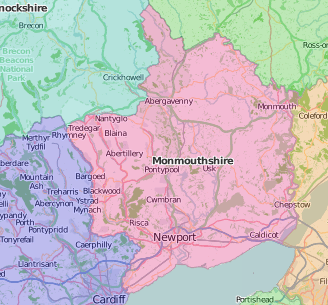 Monmouthshire appears in the English section of Speed's Atlas, with a little outlier – Welsh Bicknor – in a loop of the river Wye between Herefordshire and Gloucestershire.
The ruins of nine marcher castles survive at Abergavenny, Caldicot, Chepstow, Grosmont, Raglan, Skenfrith, Usk and White Castle, and in the county town of Monmouth. This rich history made the county a picturesque place for 18th century tourists, their guidebooks linking the county with Wales. Henry Penruddocke Wyndham (usually called Pen), topographer and politician, in that order of priority, published his tours of 1774 and 1777; an anonymous 'gentleman' made a more extended visit in 1785 for his A pocket vade-mecum through Monmouthshire, and part of South Wales: containing a … description of the views, and an account of the antiquities, curiosities, &c. in the counties of Monmouth, Glamorgan, Carmarthen, and Brecknock, in the year 1785. Since this covered the area in a mere 80 pages, the pocket need not have been big.
At the turn of the century, the preoccupations of these gentlemen travellers are summed up in the title of J. T. Barber's A tour throughout South Wales and Monmouthshire. Comprehending a general survey of the picturesque scenery, remains of antiquity, historical events, peculiar manners, and commercial situations, of that interesting portion of the British Empire. Illustrated with a map and twenty views, engraved from drawings by the author. Perhaps Barber crossed paths with the natural historian Edward Donovan, out with his sketch book from 1800 to 1804 to capture the sights on his Descriptive excursions through South Wales and Monmouthshire. He is modest about his drawings, and is generally reckoned to be better at insects.
The Victorian era brought new sights, and new means of reaching them, especially the railways mentioned in Cliffe's 1848 Book of South Wales, the Bristol Channel, Monmouthshire, and the Wye. Railways offered new opportunities for mass tourism to reach beyond the leisured gentlemen of the Grand Tour, and you didn't even need to buy your own guidebook: a local guidebook from 1843 has a label advertising 'Illustrated guide to Chepstow, &c. &c. Price one shilling and sixpence, from Robert Taylor, stationer and bookseller, general fancy repository, High Street, Chepstow. Circulating Library.'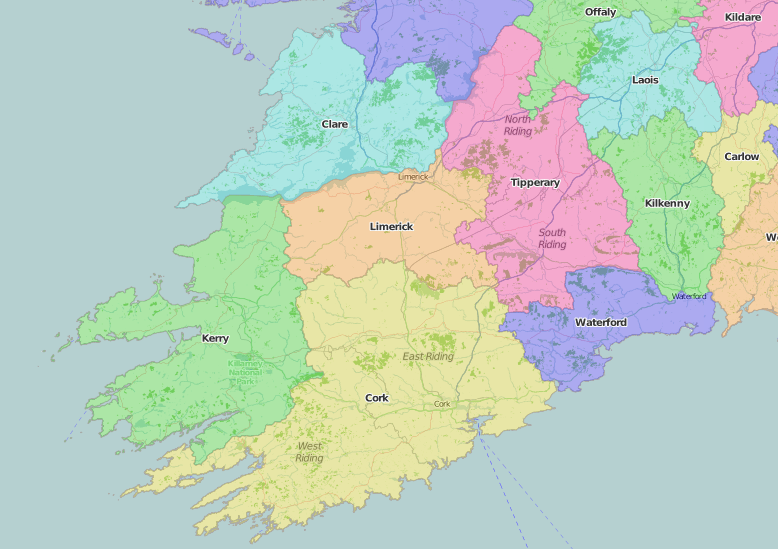 Munster at the time of Speed's map (with its scale in Irish miles) had been recently colonized by the English; as well as the Irish Lords, particularly the Earl of Desmond, there are names of English settlers – such as Sir Peter Carew – where new English plantations had been imposed on confiscated land. Despite his fondness for battle scenes elsewhere, Speed does not depict the Nine Years' War (1593-1603), which by the time of James I's accession had nearly bankrupted England, but does include County Clare (actually part of Connaught) and town plans of Cork and Limerick.
There is more information on Cork and Limerick in The county and city of Cork remembrancer (1837) and Patrick Fitzgerald's History, topography, and antiquities, of the county and city of Limerick (1826-1827). Cork-born Thomas Crofton Croker (1798-1854) travelled about Munster collecting material for his Researches in the south of Ireland (1824) and his later publications of Irish folklore and songs with the Percy Society (1840-1852). The Irish Gaelic heritage of Munster, particularly its bardic tradition, was later celebrated in The Irish language miscellany (1876).
Another Cork author, L. T. (Elizabeth Thomasina) Meade, drew on her childhood in Peggy from Kerry (1912), part of her prolific, popular output for young people. More Irish figures – or stereotypes – appear in The little guide of Adrighoole; or, how to be happy; by the author of 'Norah and her Kerry cow' and G. A. Henty's Orange and green: a tale of the Boyne and Limerick. Book-owners from Munster have left their names in Special Collections copies of two very different classic texts: Peter Pan in Kensington Gardens (1906) has stamped on the half-title leaf: J. J. O'Dwyer Sunnyside Tipperary; a 1723 edition of Isaac Newton's Principia has the very precise inscription, "Samuel Carmody Sunday April 13. 1879 Comragh. Co Waterford" with a price in pencil "£2:10".
Special Collections classmarks of items cited:
Middlesex
A gentleman (John Lacy), The representative of London and Westminster in Parliament, examined and consider'd : wherein appears the antiquity of most of the burroughs in England ; with the proportions, whereby every county is over or under represented, according to a scale from the royal aid assessments ; by which appears that Middlesex is found to be represented but one tenth part of its due proportion ; unto which a remedy is propos'd, and several reasons offer'd to prove the same, of universal benefit to the Kingdom (1702): SPEC Thomson 16(19)
Daniel Lysons (1762-1834), The environs of London: being an historical account of the towns, villages, and hamlets, within twelve miles of that capital; interspersed with biographical anecdotes (1795-1796): SPEC Y79.5.40 v.1-4
Daniel Lysons (1762-1834), An historical account of those parishes in the County of Middlesex, which are not described in The environs of London (1800): SPEC Y80.5.16
Nathaniel Coltman, Laurie and Whittle's new survey of the environs of London, comprehending an extent of twenty miles north and south and twenty-six east and west from St Paul's Cathedral. Scale ca 1:45,000 (1816): SPEC MAPS G5754.L7.1816
The ambulator; or, A pocket companion for the tour of London and its environs, within the circuit of twenty-five miles: descriptive of the objects most remarkable for grandeur, elegance, taste, local beauty, and antiquity. Illustrated by anecdotes, historical and biographical; and embellished with fourteen elegant engravings, and a correct map. The eleventh edition, with considerable additions and improvements (1811): SPEC ZAINA D.32
Priscilla Wakefield, Perambulations in London and its environs: comprehending an historical sketch of the ancient state and progress of the British metropolis, a concise description of its present state, notices of eminent persons and a short account of the surrounding villages, in letters designed for young persons (1809): JUV.85:12
Henry Trimen, Flora of Middlesex: a topographical and historical account of the plants found in the county; with sketches of its physical geography and climate and of the progress of Middlesex botany during the last three centuries. By Henry Trimen and William T. Thiselton Dyer (1869): SPEC Y86.3.60
Monmouthshire
Henry Penruddocke Wyndham (1736-1819), A gentleman's tour through Monmouthshire and Wales in the months of June and July, 1774 (London, 1775): SPEC Y77.3.536
Henry Penruddocke Wyndham (1736-1819), A tour through Monmouthshire and Wales, made in the months of June, and July, 1774, and in the months of June, July, and August, 1777. (Salisbury, 1781): SPEC Y78.5.1 & SPEC L29.3/oversize
A Pocket vade-mecum through Monmouthshire, and part of South Wales: containing a … description of the views, and an account of the antiquities, curiosities, &c. in the counties of Monmouth, Glamorgan, Carmarthen, and Brecknock, in the year 1785. By a gentleman (1785): SPEC L1.43
J. T. Barber, A tour throughout South Wales and Monmouthshire. Comprehending a general survey of the picturesque scenery, remains of antiquity, historical events, peculiar manners, and commercial situations, of that interesting portion of the British Empire. Illustrated with a map and twenty views, engraved from drawings by the author (1803): SPEC Y80.3.237
Edward Donovan, Descriptive excursions through South Wales and Monmouthshire, in the year 1804, and the four preceding summers (1805): SPEC Y80.3.238
The Stranger's illustrated guide to Chepstow and its neighbourhood; with copious notices of Tintern Abbey, Wyndcliff, and the districts of Chepstow, Caldicot, Rhaglan, Monmouth, Goodrich, and Ross (1843): SPEC Y84.3.82(12). Printed label on blue wrappers: 'Illustrated guide to Chepstow, &c. &c. Price one shilling and sixpence, from Robert Taylor, stationer and bookseller, general fancy repository, High Street, Chepstow. Circulating Library.'
Charles Frederick Cliffe, The book of South Wales, the Bristol Channel, Monmouthshire, and the Wye. A companion and guide to the watering places, shores, scenery, antiquities, towns, railways, mineral districts, lakes and streams, of the southern division of the principality: with a picture of Bristol (1848): SPEC Y84.3.194
Munster
Francis H. Tuckey, The county and city of Cork remembrancer: or, Annals of the county and city of Cork (1837): SPEC Y83.3.268
Patrick Fitzgerald, The history, topography, and antiquities, of the county and city of Limerick; with a preliminary view of the history and antiquities of Ireland (2 volumes 1826-1827): SPEC Y82.3.272
Thomas Crofton Croker (1798-1854), Researches in the south of Ireland, illustrative of the scenery, architectural remains, and the manners and superstitions of the peasantry (1824): SPEC Y82.5.75
John O'Daly, The Irish language miscellany: being a selection of poems by the Munster bards of the last century (1876): SPEC Y87.3.180
L.T. Meade (1844-1914), Peggy from Kerry; with eight coloured illustrations by A. Anderson (1912): JUV.A71:183
The little guide of Adrighoole; or, how to be happy by the author of 'Norah and her Kerry cow', 'John McKay', etc. (Religious Tract Society, 1863?): JUV.A134
G. A. Henty (1832-1902), Orange and green: a tale of the Boyne and Limerick; with eight full-page illustrations by Gordon Browne (1888): JUV.227:66
J.M. Barrie (1860-1937), Peter Pan in Kensington Gardens; with twenty-four drawings by Arthur Rackham (1906): JUV.659:5
Isaac Newton (1642-1727), Philosophiae naturalis principia mathematica. Editio ultima cui accedit analysis per quantitatum series, fluxiones ac differentias cum enumeratione linearum tertii ordinis (1723): SPEC Grace AN.05W/c