From the far west of Wales up to the vast expanse of the Highlands.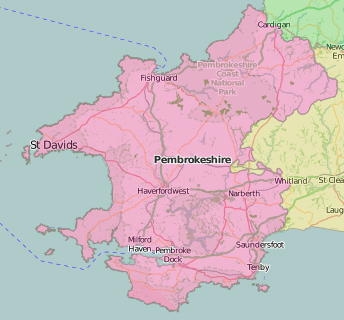 Pembrokeshire on Speed's Tudor map has dramatic hills to the north and west – notably the towering 'Percelye' or Preseli – and less dramatic coastal estuaries to the south of the county. Two compact plans show 'Penbroke' with its harbour and defensive walls, and Saint Davids, with its prominent cathedral and mere scatter of houses.
The cathedral is prominent in Special Collections too, described alongside the other ancient Welsh cathedrals at St Asaph's, Bangor and Llandaff by Benjamin Winkles in his Architectural and picturesque illustrations (1836-1842), and with the newly-established cathedrals of St John at Brecon and St Woolos at Newport for the apparently Anglican-only travellers on the Great Western Railway in 1926. The intemperately Anglican George William Manby (1765–1854) wrote his first book (1801) about St David's as a whole, but is better remembered for his inventions to rescue people from shipwrecks, fires and falling through the ice. Tenby's naturally sheltered position made it a popular seaside resort for tourists and naturalists, including George Henry Lewes and Marian Evans (George Eliot) whose visit led to Lewes' popular illustrated work on marine life, Sea-side studies at Ilfracombe, Tenby, the Scilly Isles and Jersey (1858).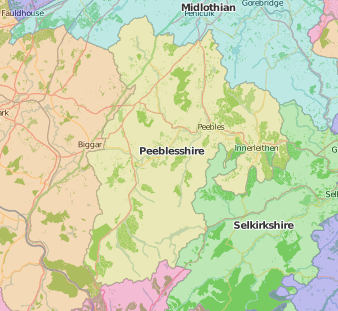 Peeblesshire (or Tweeddale) in the Borders was also a place to take the waters, especially around Linton and Newlands, where the chalybeate springs were as good as Tunbridge Wells or Harrogate, according to the Revd Charles Findlater (1754-1838) in the General View of county of Peebles (1802)
The springs seem to have been recent discoveries, since Thomas Johnson makes no mention of them in his General View of Tweedale (1794), although he does say Linton is an excellent place for growing turnips and clover. The adventure story writer and popular novelist John Buchan (1875–1940), MP for the county from 1911, knew Peeblesshire from childhood visits to his maternal relations. His essays in Scholar Gipsies (1896) give a colourful account of upper Tweeddale.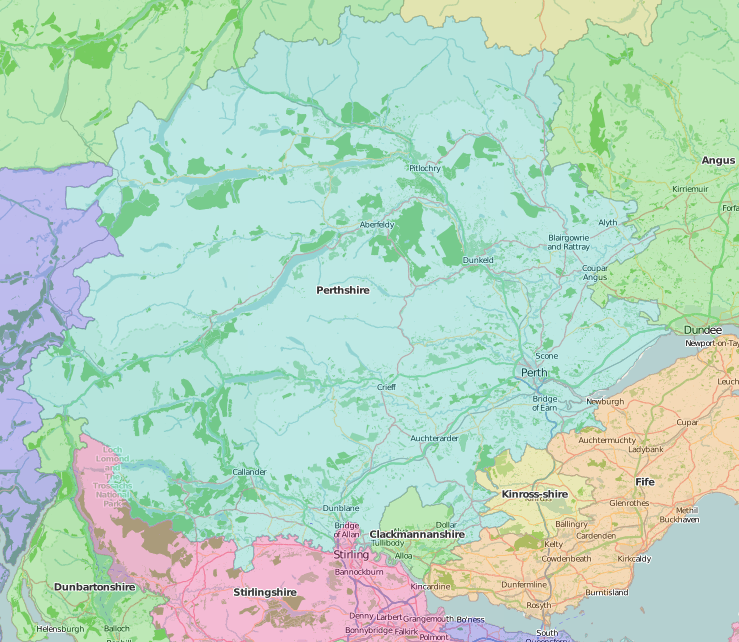 Although John Buchan was born in Perth, Highland Perthshire was not a source of inspiration for his novels as Peeblesshire was. It did however provide the story behind Walter Scott's Fair Maid of Perth (1828), and for plays, paintings and poems based on Scott's novel, including Laetitia Elizabeth Landon's poem based on an illustration in Fisher's Drawing Room Scrapbook (1839). The actual historical events of the 14th and 15th centuries are recounted in 19th century publications of the chronicles and annals of Perth no doubt given a publishing boost by Scott's popularity.
Special Collections classmarks of items cited:
Pembrokeshire
Benjamin Winkles, Winkles's architectural and picturesque illustrations of the cathedral churches of England and Wales; the drawings made from sketches taken expressly for this work, by Robert Garland, architect; with descriptions by Thomas Moule. 3 volumes (1836-1842): SPEC Ryl.D.3.4-6
Cathedrals; with seventy-four illustrations by photographic reproduction and seventy-four drawings. Second edition (Great Western Railway, 1926): SPEC S/NA5461.G78
George William Manby (1765–1854), The history and antiquities of the parish of Saint David, South-Wales, from the foundation of the monastery in 470, by St. Patrick, to the present time (1801): SPEC Y80.3.324
George Henry Lewes (1817-1878), Sea-side studies at Ilfracombe, Tenby, the Scilly Isles and Jersey (1858): POV R360.3.34
Peebles
Thomas Johnston, General view of the agriculture of the county of Tweedale, with observations on the means of its improvement (1794): SPEC Y79.3.287(6)
Charles Findlater (1754-1838), General view of the agriculture of the county of Peebles, with various suggestions as to the means both of the local and general improvement of agriculture (1802): SPEC Y80.3.449
John Buchan (1875-1940), Scholar gipsies (1896): SPEC Scott Macfie B.2.54)
Perth
Sir Walter Scott (1771-1832), Waverley novels. Border Edition with new and original etchings; also introductory essays and notes by Andrew Lang (1892-1894): SPEC Noble C.16.1 v.1-v.48
Fisher's drawing room scrapbook (1832-1852): SPEC Annuals 1c.F333
The chronicle of Perth: a register of remarkable occurrences chiefly connected with that city, 1210-1668. Edited by J. Maidment (1831): SPEC G12.9
David Peacock, Perth: its annals and its archives (1849): SPEC Y84.3.851