Six English counties: three coastlines, the Midlands and the borders of London and Wales.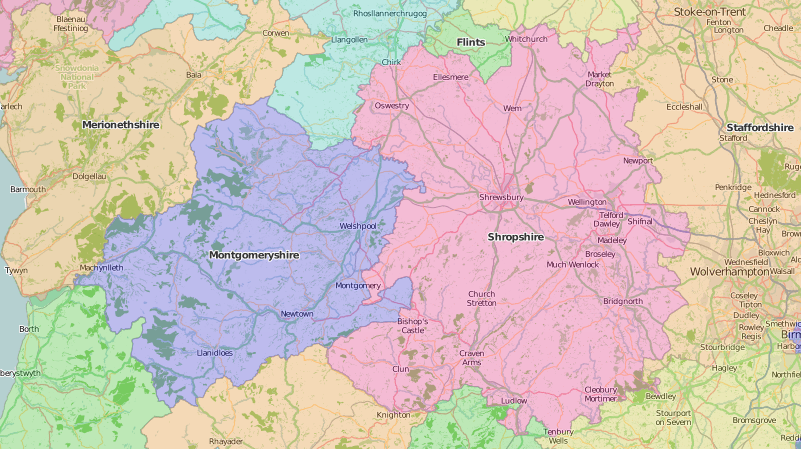 There are some towering hills on Speed's map of Shropshire, especially the Wrekin and 'Stitterstones', and Speed approves of the county's wholesome air which "affordeth health to the inhabitants in all seasons". The plan of 'Shrowesbury' depicts a town "inferior to few of our cities: her buildings fair, her streets many and large, citizens rich". It marks a 'scholle and library', and the town even has bookshops.
Shropshire's historian, Robert William Eyton (1815-1881) was born and bred in the county, and Rector of Ryton for 22 years. His 12-volume Antiquities of Shropshire (1853-1860) is still useful, if you are interested in genealogies and the two centuries after the Norman Conquest. In retirement, Rev. Eyton's horizons broadened: he left Shropshire and moved six times in five different counties.
The successful Wellington firm of Edward Houlston and successors (late 18th to mid-19th century) used Shropshire's old name of Salop in their imprints. They published the works of the prolific Mrs Sherwood, such as her Introduction to geography. This is supposed to be used with a globe or map, which would be handy as the text devotes far more space to quotes from the Bible than to teaching geography.  
It was left to Houlston's successors to exploit the huge market for educational books "adapted to the new code" which was created by the Elementary Education Revised New Code (1871), including the industrious H. T. Sortwell's Geography of Shropshire (and of Cheshire, Suffolk, and Yorkshire). Sir John Lubbock, in the parliamentary debates on the new code of 19 July 1872, stressed the importance of subjects, such as geography, beyond the 'three Rs':
"No doubt, reading, writing, and arithmetic are very important, and form, indeed, the basis of instruction, but they do not in themselves constitute an education, however humble, any more than a knife and fork make a dinner".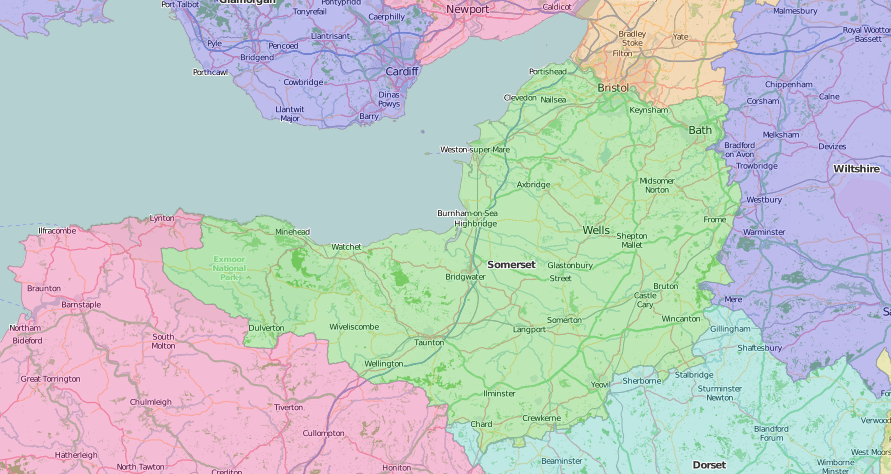 Tudor Somerset had a lot of water: the famous Roman Baths at Bath, a lake (Meare poole) near Glastonbury, not yet drained, and many rivers, individually named on Speed's map. The town plan of Bath shows four separate baths, and another for horses. It was, according to John Speed, "A place of continual resort for persons of all degrees and almost of all disease"
The competing Hotwells spa at Bristol failed to cure the short-lived antiquarian vicar of Long Ashton, John Collinson (1756 or 1757-1793), but his much-criticised three-volume History and antiquities of the county of Somerset (1791) has survived rather longer, with a Supplement in 1898, and Index in 1939. John Britton (1771-1857) covered both Bath (and Somerset) and Bristol (and Gloucester) in his 1829 Series of views "including the modern improvements, picturesque scenery, antiquities, etc."
George Samuel Jenks (1790-1882) had earned his second retirement in Bath by 1860: he had a distinguished career in the Peninsular Wars and at Waterloo, retired from the army, took a medical degree, then worked in Brighton for several decades more. His address in Bath – The Circus – is given on his book label in some fine early printed books which probably came to Special Collections via his nephew, Edward Jenks (1861–1939), the first Professor of Law at University College, Liverpool (1892-1896).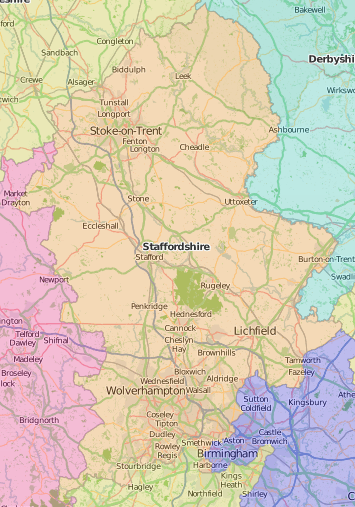 Early 17th century Staffordshire was particularly dependent on its many rivers, given the state of Tudor roads. Speed's town plans of Stafford and Lichfield, both small, suggest the county's lack of prosperity and population.
Staffordshire had a reputation for recusancy: one of the stubbornest was county historian Sampson Erdeswicke (c.1538-1603), whose house at Sandon was searched in 1582 for "popish trumpery". He spent a decade working on his Survey of Staffordshire, organised by river routes, but died before it could be published. It appeared in 1717, and in a better edition by Thomas Harwood of Lichfield another century later. By the late 18th century, improved road travel allowed William Tunnicliff to give "a complete Description of the Great, Direct, and Cross Roads" in his county survey while the prolific author, surgeon, and naturalist, Robert Garner (1808-1890) wrote a standard natural history of the county (1844, with supplement 1860). Tunnicliff and Garner both included 'manufactures' in their surveys; Staffordshire by A. E. Newton (1864-1940) is about the county's most famous product – pottery – and Newton sent a copy to Aleyn Lyell Reade (1876-1953), genealogist of Lichfield's most famous resident, Samuel Johnson (1709-1784).
In contrast to Staffordshire, Speed found Suffolk "most plenteous and pleasant for habitation", except for Dunwich, which had already been washed into the sea. His map includes a town plan of prosperous Ipswich.
John Kirby (1690-1753) published a road book, The Suffolk traveller, based on his "actual survey of the whole county, in the years 1732, 1733, and 1734". It was sufficiently useful to remain in print in various forms, including as wall maps, for a century more. Other dedicated local authors and antiquaries included John Gage (1786-1842), who later inherited estates and the name Rokewood, and Alfred Inigo Suckling (1796-1856), whose surname was Fox until he inherited estates and the name Suckling. They both wrote grand illustrated works on the history and antiquities of Suffolk in the mid-19th century. Henry Clarke of Beccles owned a more elementary school geography book.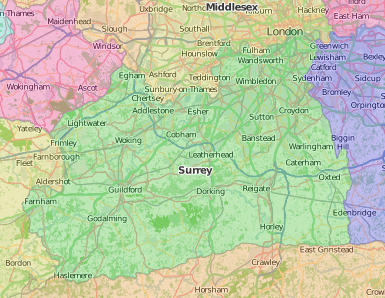 Although Southwark was just at the southern end of London Bridge, Tudor Surrey felt remote, with not many places to cross the Thames. Once over the river, you could admire the splendid palaces of Richmond and Nonsuch, near Cheam, which feature on Speed's Surrey map instead of the usual town plans, and enjoy "the most sweet and delectable" air.
Surrey's famous gardens include those at Lambeth and Kew, although the garden at Nonsuch has vanished. Virginia Woolf's short fiction Kew Gardens (1919) was one of her first publications with the Hogarth Press from her house at Richmond. Topographer Edward Wedlake Brayley (1773-1854) was born at Lambeth; he wrote his most important work in his late sixties to late seventies – his five-volume Topographical history of Surrey (1841-1848), with a section on geology by Gideon Algernon Mantell (1790-1852). Other kinds of natural history were taught by Elizabeth Mayo (1793–1865) in her Lessons on shells, as given to children … at a Pestalozzian school at Cheam, Surrey (1838).
Barnes remained one of those south of the Thames places without a river crossing until the arrival of the railway in the 19th century: it would have been visible from the home of the 'Mrs Shirreff, The Terrace, Barnes, Surrey' who made a gift of the 1835 volume of The Amulet in our Literary Annuals collection. Arthur Young (1741-1820) annotated his copy of the General view of the agriculture of Surrey (1794) with such incredulous comments as, "Is it possible they can have seen ye Co[unty]?"

Travel in Tudor Sussex was hampered by a lack of decent roads to the north, and safe harbours to the south: Speed's map marks some of the hazards, such as 'Bognor Rocks', and 'old Winchelsey drowned', and also clearly shows the county's ancient division into the six rapes of Chichester, Arundel, Bramber, Lewes, Pevensey, and Hastings (with 'Hastings haven intended').
The geologist and palaeontologist Gideon Algernon Mantell (1790-1852), born in Lewes, was nicknamed 'the Wizard of the Weald' for his work on fossils – his popular illustrated works, including Wonders of geology and Thoughts on a pebble, ran into multiple editions. He collaborated with Thomas Walker Horsfield on his History of Lewes. Horsfield (who spent a mere decade in the county) went on to write a county history which covered every parish. Other places on that dangerous Sussex coast acquired their own histories, such as Rye (written by local author William Holloway) and Hastings (by artist William George Moss, who just came to convalesce).
Poor John Docwra Parry (d.1833) began, completed and published his Historical and descriptive account of the coast of Sussex … Forming also a guide to all the watering places (1833) within six months, having thought about it for about six months, and that, he admits, "forms the whole of the author's acquaintance with the County of Sussex". He complains in his preface that the work "has been conducted under every possible discouragement and want of support", of how expensive it has been to go around visiting places, that the books he has consulted (including Horsfield and Moss) cost too much, and only cover West Sussex and, in short, that the effort nearly killed him (and probably did, since he seems to have died the same  year).  James J. Guthrie (1874-1952) no doubt had considerably more fun making books at the Pear Tree Press (1899-1951), which was based at Flansham, near Bognor Regis from 1907 up to his last book, From a Sussex Village (1951).
Special Collections of items cited:
Shropshire
Robert William Eyton (1815-1881), Antiquities of Shropshire (1853-1860): SPEC Y85.3.82-92
Mary Martha Sherwood (1775-1851), An introduction to geography, intended for little children. Third edition (Wellington, Salop: Houlston, 1823): JUV.5:63
Joseph Taylor (1761/1762-1844), Ornithologia curioso: or, The wonders of the feathered creation: being a collection of anecdotes, illustrative of the surprising instinct, sagacity, etc. of birds (Wellington, Salop: Houlston, 1807): JUV.107:1
H. T. Sortwell, Geography of Shropshire, adapted to the new code (1872?): JUV.860
Somerset
John Collinson (1756 or 1757-1793), The history and antiquities of the county of Somerset, collected from authentick records, and an actual survey made by Edmund Rack. Adorned with a map of the county, and engravings … (1791): SPEC L29.4-6/oversize
Edwin Pearce, Index to Collinson's History of Somerset. Edited by F.W. Weaver and E.H. Bates. Including a supplemental index (alphabet and ordinary) to all the armorial bearings mentioned in the work, contributed by J.R. Bramble (Taunton: Barnicott & Pearce, 1898): SPEC L29.8/oversize
Richard Locke (1737-1806), Supplement to Collins's History of Somerset. R. Locke, 18th century antiquary, surveyor and agriculturist. Extracts from Locke's survey, with a short biography by F.M. Ward (Taunton: Barnicotts, 1939): SPEC L29.7/oversize
John Britton (1771-1857), Bath and Bristol, with the counties of Somerset and Gloucester, displayed in a series of views … from original drawings by Thos. H. Shepherd; with historical and descriptive illustrations by John Britton (1829): SPEC Y82.3.1057(3)
Staffordshire
Sampson Erdeswicke (-1603), A survey of Staffordshire: containing the antiquities of that county … with additions and corrections … illustrative of the history and antiquities of that country, by Thomas Harwood (1820): SPEC Ryl.B.3.22
William Tunnicliff, A topographical survey of the counties of Stafford, Chester, and Lancaster, containing A new-engraved map of each County, with a complete Description of the Great, Direct, and Cross Roads; the Situation, Bearing, and Distances of the Seats of the Nobility and Gentry upon or near such Roads, together with elegant Engravings of their arms. arranged on a new Plan, by Messrs. Woodman and Mutlow, London. To which is added, The Direction and Survey of the Great Roads, accurately describing the Situations and Distances of Places. adapted to the Use of the Gentleman and Traveller, with an Index explaining the Whole. Also the Names and Seats of the Nobility and Gentry in each County. Concluding with a Directory of the principal Merchants and Manufactures, Market Towns, and Days on which their Markets are held, and Principal Inns in each Town, within the said Counties, &c. &c. By William Tunnicliff, Land-Surveyor (1787): SPEC L24.1
Robert Garner (1808-1890), The natural history of the county of Stafford; comprising its geology, zoology, botany, and metereology: also its antiquities, topography, manufactures, etc (1844): SPEC Y84.3.373
Robert Garner (1808-1890), Supplement to The natural history of the county of Stafford (Newcastle-Under-Lyme, 1860): SPEC Y84.3.287(02)
Alfred Edward Newton (1864-1940), Staffordshire (1935): SPEC K11.9(35)
Suffolk
John Kirby, The Suffolk traveller. First published by Mr. John Kirby, of Wickham Market, who took an actual survey of the whole county, in the years 1732, 1733, and 1734. The second edition, with many alterations and large additions, by several hands (1764): SPEC L51.22
John Gage (1786-1842), The history and antiquities of Suffolk. Thingoe Hundred (1838): SPEC Y83.5.8
Alfred Inigo Suckling (1796-1856), The history and antiquities of the county of Suffolk: with genealogical and architectural notices of its several towns and villages (1846-1848): SPEC R.19.9/oversize
Nicolas Lenglet Dufresnoy (1674-1755), Geography for children; or, A short and easy method of teaching and learning geography designed principally for the use of schools; translated from the French of Abbot Lenglet du Fresboy and now greatly augmented and improved. 8th edition (1768): JUV.718:2
Surrey
Virginia Woolf (1882-1941), Kew Gardens. Second edition. (Hogarth Press: 1919): SPEC H66.26
E. W. (Edward Wedlake) Brayley (1773-1854), A topographical history of Surrey. Second edition. Revised and edited by E. Walford (1878-1881): SPEC R.19.5-8/oversize
Elizabeth Mayo (1793-1865), Lessons on shells, as given to children between the ages of eight and ten in a Pestalozzian school at Cheam, Surrey. Second edition. (1838): SPEC Y83.3.967
The amulet (1826-1836): SPEC Annuals 1a.A52 1826
William James and Jacob Malcolm, General view of the agriculture of the county of Surrey (1794): SPEC Y79.3.288(4)
Sussex
Gideon Algernon Mantell (1790-1852) The wonders of geology. 6th edition (1848): SPEC Y84.3.781-782
Gideon Algernon Mantell (1790-1852), Thoughts on a pebble; or, A first lesson in geology. 6th edition (1842): Oldham 140
Thomas Walker Horsfield (-1837), The history and antiquities of Lewes and its vicinity (Sussex Press, J. Baxter: 1824-1827): SPEC Y82.5.83-84
Thomas Walker Horsfield (-1837), The history, antiquities, and topography of the county of Sussex (1835): SPEC R.11.18-19/oversize
William Holloway, The history and antiquities of the ancient town and port of Rye, in the county of Sussex. With incidental notices of the Cinque Ports (1847): SPEC R.5.2/B
William George Moss, The history and antiquities of the town and port of Hastings. Illustrated by a series of engravings, from original drawings (1824): SPEC Y82.3.250
John Docwra Parry, An historical and descriptive account of the coast of Sussex … Forming also a guide to all the watering places (1833): SPEC Y83.3.814