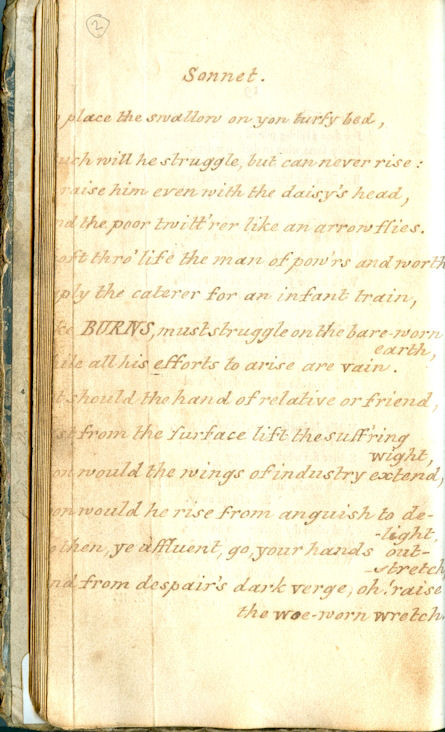 For the occasion of Burns Night, celebrated on 25 January, Manuscripts and More has a guest editor: Professor Paul Baines of the School of English has uncovered the author of an anonymous sonnet in memory of Robert Burns copied into one of our 18th century books, as he explains below….
"The Scottish poet Robert Burns died on 21 July 1796, at the age of 37, and his death prompted a widespread outpouring of elegies and other poetic memorials across Britain. In Liverpool, several such elegies were published in The Liverpool Phenix [sic] or Ferguson's Weekly Gazette, a local newspaper. Of these, four were then collected in a pamphlet called Liverpool Testimonials, to the Departed Genius of Robert Burns, the Scottish Bard, published by a firm of printers, Merritt and Wright, operating from Castle Street.
The book is not dated and so far no advertisements for it have been found, but it must date from within a few months after Burns's death, as the idea of the publication was in part to help raise money for Burns's widow and children, left by his death, as the preface indicates, in poverty. Thirty-five subscribers were listed, with the amounts donated to the cause. Dr John Currie, who would edit a large edition of Burns in 1800, heads the list with ten guineas, and there are contributions from William Roscoe, William Rathbone, the Rev. William Shepherd, several members of the Gladstone family, and two bookselling firms.
The publication was also designed as a sort of showcase for the talents of 'the Gentlemen of Liverpool' who wrote them, on grounds of their 'distinguished merit'. By the 1790s, Liverpool could boast a lively coterie of poets, mostly of radical, reformist, and anti-slavery views.
We notice these circumstances with pride and pleasure, as we conceive they are not less characteristic of the taste for letters which has lately distinguished this town, than the liberal subscription raised here for the family of the unfortunate Bard, is characteristic of its benevolence.
The first three poems are by 'J.B.', identified in the Liverpool SCA copy as 'Jno. Bree'; 'G. P.' (George Perry), and 'W. R.' (William Roscoe). The fourth printed poem is by 'E. W.', actually Edward Rushton, the blind poet and anti-slavery campaigner (1756-1814), and identified as such, in pencil, in the British Library and Liverpool copies. Rushton's poem, a kind of tribute to Burns's own 'To a Mountain Daisy', was reprinted in his volume of Poems (1806). Rushton was also a Liverpool agent for Currie's 1800 edition of Burns, selling it from his shop in Paradise Street.
The manuscript 'Sonnet' about Burns reproduced above was written onto the blank final leaf of Liverpool's copy of Liverpool Testimonials at some point relatively soon after publication. This has not been previously identified, but it is in fact also by Rushton, and was printed, alongside his longer elegy, in an Edinburgh book called Fugitive Pieces (1797), p. 103. It was also widely known in America, being reprinted in The Time Piece, 25 September 1797, The Medley, 20 October 1797, and New-York Gazette, 2 October 1797. Poulson's American Daily Advertiser, 19 April 1803, printed it under the title 'Helpless Swallow', and ascribed it to Roscoe, and at least six other American papers to 1813 followed suit in that mistake.
Rushton himself included a revised version of the poem, now called 'The Swallow', in his book of Poems of 1806, and the poem gained in recognition and reputation following Rushton's death in 1814. Another Liverpool paper, The Kaleidoscope of 22 November 1825, reprinted it from Rushton's posthumous collection of 1824, as it 'feelingly and beautifully depicted the power of sympathy for the suffering child of genius'; it then turned up in The Preston Chronicle, 13 October 1832, with some approving commentary on Rushton and his son, the political reformer also called Edward; and in The Leicester Chronicle, 26 January 1833. It was also quoted approvingly in an article on social issues in The Liverpool Mercury, 28 August 1846.
The manuscript text we have in our copy of Liverpool Testimonials is a fair copy,
not a working manuscript, and certainly not an autograph, though Rushton did,
after a series of operations, regain some sight in one eye from 1806-7. It was
probably copied in from a printed source to 'complete' the volume. The left hand
edge has been cropped in binding, but it is possible to reconstruct the text
fully from printed copies; it follows the 'early' text established in Fugitive Pieces (1797), rather than Rushton's revised version of 1806, though it is likely that both Fugitive Pieces and the manuscript derive from a local newspaper printing, not yet found.
Sonnet.
Go place the swallow on yon turfy bed,
Much will he struggle, but can never rise:
Go raise him even with the daisy's head,
And the poor twitt'rer like an arrow flies.
So oft thro' life the man of pow'rs and worth,                            5
Haply the caterer for an infant train,
Like BURNS, must struggle on the bare-worn earth,
While all his efforts to arise are vain.
Yet should the hand of relative or friend
Just from the surface, lift the suff'ring wight,                               10
Soon would the wings of industry extend,
Soon would he rise from anguish to delight.
Go then, ye affluent, go, your hands outstretch,
And from despair's dark verge, oh! raise the woe-worn
wretch.
22 November 2014 marks the bicentenary of Rushton's death, and the city of Liverpool will be marking the occasion with an exhibition, a specially-written play, an academic conference, and two books from Liverpool University Press: an edition of the poems by Professor Paul Baines of the School of English and a critical study of his work by Dr Franca Dellarosa of the Università degli Studi di Bari "Aldo Moro".